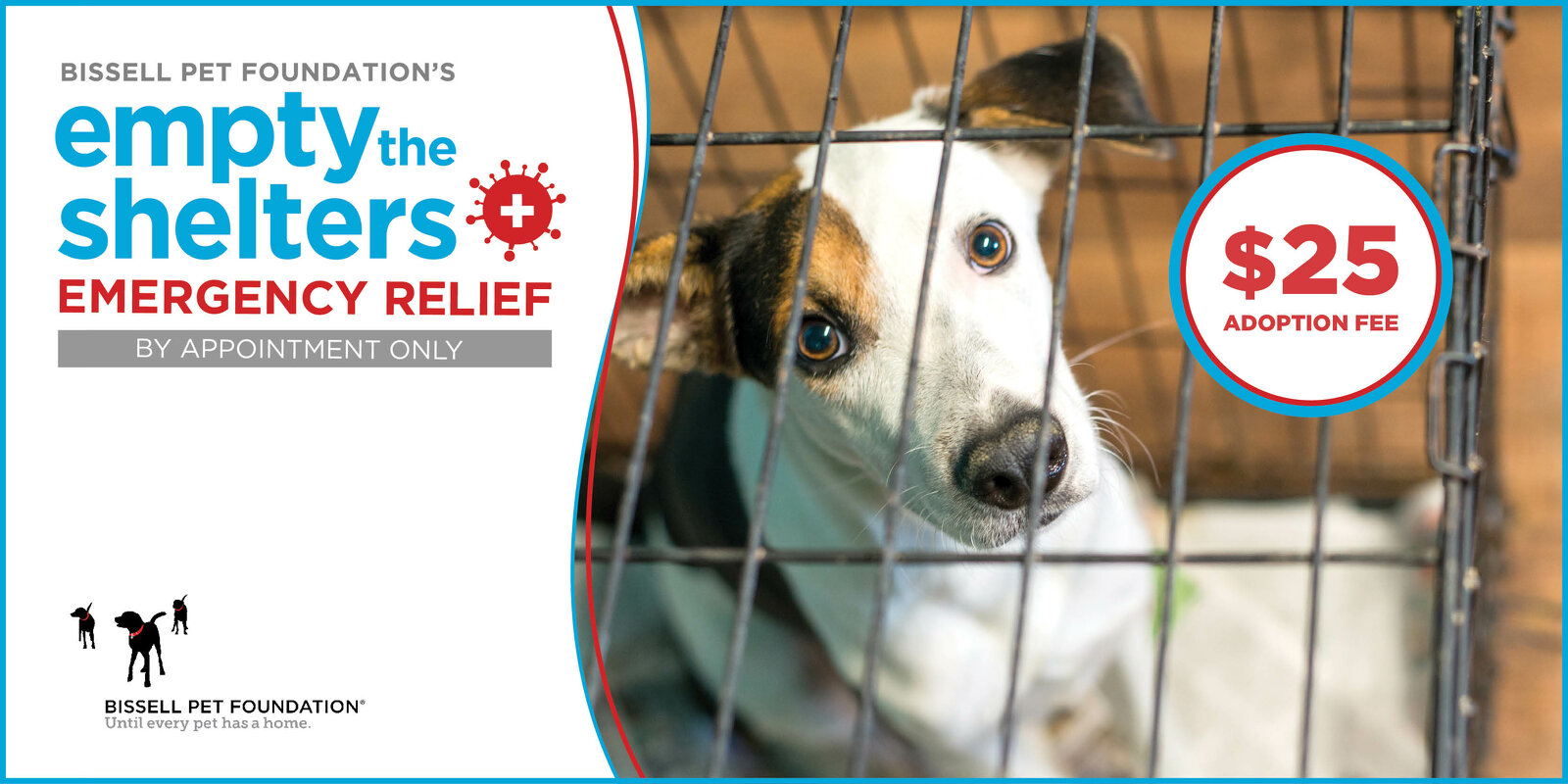 March 18th
Assisting Shelters Amidst COVID-19 with Sponsored Adoption Fees By Appointment-only
In response to COVID-19, BISSELL Pet Foundation is sponsoring reduced adoption fees across different parts of the country starting Thursday, March 19. BPF wants to assist animal shelters that are struggling with fewer volunteers and staff to care for their animals. With a rather atypical Empty the Shelters adoption special in place for the next week, the foundation hopes this will encourage families to add a furry quarantine buddy into their home in a time when it's needed the most.
Many shelters have already been forced to eliminate all foot traffic in their facilities and nobody is coming to adopt. Organizations are scrambling to find fosters to take pets in during this desperate time and they need our help. This is why BPF will also honor foster-to-adopt cases during this time!
With BPF funding, you can adopt a pet for $25 by viewing adoptable animals on participating shelter websites. Once an online application is submitted, shelter staff will work with potential adopters to schedule an in-person appointment with social distancing in mind.
Find an Emergency Empty the Shelters Participant Near You:
Alabama
Florence Lauderdale Animal Services
3240 Roberson Rd, Florence, AL 35630
Metro Animal Shelter, Inc.
3140 35th Street, Tuscaloosa, AL 35401
Arizona
Chino Valley Animal Shelter
1950 Voss Drive, Chino Valley, AZ 86323
Fearless Kitty Rescue
16832 E Avenue of the Fountains, Fountain Hills, AZ 85268
Maricopa County Animal Care and Control
2500 S. 27th Ave, Phoenix, AZ 85009 and 2630 W. Rio Salado Pkwy, Mesa, AZ 85201
Arkansas
Humane Society of Pulaski County
14600 Colonel Glenn RdLittle Rock, AR 72223
California
Contra Costa Animal Services
4800 Imhoff Place, Martinez, CA 94553
Valley Animal Center
3934 N. Hayston Avenue, Fresno, CA 93726
Connecticut
Danbury Animal Welfare Society
147 Grassy Plain St., Bethel, CT 06801
Florida
Alaqua Animal Refuge
914 Whitfield Rd, Freeport, FL 32439
Halifax Humane Society Inc.
2364 Lpga Blvd., Daytona Beach, FL 32124
Humane Society of North Central Florida
4205 NW 6th St., Gainesville, FL 32609
Humane Society of the Treasure Coast
4100 SW Leighton Farm Ave., Palm City, FL 34990
Georgia
Animal Ark Rescue, Inc.
7133 Sacerdote Ln, Columbus, GA 31907
Paws Humane
4900 Milgen Rd., Columbus, GA 31907
Hawaii
Hawaiian Humane Society
2700 Waialae Ave., Honolulu, HI 96826
Illinois
Animal House Shelter
13005 Ernesti Rd. Huntley, IL 60142
Heartland Animal Shelter
2975 Milwaukee Ave., Northbrook, IL 60062
South Suburban Humane Society
1103 West End Ave. Chicago Heights, IL 60411
St. Clair County Animal Adoption Center
1250 S. 11th Street Belleville, IL 62226
Tree House Humane Society
7225 N Western Avenue Chicago, IL 60645
Kentucky
Scott County Humane Society
751 Slone Dr, Ste 13, Georgetown, KY 40324 and 122 Marketplace Circle Georgetown, KY 40324
Louisiana
CATNIP Foundation at Big Sky Ranch
15442 Jack Fork Rd Folsom, LA 70437
Zeus Rescues
2520 Napoleon Ave, New Orleans, LA 70115
Michigan
AuCaDo Rescue Mid-Michigan
3861 12 Mile Rd., Remus, MI 49340
Detroit Dog Rescue
Locations in St. Clair Shores
Humane Animal Treatment Society
1105 S Isabella Rd. Mount Pleasant, MI 48858
Kalamazoo Animal Rescue (KAR)
2938 Business One Dr., Kalamazoo, MI 49048
Lenawee Humane Society
705 W Beecher St., Adrian, MI 49221
Little Traverse Bay Humane Society
1300 W Conway Rd #9582, Harbor Springs, MI 49740
St Clair County Sheriff's Animal Control
3378 Griswold Rd, Port Huron, MI 48060
Wishbone Pet Rescue
165 Blue Star Hwy, Douglas, MI 49406
Minnesota
Hawk Creek Animal Shelter
250 28th St SW, Willmar, MN 56201
Mississippi
Humane Society of South Mississippi
2615 25th Ave., Gulfport, MS 39501
Missouri
The Animal Protective Association of Missouri
1705 S Hanley Rd., Brentwood, MO 63144
New Mexico
Animal Village NM
7246 Hwy 54 70, Alamogordo, NM 88310
New York
Broome County Humane Society & Relief Association
167 Conklin Ave Binghamton, NY 13903
Ten Lives Club
3741 Lake Shore Road Blasdell, NY 14219
Ohio
Louie's Legacy Animal Rescue
4725 Boomer Rd.Cincinnati, OH 45247
South Carolina
Dorchester Paws
136 Four Paws Lane Summerville, SC 29483
Tennessee
Friends of the Animal Shelter
420 Humane Way, Newport, TN 37821
Memphis Animal Services
2350 Appling City Cove, Memphis, TN 38133
Young-Williams Animal Center of East Tennessee
3201 Division St. Knoxville, TN 37919
Texas
Athens Animal Rescue Shelter
901 W College, Athens, TX 75751
Houston Humane Society
14700 Almeda Rd., Houston, TX 77053
Humane Society of Cedar Creek Lake 
10200 CR 2403, Tool, TX, 75143
Virginia
Fredericksburg SPCA
10819 Courthouse Rd, Fredericksburg, VA 22408
Pittsylvania Pet Center
11880 US Highway 29 Chatham, VA 24531
Wisconsin
Humane Society of Burnett County, Inc.
7410 Co Rd D, Webster, WI 54893
West Virginia
Kanawha-Charleston Humane Association
1248 Greenbrier Street Charleston, WV 25311
BPF encourages interested adopters to be reminded that the Centers for Disease Control and Prevention (CDC) reported that there is no evidence to support any cases of transmitting the virus to/from pets.
Reduced-fee adoptions are scheduled to extend until Wednesday, April 8.
Help us, Help Them
We will continue to find solutions to support our partners in any way we can. This week, you too can be a part of the solution for homeless pets. If you're unable to adopt, please consider donating to BISSELL Pet Foundation. With a partner network of over 5,000, BPF has impacted over 250,000 homeless animals across the country since 2011.