SAVING PETS WHO NEED EXTRA SUPPORT
Last year, Cathy set out to visit BPF's partners in different geographic regions so we could understand their unique challenges and make a more significant impact. At each stop, Cathy would ask the shelter to identify one special pet who could use extra help to be adopted. The Grateful Pet Tour was born! Now, Cathy is on the road building relationships with shelters and saving pets along the way with up to $2,500 for veterinary or other care needed to make them adoptable. 
BPF'S GRATEFUL PETS: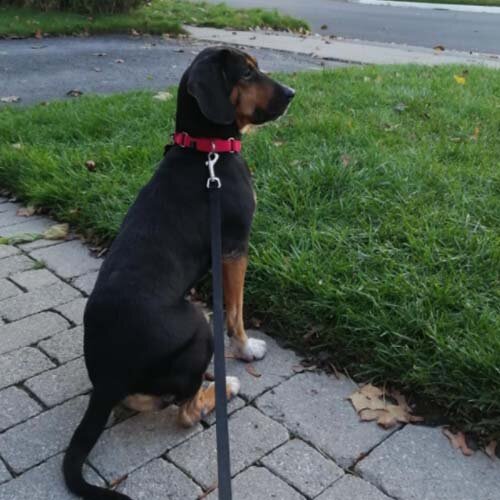 DUFFY | Cause 4 Paws, Toronto, CA
Duffy was found limping along the streets in Greece. She was born without a kneecap and was likely struck by a car which left her with a dislocated right hind leg. Cause 4 Paws Toronto was contacted by a rescue partner about Duffy and immediately got her on the next flight to Canada. They were able to access specialized veterinary care to get her on track to living a happy, pain-free life. Duffy has settled into a loving foster home where she is getting some much-needed TLC and learning to be a part of a family. BPF supported Duffy through a Grateful Pet grant to help with her hip replacement surgery, upcoming amputation, and rehabilitative therapy. She has recovered from her first surgery, and we can't wait to follow her journey as she continues to get better and finds a loving home.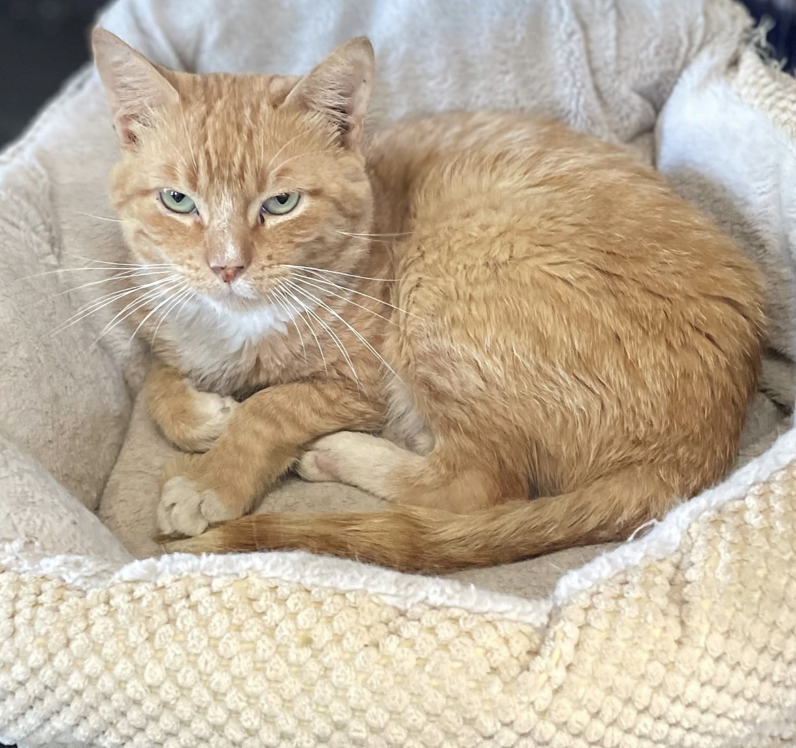 MITTENS | Animal Aid For Vermilion Area, Abbeville, LA
Mittens is a gorgeous and incredibly sweet 2-year-old cat who was suffering terribly from an infection in his gums. AAVA was able to provide basic care for him, but ultimately his infection required a cat specialist to perform a full mouth extraction. BPF supported Mittens' surgery as a Grateful Pet and he was able to make a full recovery! He is now able to eat without pain. Thank you to AAVA for getting Mittens the care he needed before finding his forever home.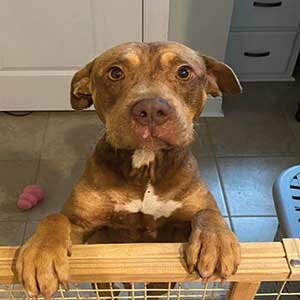 BELLADONNA | Animal Aid for Vermilion Area, Abbeville, LA
Belladonna came in as an owner surrender and was in critical condition after suffering from a prolapsed rectum and uterus for several weeks without veterinary care. The staff at Animal Aid for Vermilion Area rushed her to the 24-hour vet, where she was admitted for surgery. BPF learned about her and offered a Grateful Pet grant to support her care. She made it through the surgery, but she struggled through recovery with very low blood volume. Everyone fought hard to make sure this sweet girl survived to get the life she deserved and we are so grateful to report that she is now in a loving foster home being treated like a queen!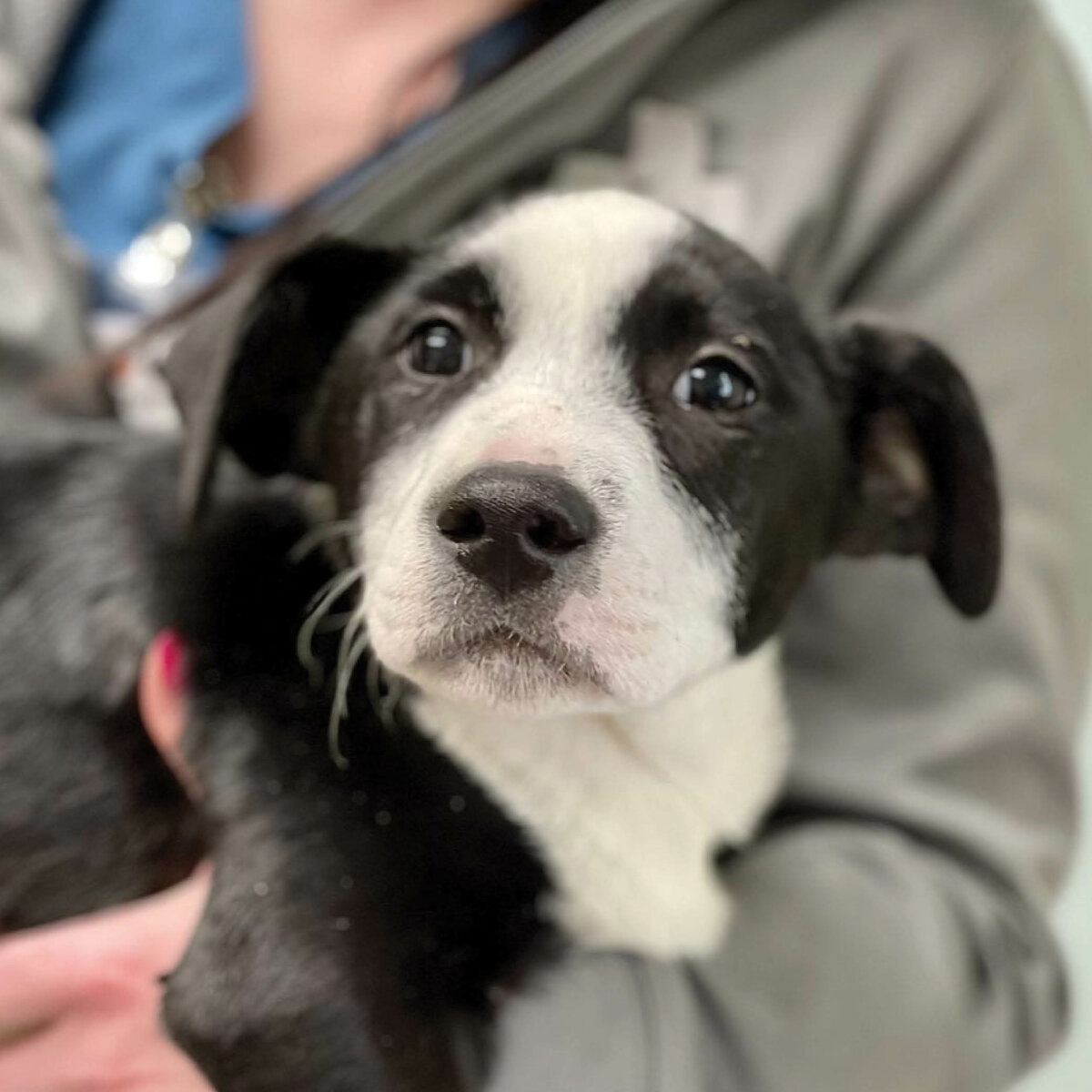 TOBIAS | Animal Aid for Vermilion Area, Abbeville, LA
A volunteer for Animal Aid for the Vermilion Area was at a neighboring shelter when this poor puppy was brought in after being hit by a car. Tobias would scream in pain anyone tried to move him in any way. He suffered from two fractured femurs, a pelvis fractured on both sides, and a fractured pubis, among other issues. BPF was alerted to his condition and named Tobias a Grateful Pet to provide help with his extensive surgery and care. We are thrilled to report that his surgery was a success and he found his perfect forever family!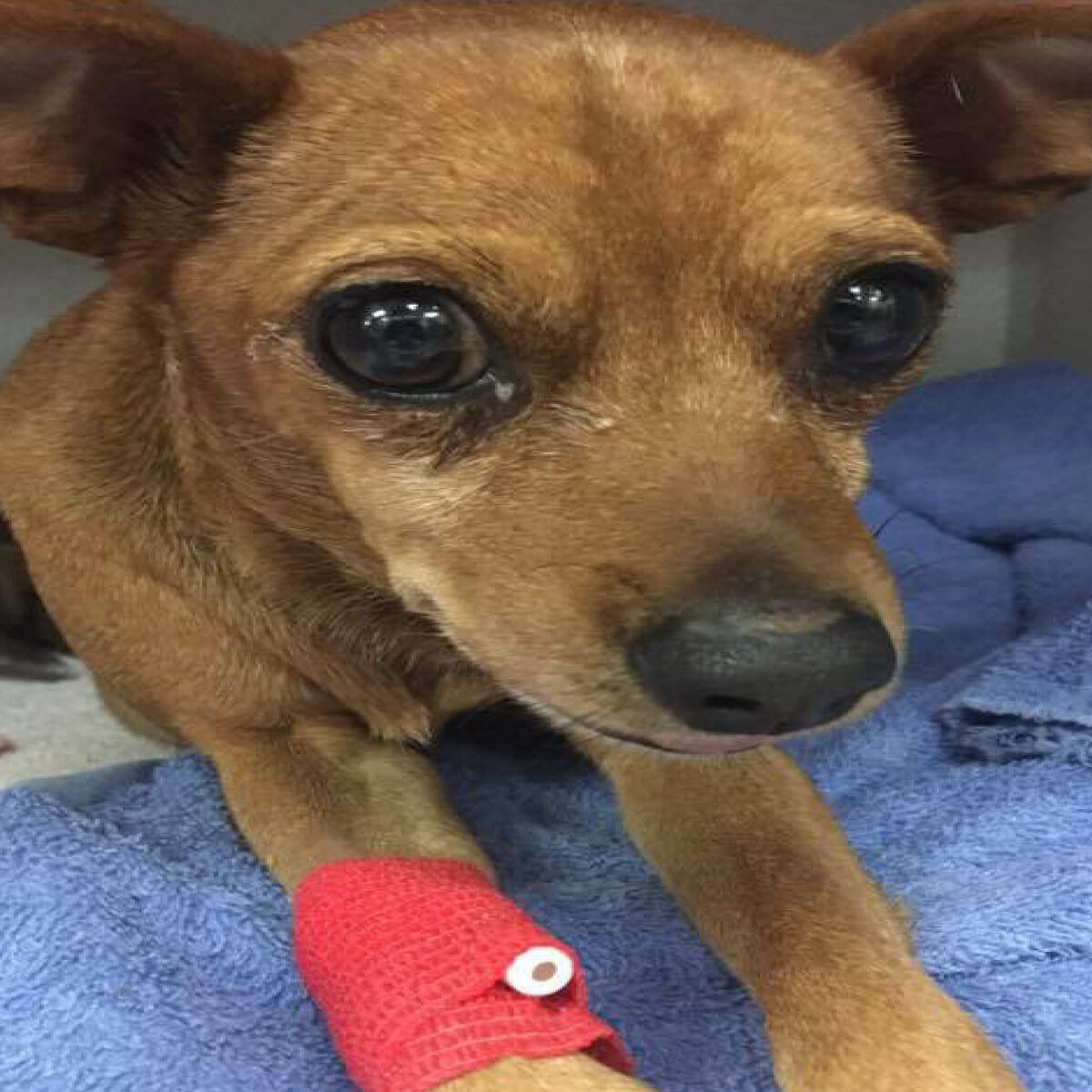 BROWNIE | Every Paw Animal Rescue, Ville Platte, LA
Brownie was trying to deliver puppies, and it was evident things weren't progressing properly. She was in distress and was rushed to a 24-hour vet clinic, needing an emergency c-section. The vet said Brownie made it there just in time. She had four precious babies, but one did not survive from being in the birth canal too long. Had 30 more minutes passed, Brownie would not have lived as she was rupturing. BPF learned about Brownie and named her a Grateful Pet to support the surgery that saved her and gave her three pups a chance. We are thrilled to report that Brownie and her pups are all doing great. Thanks to Every Paw Animal Rescue for ensuring Brownie received the lifesaving help she needed!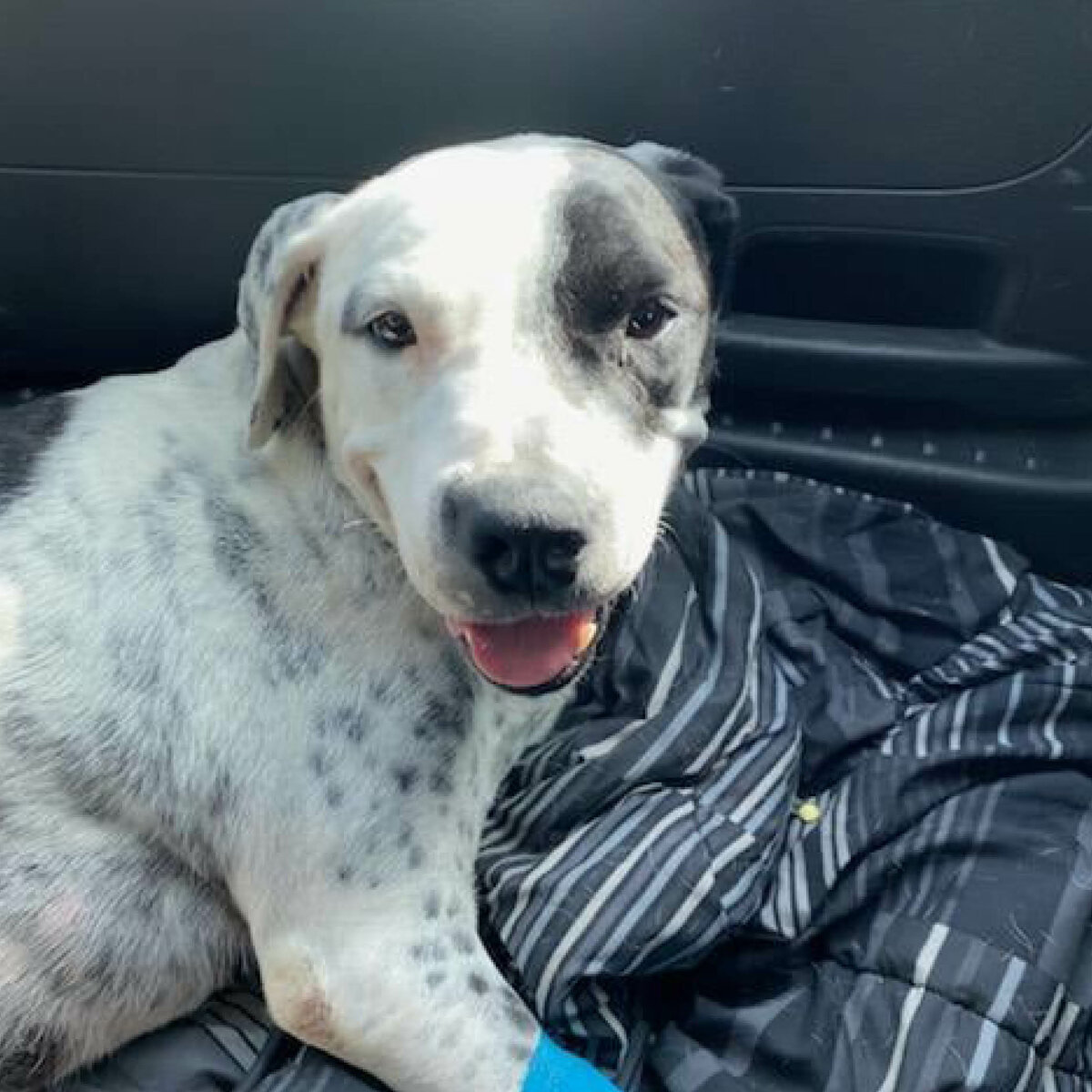 MAMA LUCY | Pound Pals, Emory, TX
Mama Lucy's story is one of tragic neglect. This loving mother dog and her five-day-old puppies were dumped at the local shelter by their owner. She arrived at the pound so sick she became septic—she was suffering from ehrlichiosis (an infection from a tick) and had a ruptured stomach due to scavenging chicken bones to stay alive. Pound Pals stepped in to prevent her from being euthanized, and BPF provided a Grateful Pet grant to try to save Lucy's life. Her first surgery was a success, but sadly, she could not overcome the odds stacked against her. Mama Lucy's final days were filled with love as she bonded with the vet tech who cared for her. Thank you, Pound Pals, for never giving up on Lucy and giving her the care she deserved.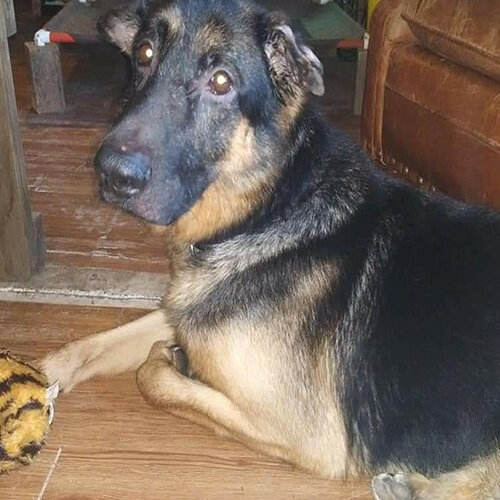 TEDDY | Happy Days Dog and Cat Rescue, Livonia, MI
Teddy came to the shelter as a stray in rough shape. External signs made it clear he had lived on a chain: his stance, muscle development, never cut nails, flea-bitten ears, hot spots, and hair loss. It was obvious his ears were hurting, and an examination showed that he had chronic infections that had taken his hearing. He required bilateral surgery to end his infections, repair damage, and relieve his pain. BPF was thankful Teddy was getting his second chance and made him a Grateful Pet, contributing to his surgery and care. He is now living the life he deserves!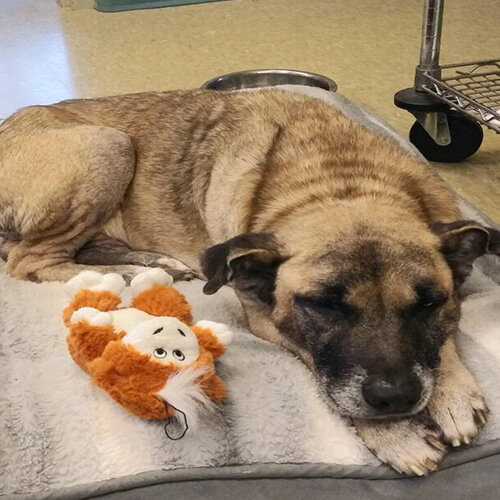 BUSTER | SPCA West Michigan, Kalamazoo, MI
Buster came to SPCA West Michigan on a transport from an overcrowded shelter in Louisiana. He had skin and ear infections, had been hit by a car, and someone had shot at him three times, leaving fragments in his leg. He had so much going against him but was a wonderful dog who everyone loved. BPF named Buster a Grateful Pet to contribute to his extensive medical treatment. Now, his fur is growing back, his ears have cleared up and he is beginning to recover from the other traumas in the loving care of SPCA West Michigan. We are thrilled Buster soon will know the safety and love of a forever home.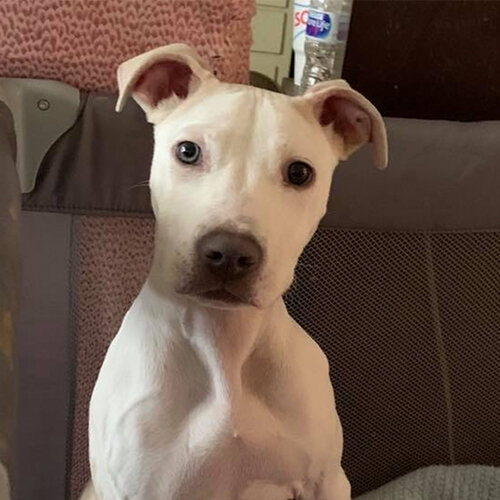 THANKFUL | Humane Society of the Delta, Helena, AR
Thankful came to the Humane Society of the Delta on Thanksgiving Day at only four months old but unable to move. It was assumed she was hit by a car, as clearly, she had suffered a massive blow to one side of her body. She also was experiencing seizures due to the trauma. An equally immediate concern was the possible damage to her intestines from the trash scavenging she had been doing to stay alive. Despite all this, Thankful is incredibly sweet and easygoing. This puppy needed extensive care, and BPF supported her surgery and medical treatment as a Grateful Pet so she can get the help she desperately needs.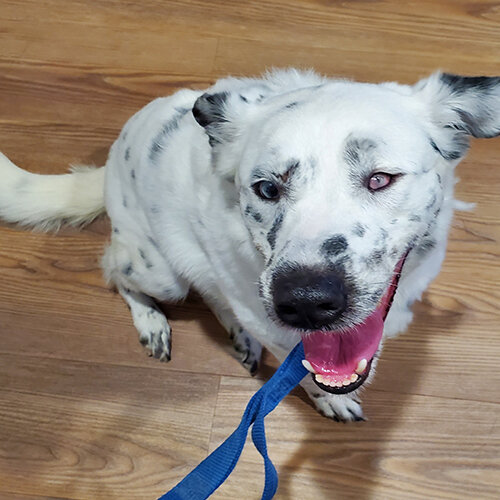 TAMMY | Furever Tails Animal Rescue, Oakland, MI
Tammy is a 7-year-old Australian Shepherd who was surrendered to a high-kill shelter when her owner could no longer care for her. Furever Tails Animal Rescue answered the call to get her out of the shelter, but it was clear that she was in pain and had serious medical issues requiring immediate attention. Examination showed she had a completely torn ACL and an uncommon eye disease, Microphthalmia, leaving her nearly blind in one eye. BPF supported Tammy as a Grateful Pet to help with her surgical and veterinary needs. Several people were interested in fostering Tammy, and she is getting wonderful care as she recovers. It won't be long before she is pain-free and living her best life!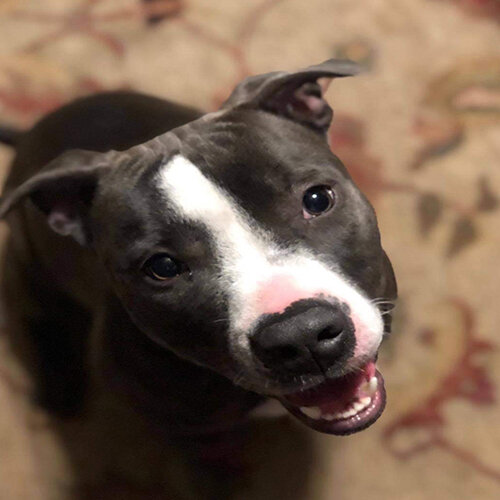 WILLOW | The Pittie Project, Ferndale, WA
Willow came to The Pittie Project from a shelter in Southern California where she had been on bite hold. She is about a year old and full of love and cuteness, but the Pittie Project was the only rescue that inquired about her. Willow likely would have been euthanized if they had not stepped in. When she arrived at The Pittie Project, she had significant lameness on her right hind leg. A specialist determined Willow had a torn cruciate ligament and would require a TPLO procedure to repair and stabilize the joint. As a Grateful Pet, Willow received support from BPF for her surgery and rehabilitation. Thank you to The Pittie Project for giving Willow a second chance!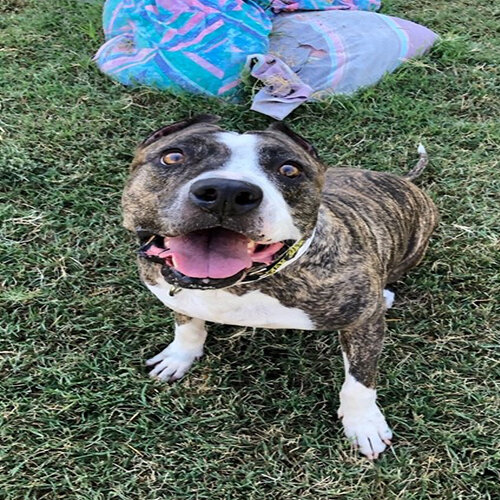 SEPTEMBER | Passion for Pitties, Chula Vista, CA
Passion for Pitties saw something special in September when they rescued her from the local shelter. She was slated to be euthanized because she appeared to be aggressive and, therefore, not adoptable. BPF made her a Grateful Pet to support her with training before going into a foster home. While she had been very frightened at the shelter, she quickly came out of her shell and became a favorite with the boarding/training facility staff. In foster care, she blossomed even more, becoming happy, confident and trusting. Now, she is quickly learning commands, enjoying playing fetch, and her absolute favorite thing is cuddling! We hope soon she will be cuddling with her forever family!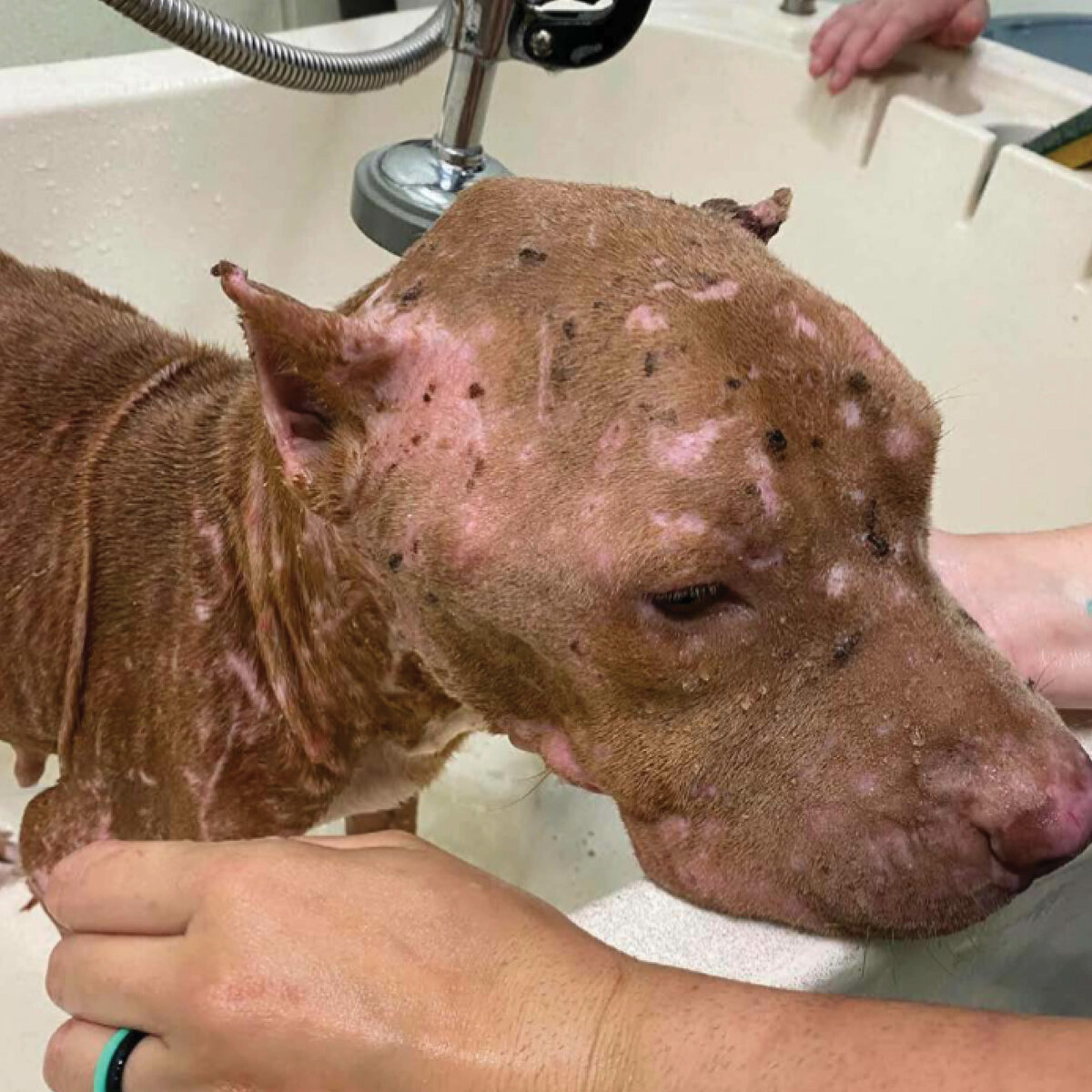 DESTINY | The Mylo Foundation, Milton, FL
Destiny's owner surrendered her to the shelter in horrible condition, making it apparent she had endured terrible treatment and great pain. She was in a state of shock, covered with infected bite wounds, and could barely walk due to an open wound exposing her elbow. Despite this, she maintained a sweet disposition toward the people caring for her. Thankfully, a BPF partner, the Mylo Foundation, took immediate action to save her. Destiny required surgery to close up the elbow wound and another by her ear. As a Grateful Pet, Destiny received financial support from BPF for her surgery and care. Everyone who meets Destiny falls in love with her! She is recovering in foster care until she finds her forever home.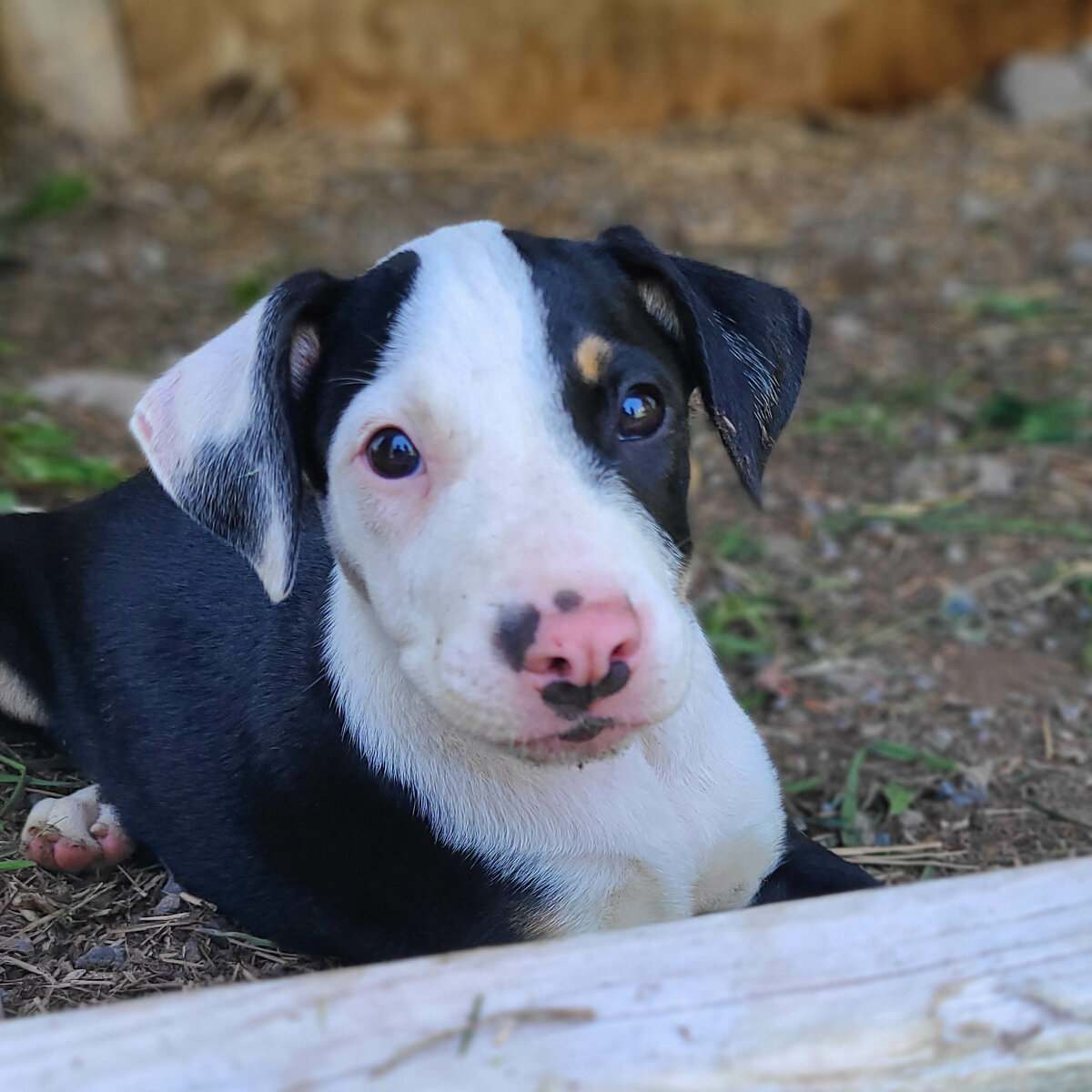 COBBLER | True Friends Animal Welfare Center, Montrose, PA
Little Cobbler was one of ten heeler mix puppies who, along with their mother, were transported from Point Coupee in Louisiana to True Friends to get a second chance. Puppies are especially susceptible to parvovirus and Cobbler broke with the deadly infection upon arrival at True Friends. BISSELL Pet Foundation had helped to coordinate the transport of the puppies and stepped in to support Cobbler's treatment as a Grateful Pet. After receiving amazing care from True friends, Cobbler made a full recovery and was adopted into his forever family!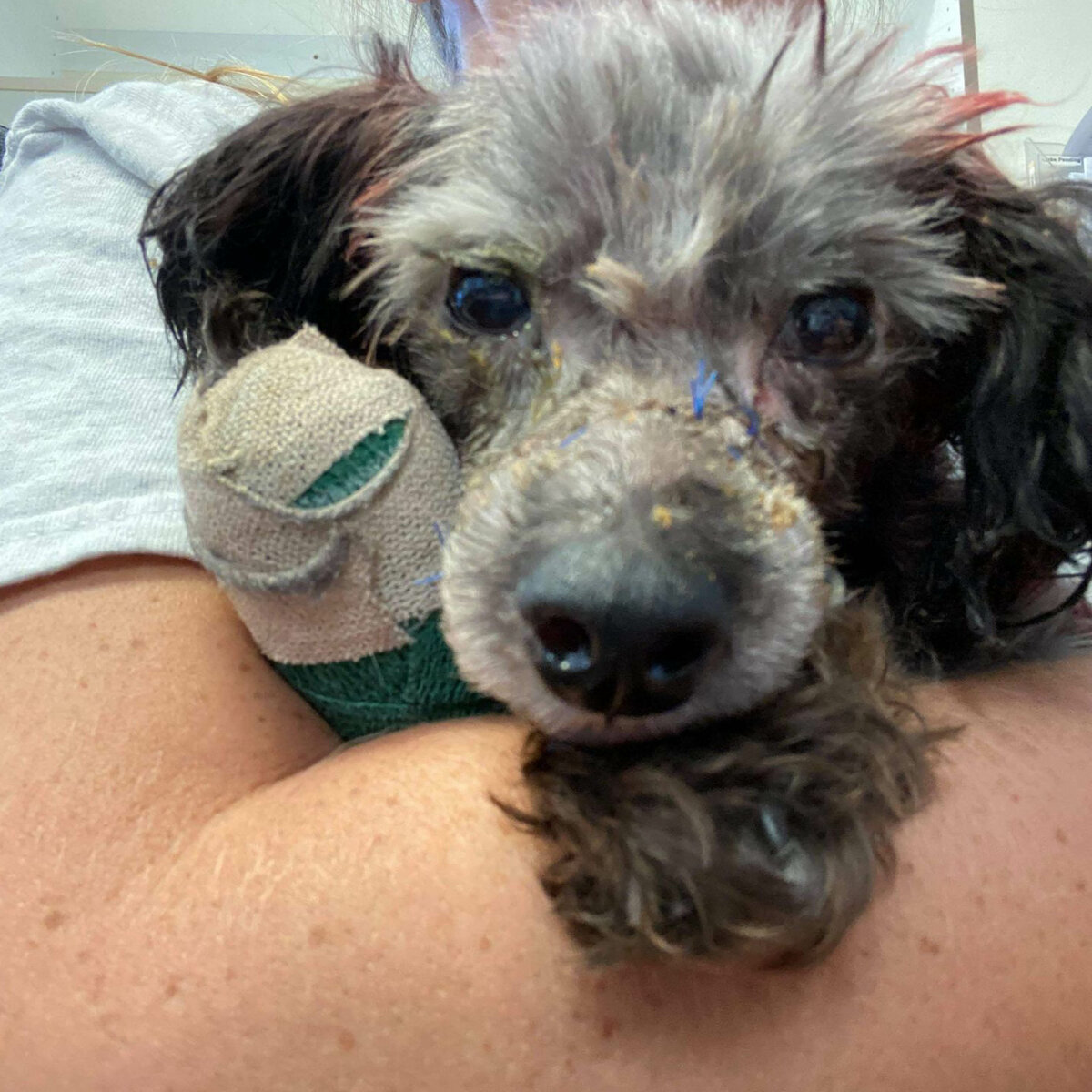 WALDO | Second Chance Rescue NYC Dogs, Verplanck, NY
This miniature poodle with an incredible will to survive was found in a dumpster after suffering extreme abuse. Waldo's muzzle was tied shut so hard by a piece of rope that it had sliced through his entire face on the top, sides, and bottom. It was horrific. Bone, teeth, and gums were exposed; his teeth were 100 percent rotted, and maggots were eating at his gums. He was emaciated and severely dehydrated. His leg was injured, eyes were crusted shut, and had issues too numerous to list. Thank goodness for NYC Second Chance's commitment to saving Waldo's life and showing him love. BPF is supporting Waldo's medical care as he gets the TLC he so deserves. He is in great spirits and is making an incredible recovery.
AMBER | St Landry Parish Animal Control, Opelousas, LA, and Baker Bridge Rescue, Charleston, TN
Amber came to SLPAC as a stray with an old wound to her jaw. The torn flesh and muscle made her look aggressive—her complete opposite—but it kept rescue groups from taking her, and she languished at the shelter. Cathy met Amber on a visit and knew she needed immediate help. SLPAC was able to get her surgery, with BPF committing to make Amber a Grateful Pet to support her heart-worm treatment. After the surgery, she was transported to a rescue to recover with a foster family. It was her first time experiencing freedom, and she flourished with loving care, attention, and other dogs. Amber won the hearts of her foster family, who is considering adding her to their family!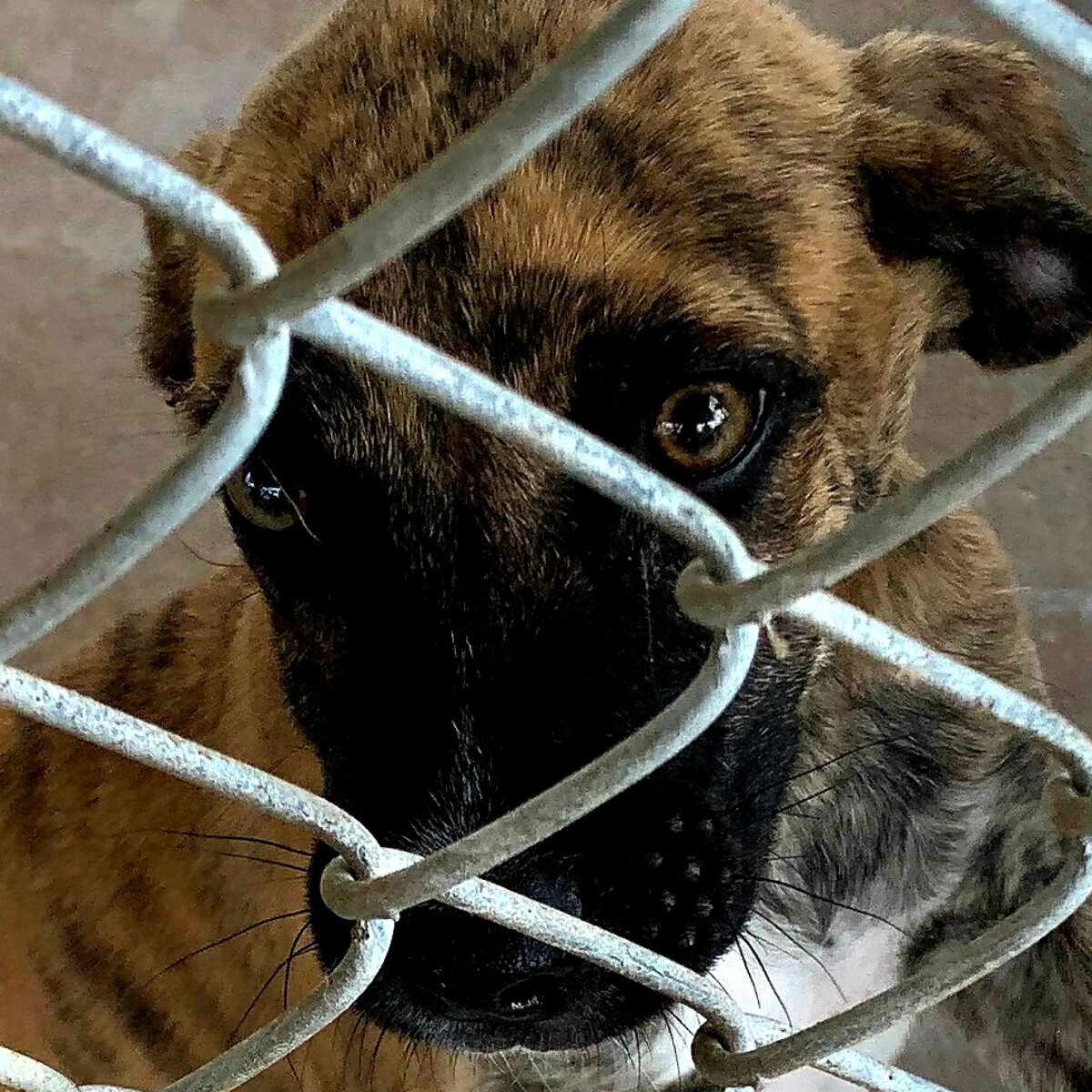 LUCKY | Blue Chip Farm Animal Refuge, Dallas, PA
Lucky, now Jules, was one of 16 puppies Blue Chip received from a Louisiana transport that BPF helped coordinate. All of the puppies were adopted once they arrived, but shortly after, several of them broke with parvovirus. The treatment for parvo is extremely expensive, and the outcome is not guaranteed. Lucky was identified as the pup that needed the most help, and BPF named her a Grateful Pet to save her life. Jules is now home, safe, and healthy! BPF is grateful that Jules received such loving care from Blue Chip and her new owners.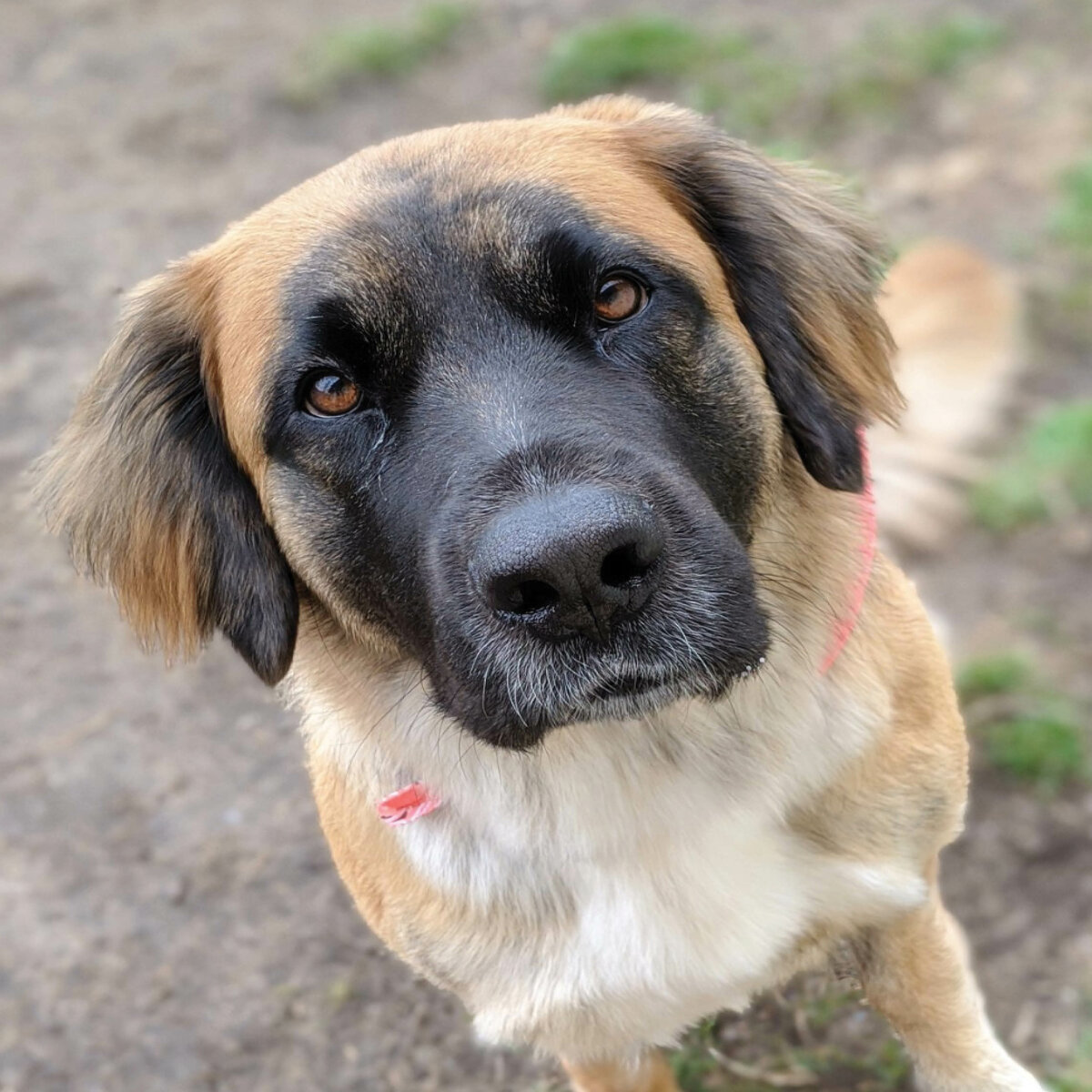 CHARLOTTE | Hearts of Hope Rescue, Grand Rapids, MI
Poor Charlotte was hit by a car and taken to the local animal shelter. Unable to reunite Charlotte with her owners, the shelter reached out to Hearts of Hope Rescue to take her in and provide the care she needed to recover and ultimately find a home. After learning about Charlotte and her need for hip surgery, BPF named her a Grateful Pet and granted funds for the procedure. Charlotte was adopted by the most wonderful family with two little boys that adore her. She is thriving!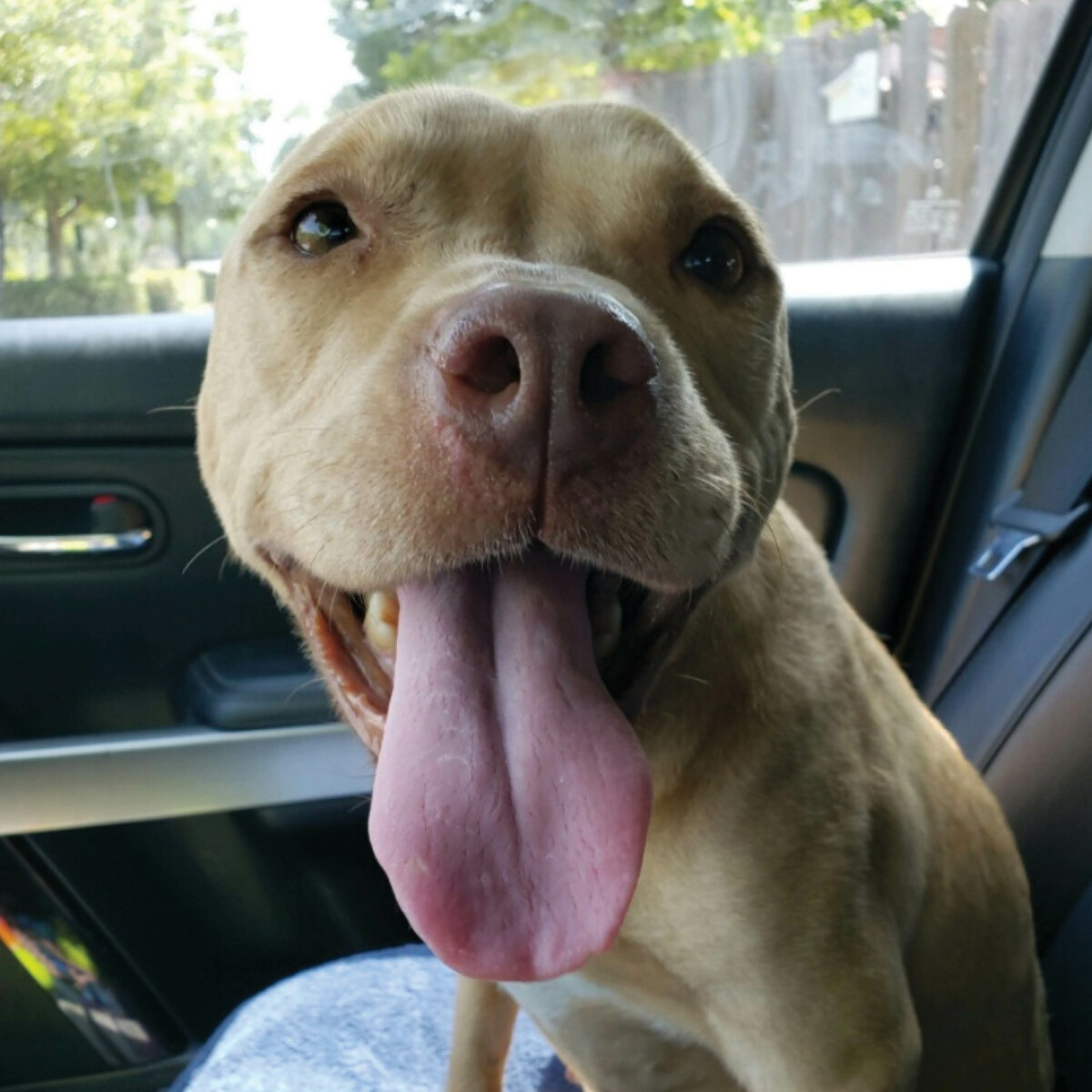 ROXIE | Zeus' Rescues, New Orleans, LA
Roxie was on the euthanasia list at a shelter in rural Louisiana that could not afford to treat her. The staff emailed rescue groups to save Roxie since she was such an amazing dog and had been the shelter for years. One look at her face and the team at Zeus' Rescues knew they had to help. As soon as Roxie got off the transport truck, she started peeing blood. By the next morning, she was too weak to stand. BPF made her a Grateful Pet to fund the emergency heart surgery, which saved her life. They removed 51 adult heartworms! Roxie had a long road to recovery, but thankfully, she is now living her best life.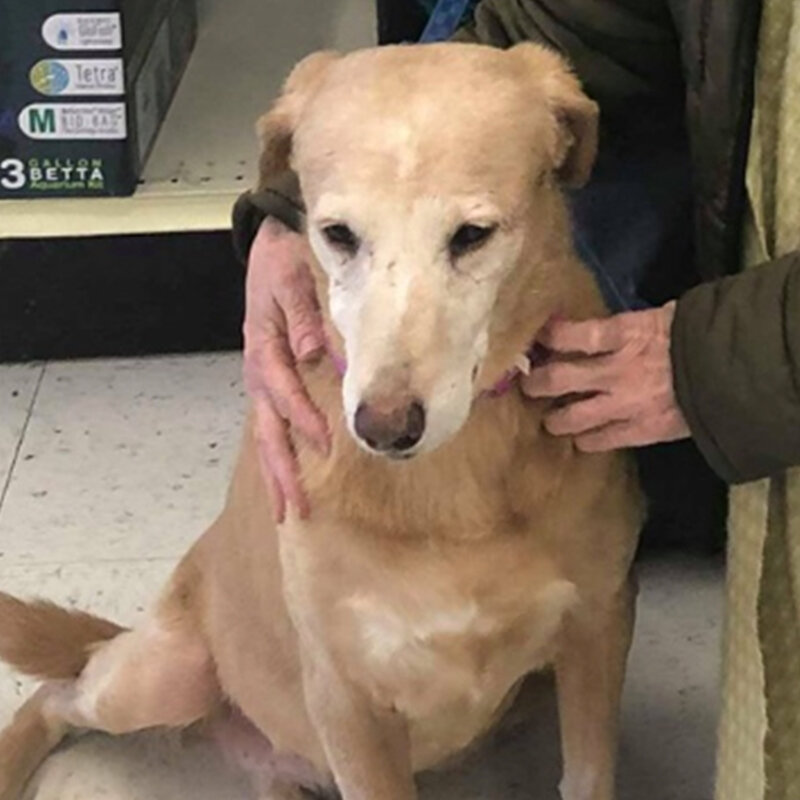 ZOIE | Hearts of Hope Animal Rescue, Grand Rapids, MI
When Cathy and the team were in Louisiana for a spay/neuter clinic, they met Zoie at the Pointe Coupee Animal Shelter. It broke everyone's hearts to learn that she was 10 years old and had been in the shelter her entire life! BPF named her a Grateful Pet, supported her vaccines and vet care, and contacted Hearts of Hope to help. They immediately said yes, and Zoie made the road trip to Michigan, where she was quickly adopted. She will be loved in a happy home with a fur brother and a family of chickens. Way to go Zoie! So happy you will experience life at last!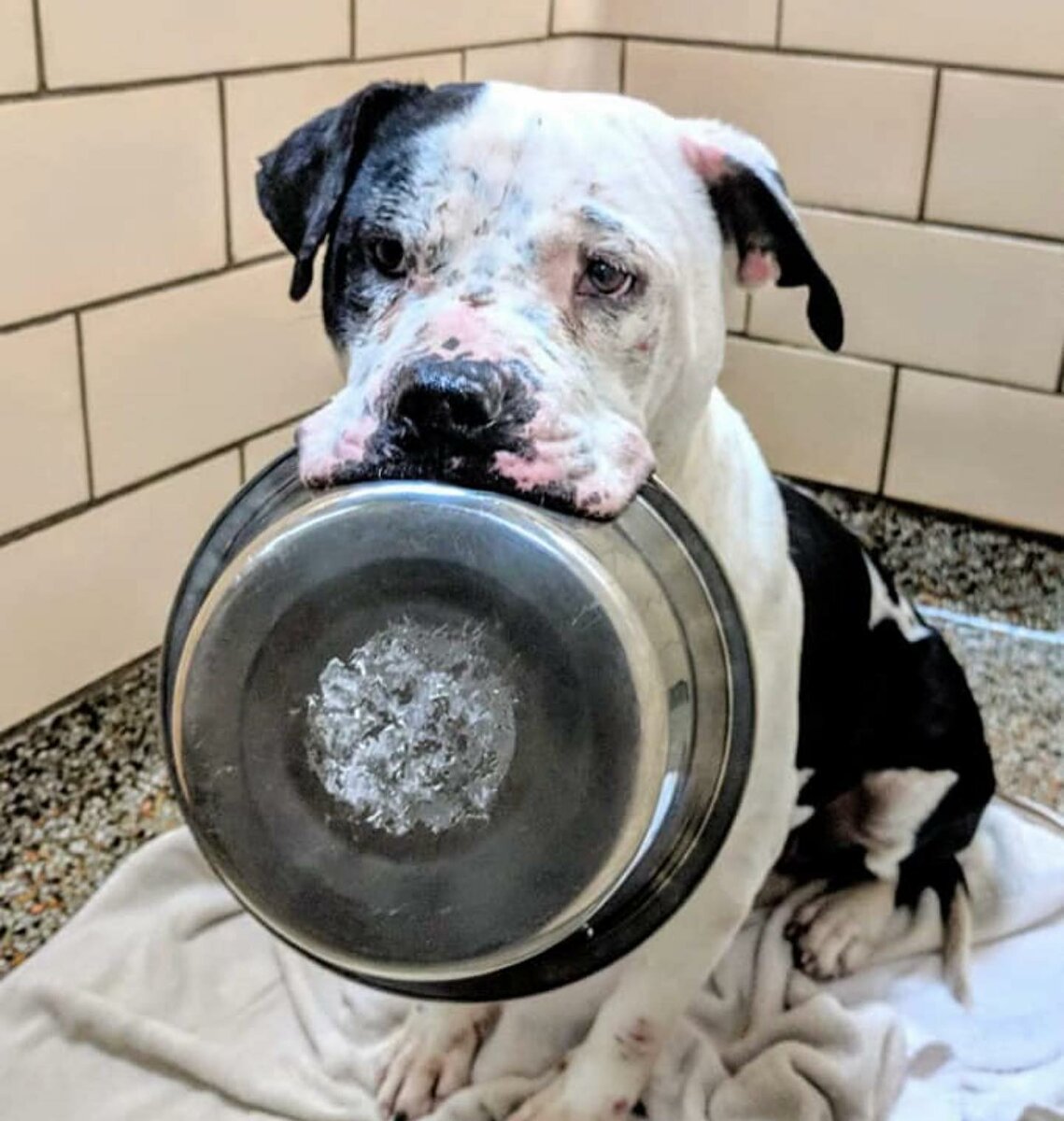 ANGELA | Paws for Life Animal Rescue, Troy, MI
The BPF team met Angela at Detroit Animal Care and Control during Empty the Shelters, and everyone fell in love with her because she was always holding her bowl! She was the sweetest dog but was so scared, she used her bowl like a security blanket. Angela wasn't adopted that day, but fortunately, Paws for Life Animal Rescue was able to rescue Angela from the shelter environment. It was quickly determined she would need treatment for a respiratory infection, heartworm, Giardia, wounds, and skin infection. BPF named her a Grateful Pet to help with her medical treatments. Angela has since been additionally diagnosed with diabetes. Poor Angela has been through so much and we hope she will be happy and healthy in her forever home soon!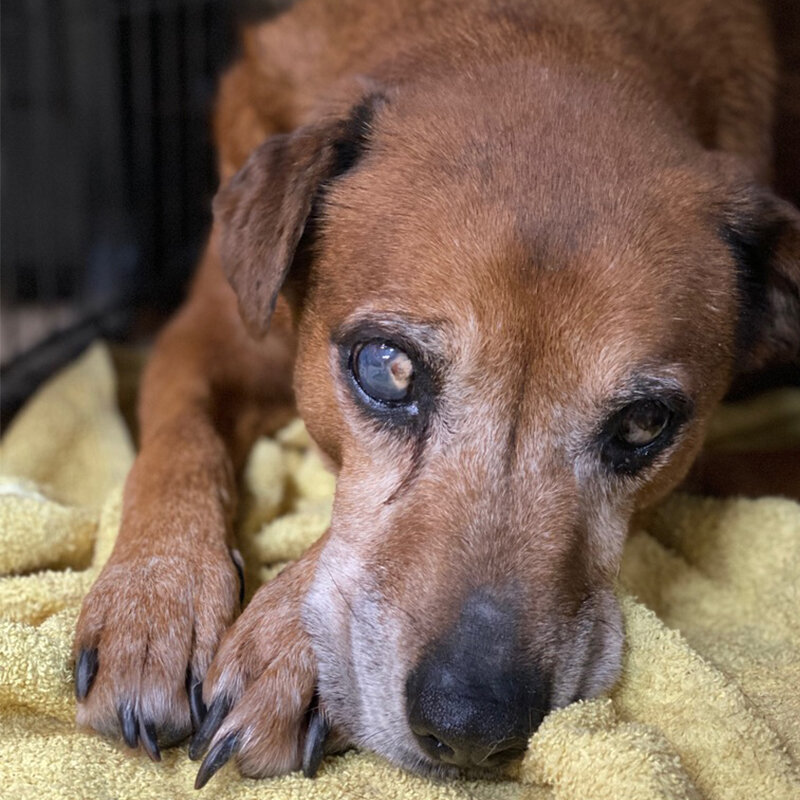 SCARLETT | Pointe Coupee Parish, Louisiana
It is with a heavy heart that we said goodbye to this beautiful 11 1/2-year-old girl. Scarlett, who lived her entire life in this cage. When the BPF team met Scarlett, we pulled her from her cage to give her hope. Dr. Phil Bushby, from Mississippi State Veterinarian School, helped us by identifying a sarcoma in her leg and confirmed she was also blind. BPF named her a Grateful Pet, and she was taken to a veterinarian as we knew she needed medical attention. The news was sad. Her leg needed to be amputated, but arthritis in her other legs wouldn't allow her ever to walk. The pain was too much for her and we decided that it was time to say goodbye. We know she is running free now. She deserved better.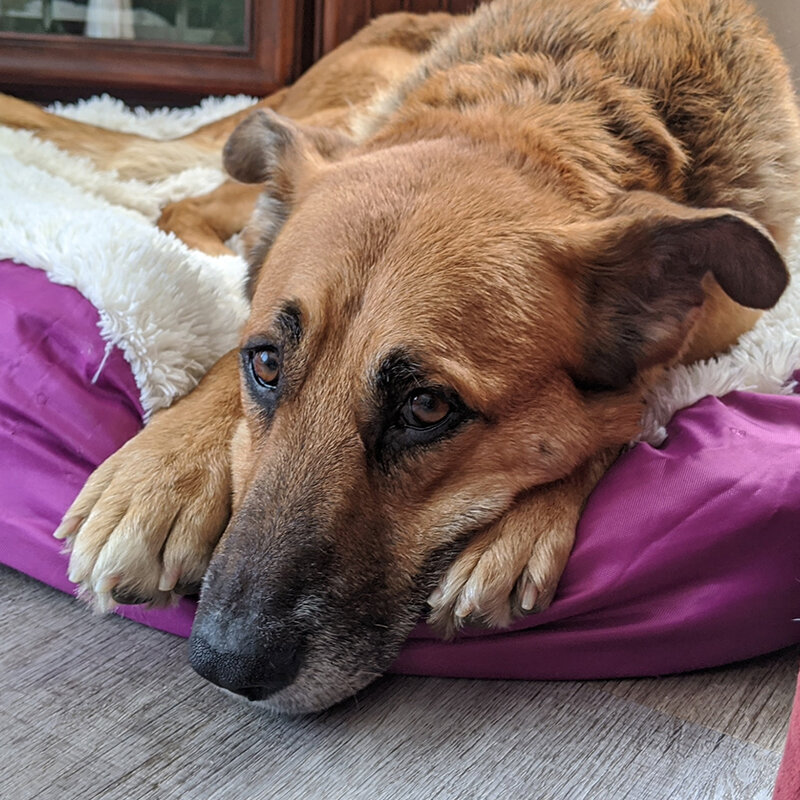 NOLA | Hearts of Hope Animal Rescue, Grand Rapids, MI
Nola, an emaciated and heartworm positive six-year-old, was dropped at St. Landry Animal Control, where she was so frightened, she immediately hid under a bookcase. BPF learned about Nola right away and promised to make her a Grateful Pet to support her veterinary care and get her into a rescue so she wouldn't be so scared. Our partners at Hearts of Hope Rescue agreed to bring her to Michigan to find a forever home. Once she realized she was safe, Nola was a different dog. She still likes to find cozy places to snuggle, but she is incredibly sweet and affectionate. Stay tuned for updates on her happy ever after!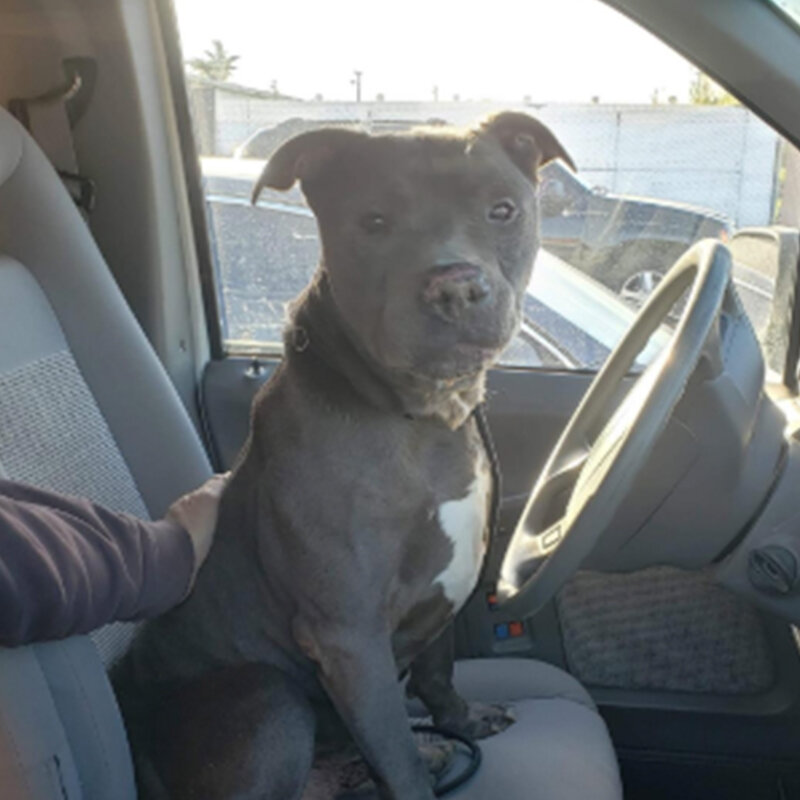 ASH | JL Animal Rescue, Rancho Sante Fe, CA
Ash was at the local shelter and was being passed up for adoption because they thought he needed expensive surgery for entropian, a disease where his eyelids were folding inward and painfully scratching his eyeballs. His days were numbered when JL Animal Rescue pulled him with a commitment from BPF to fund his surgery and save his life. Fortunately, after Ash's veterinary assessment, JL Animal Rescue learned that his entropian could be completed treated with medication- no surgery! BPF supported the medical treatment for this lucky Grateful Pet and he currently is in a foster home waiting for his forever family.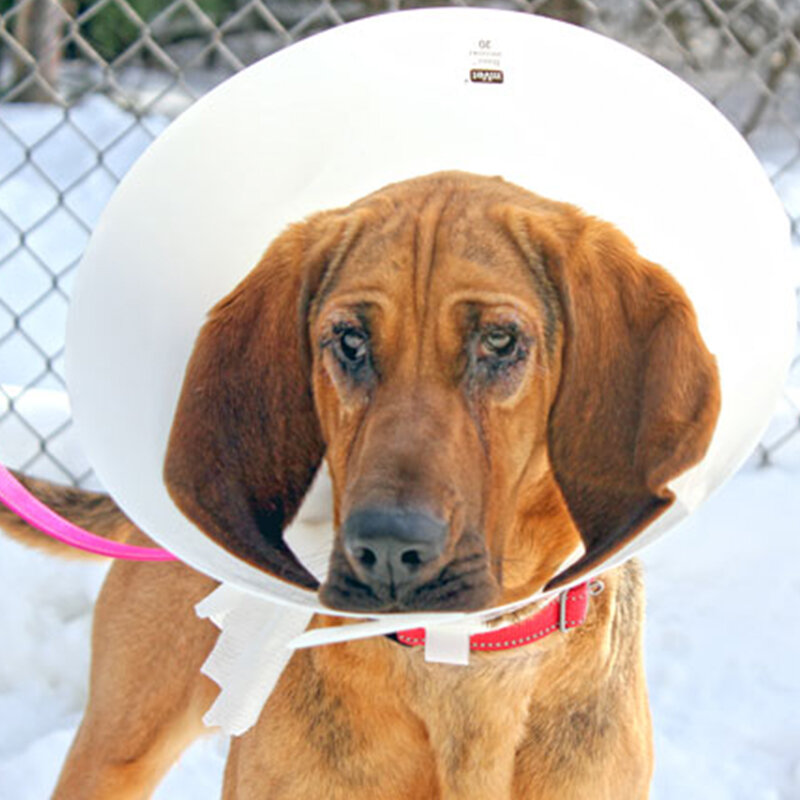 DAISY | Eva Burrell Animal Shelter, Manistique, MI
Eva Burrell Animal Shelter (EBAS), a small organization in Michigan's upper peninsula, took in Daisy, a beautiful, young Bloodhound who needed help. She was in pain from entropion, a disease where her eyelids were folding inward and scratching her eyeballs. It was clear she was in pain, in addition to needed surgery, our friends at Eva Burrell were concerned she wouldn't do well in a shelter setting. As a small shelter, EBAS didn't have the funds for Daisy's surgery, but they were committed to helping her. BPF agreed to sponsor her surgery as a Grateful Pet and they found a Bloodhound Rescue to foster her while she recuperated and until she is adopted. Stay tuned for updates on Daisy's forever family.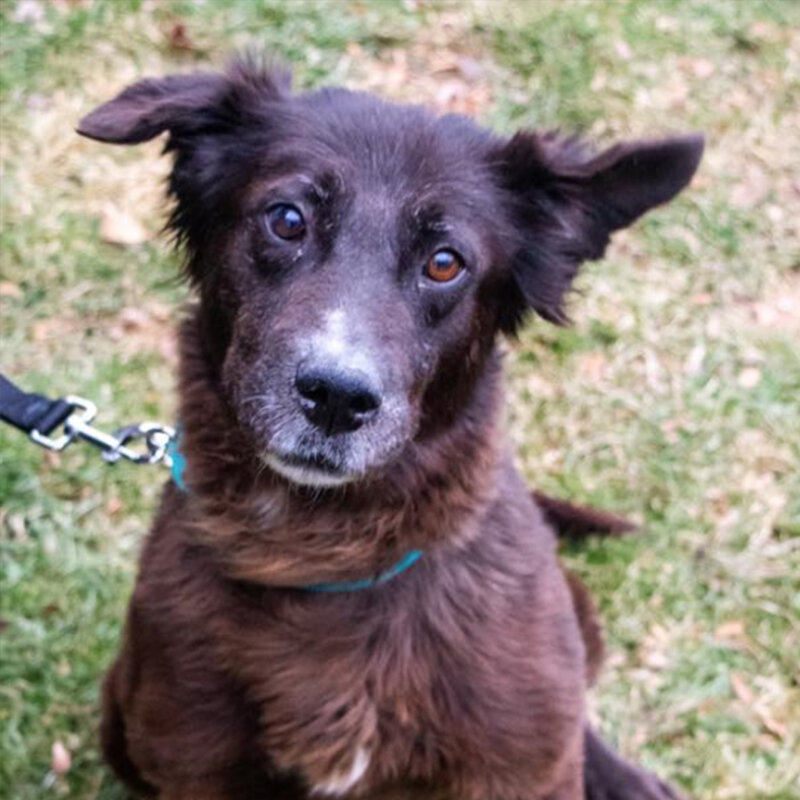 MABEL | Detroit Dog Rescue, Detroit, MI
Cathy and the BPF team met Mabel at our Empty the Shelters event at Detroit Animal Care and Control (DACC) in December 2019. This sweet, senior girl was found in a construction hole and was brought to the shelter when we were there. She was rescued with the help of an excavator! Another trusted partner and friend, Kristina from Detroit Dog Rescue (DDR), visited us at DACC during the event, met Mabel, and knew that DDR could help turn her life around. Mabel needed some attention before she could be adoptable, so BPF made her a Grateful Pet. She had some injuries from the fall into the hole, and a chronic respiratory infection that was causing major concerns, and BPF provided funding for her veterinary care. She is now cleared for adoption and is looking for her first-ever family and a much-deserved second chance!
BILLIE | Michigan Humane Society, Detroit, MI
Cathy and the BPF team identified Billie during May 2019 Empty the Shelters. She and her brother, both young dogs, were brought to Michigan Humane Society after being found in their crates in an abandoned home. They were both emaciated with sores on their hind area, and unfortunately, Billie's brother was extremely aggressive. BPF wanted to help Billie and made her a Grateful Pet so she could get the care she needed to gain weight and regain her health. We are happy to announce that Billie is now in her forever home and is being spoiled like she deserves!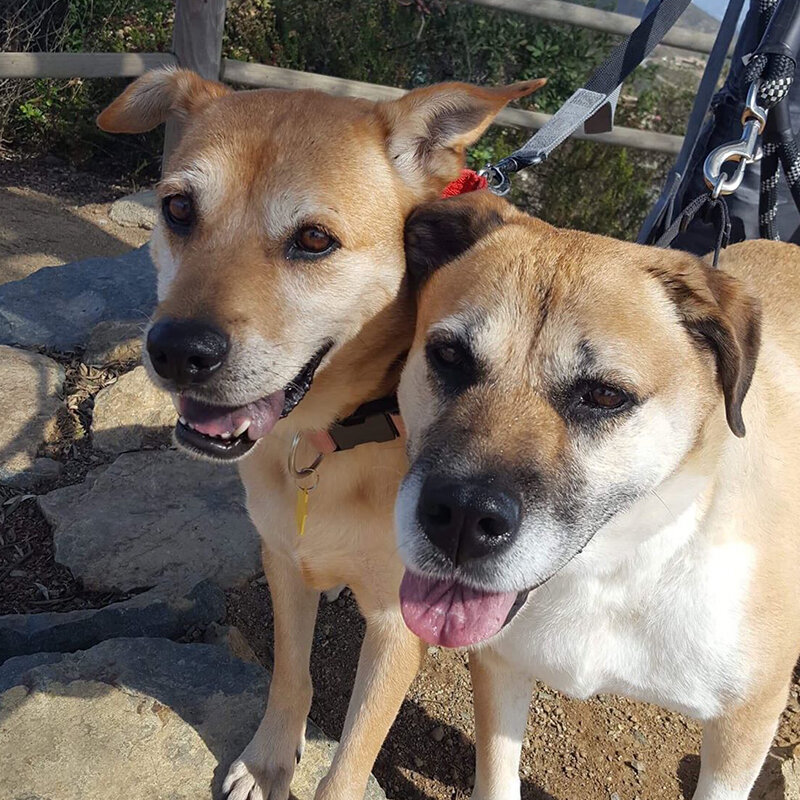 PENELOPE & MISCHIEF| Labradors and Friends Dog Rescue Group, San Diego, CA.
Penelope and Mischief, a bonded pair ages 7 and 9, were surrendered together to the local shelter by their family. It was heartbreaking—they should have spent their golden years with their family but instead were scared and confused. After a long wait with no interest, these girls were put on the euthanasia list, but fortunately, Labradors and Friends saved them. BISSELL Pet Foundation made them Grateful Pets to support the pair while they awaited their forever home. Since it was difficult to find a foster for two dogs, BPF offered to help with funding toward boarding where they could be comfortable while they wait. We are happy to report they were adopted together and will live out their lives together in a loving home.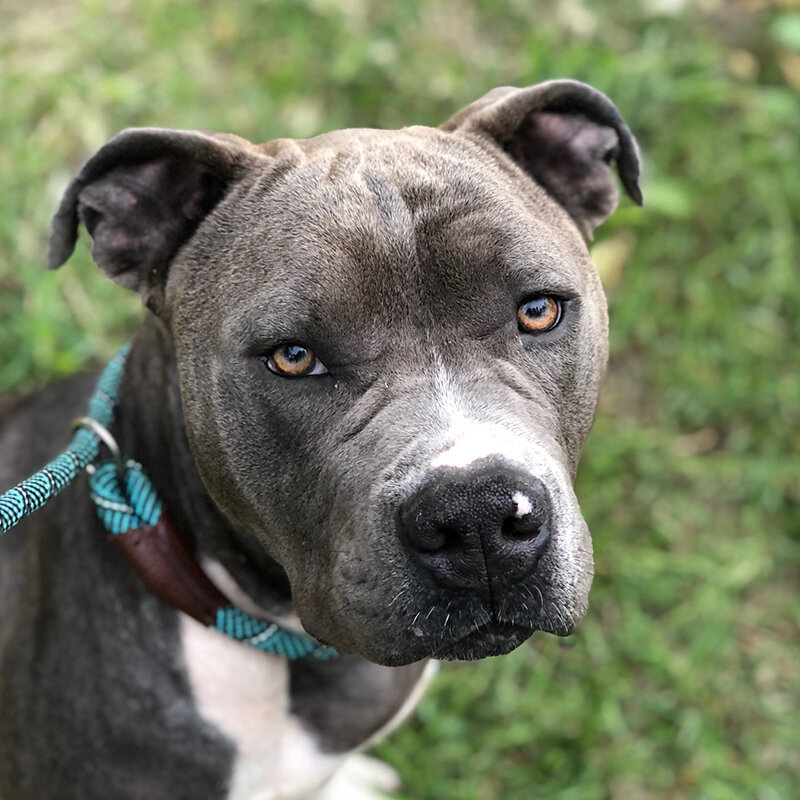 PAULIE | Martina Animal Rescue, El Sobrante, CA.
Paulie is a 6-year-old pit mix who was rescued by Martina Animal Rescue after being put on the euthanize list after just one week at a local shelter. He was so sweet, but the stress of the shelter was making him act out and he needed help. BISSELL Pet Foundation was moved by Paulie's story and named him a Grateful Pet to provide funds for training and socialization. Just after leaving the shelter, poor Paulie had a rectal prolapse which necessitated an unexpected surgery. Finally, Paulie is back to good health and good manners. He loves people and is an athletic and smart boy looking for a home!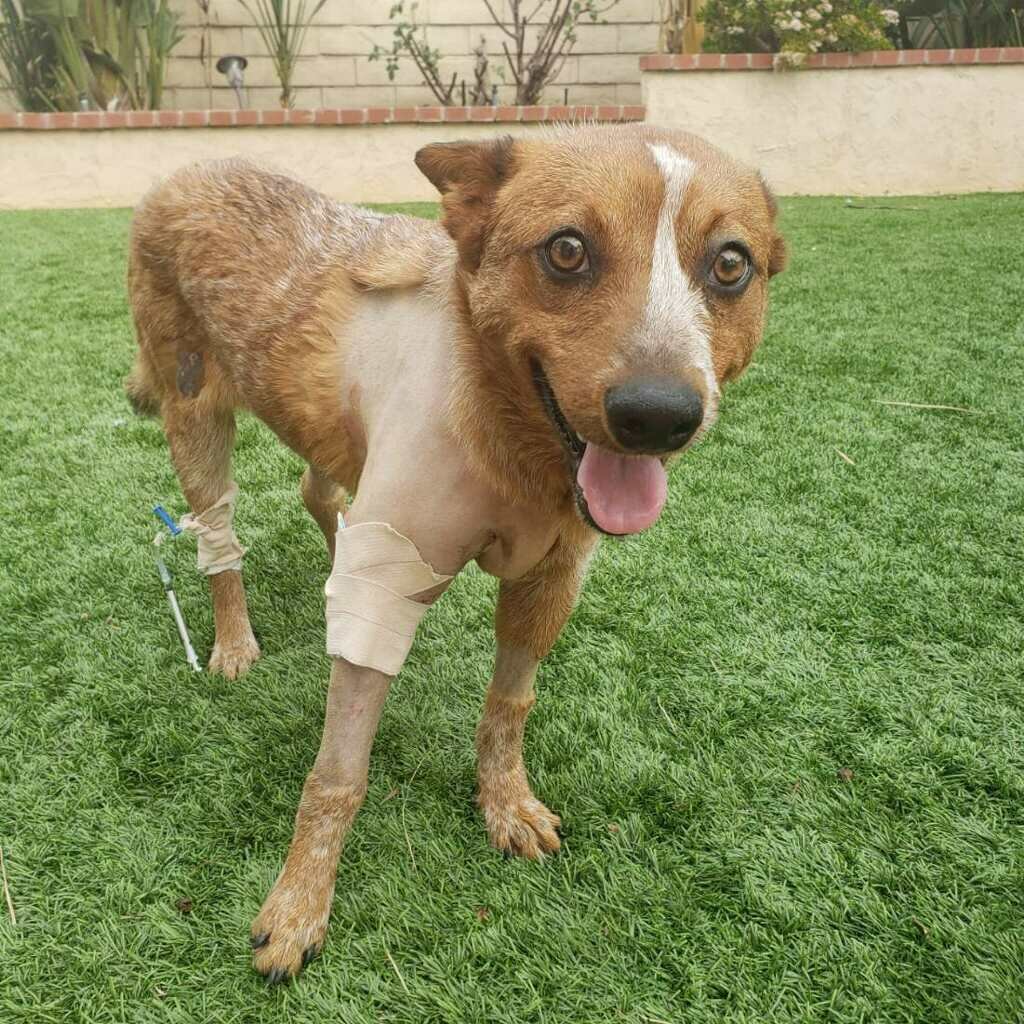 DEACON | Eastwood Ranch Foundation, Animal Welfare & Rescue, Los Angeles, CA.
A few weeks ago, our friends at Eastwood Ranch Foundation (ERF) received a plea from a high kill shelter in Southern California about Deacon, a stray, young Cattle dog who had been hit by a car. His prognosis wasn't promising with 2 broken legs and a fractured pelvis. Deacon was set to be euthanized, as the shelter did not have the resources to care for him, but ERF stepped in to give him a chance. With the help of Pilots & Paws, he rode by helicopter to Los Angeles, where his surgery was performed. BPF named Deacon and Grateful Pet to support his surgery, which we are happy to report was a success. He is expected to make a full recovery and will make a wonderful family pet.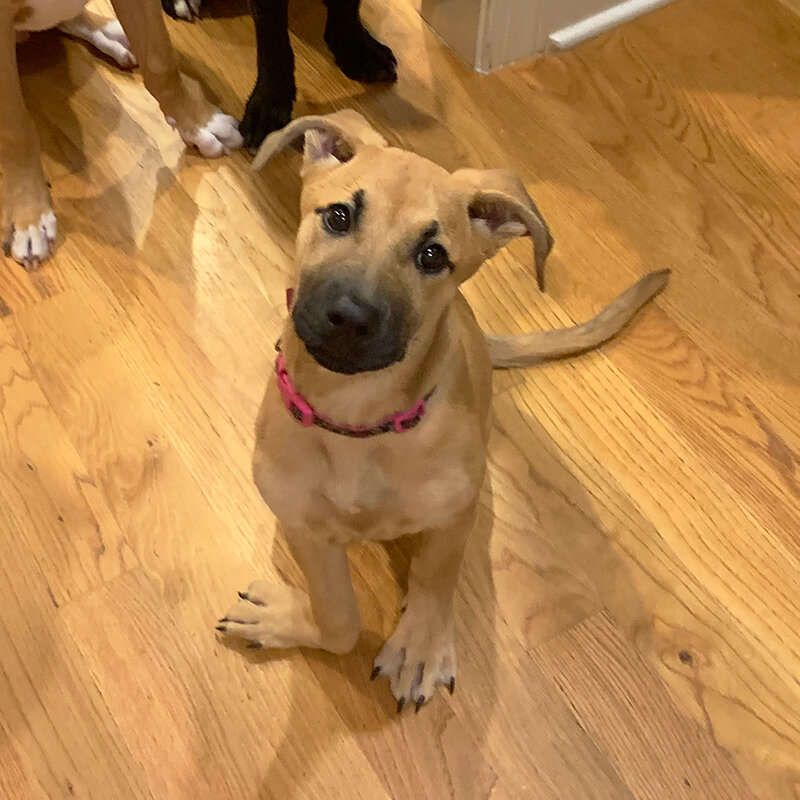 GINGER | Wags and Walks, Nashville, TN.
Ginger was found as a stray and brought to the local shelter, but her leg was so disfigured it was clear that finding an adopter would be difficult. The shelter put out pleas to local organizations who might be able to help her, and Wags and Walks stepped forward. They determined Ginger was in serious pain from a trauma that left her pelvis fractured and leg broken. When BPF learned about Ginger, we stepped in to support her medical costs. With some crate rest and TLC, Ginger is doing so much better that surgery might not be necessary. We are so thankful Wags and Walks was willing to take a chance on Ginger, and we can't wait to know the rest of her story once she heals!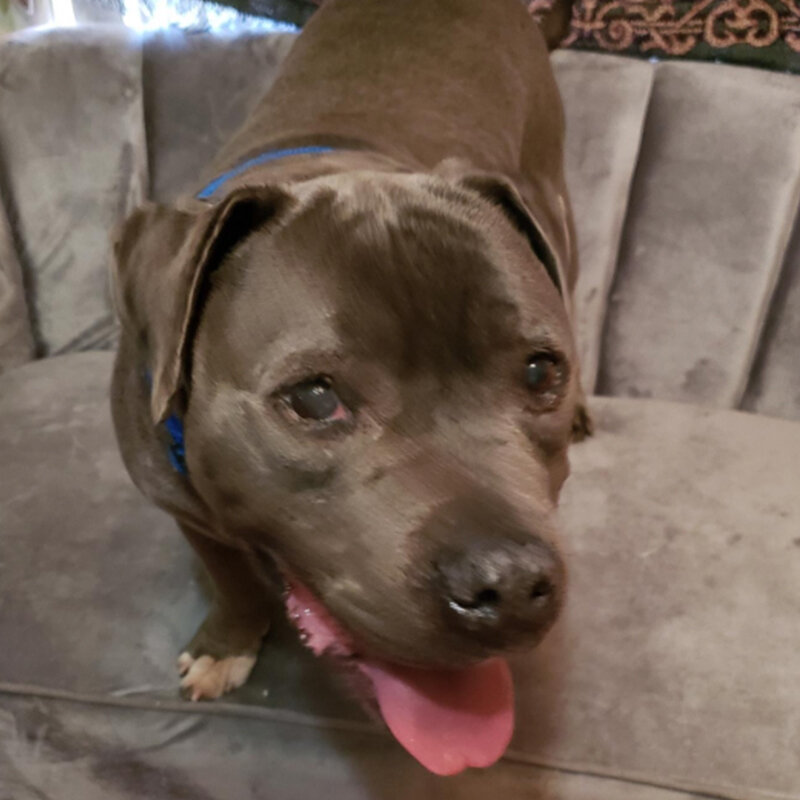 SAMPSON | Cat Adoption Services, San Jacinto, CA.
Sampson was at BPF Partner Ramona Humane Society, where his chances for adoption were limited because of his condition of entropion, a disease where his eyelids were folding inward and painfully scratching his eyeballs. Surgery was necessary, and BPF named him a Grateful Pet so he could get the care he needed, both to relieve his discomfort and to make his adoption possible. Ironically, an organization called Cat Adoption Service took Sampson in and cared for him pre- and post-surgery. Stay tuned for information about his new life!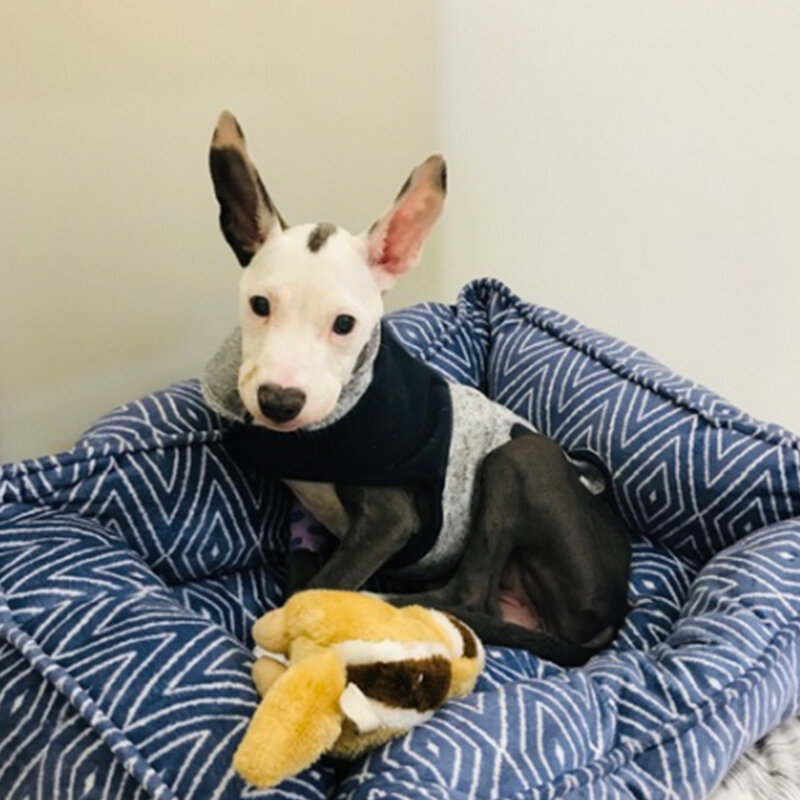 DUCHESS | Douglas County Animal Services, Douglasville, Douglasville, GA.
Duchess is pictured at 5 months old but looks more like she is 10 weeks old because she is so tiny! She came into the shelter as a stray with diabetes and a heart murmur, then she contracted kennel cough. BPF committed to helping her to get back to full health as a Grateful Pet. Since she is insulin resistant, Duchess has trouble maintaining a stable weight and has also developed cataracts. She really pulls at the heartstrings with her sweet personality and heart-shaped nose! She is currently in a foster home, regaining her health and awaiting her forever family.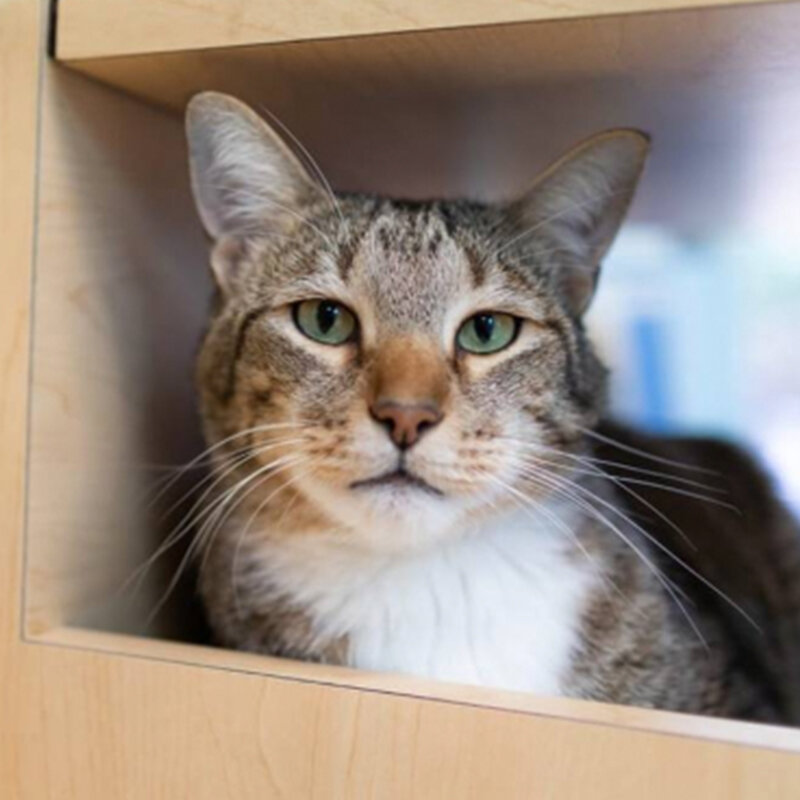 QUILTY | Friends for Life Animal Rescue and Adoption Organization, Houston, TX.
Not only is Quilty a Grateful Pet, but he's an internet sensation! Quilty, a mischievous 6-year-old cat, had a unique skill of freeing himself and all of his buddies from the cat room at Friends for Life Animal Rescue and Adoption Organization. When we heard about Quilty starting a movement to free shelter animals, BPF knew we had to help him! BPF paid his adoption fee and funded the spay/neuter of some of his friends to help them all break free and into forever families! Quilty had countess applications for adoption and is now in the perfect home, supporting adoption on his Instagram: @free_quilty .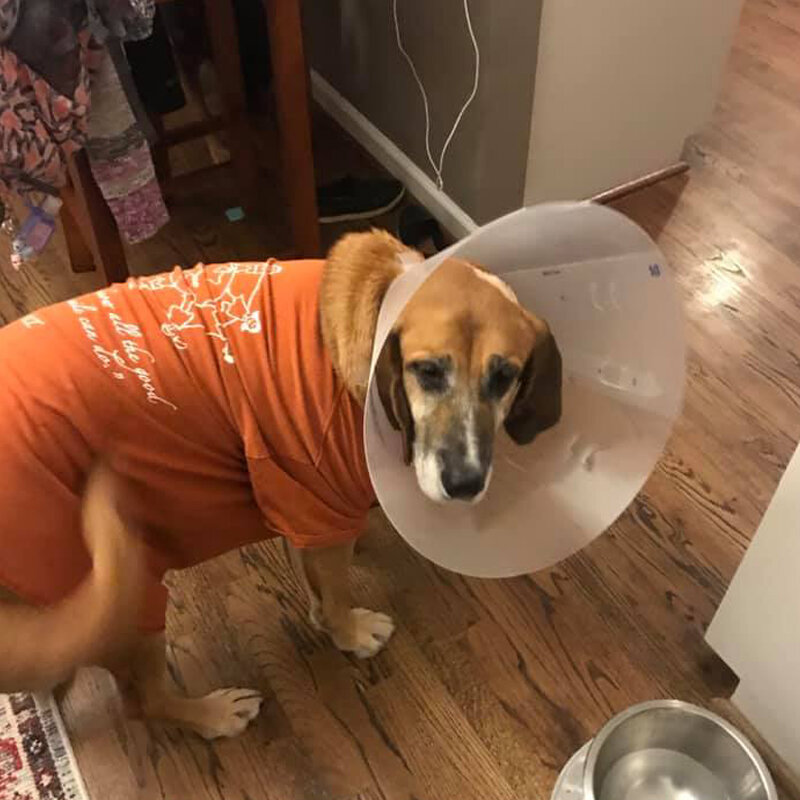 HYA | Carolina Loving Hound Rescue, Charleston, SC.
Hya was at the Greenville Animal Shelter and needed to be at a rescue organization that could tend to her intense medical needs. She is a senior dog with a tumor that required surgery and prevented her from being adoptable. Carolina Coonhound Rescue stepped in to get her out of the shelter but needed help to fund Hya's surgery. BPF named Hya a Grateful Pet to make sure she received the care needed. The operation was a success (no cancer!), sweet Hya recovered, and now lives her best life on a sanctuary where she is adored. Hooray for Hya!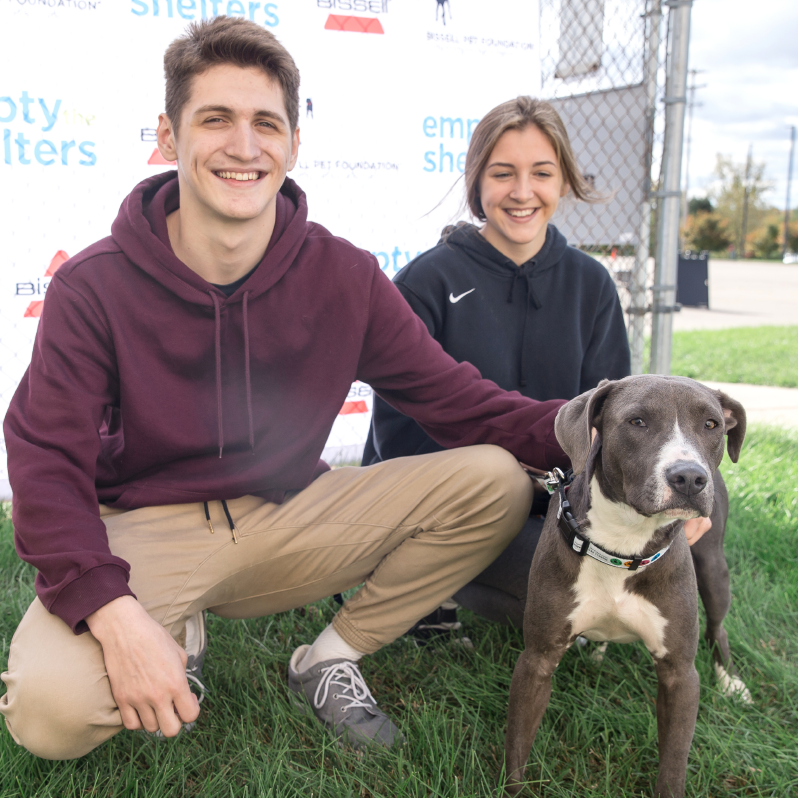 Zyler was on death row in Texas with 4th-degree burns on his back. His family dumped him at the local shelter where he would have been euthanized because his burns would deter potential adopters and they didn't have the space for him or the money to treat him. Cathy received an urgent message about Zyler and BPF named him a Grateful Pet, pledging to get him to Michigan, and to help him find a home. Partners stepped up to transport Zyler to Harbor Humane in Michigan and everyone who met him along the way fell in love with him—he was so gentle, and great with other cats and dogs. The morning after he arrived, Zyler came to Empty the Shelters at BISSELL Headquarters and he was one of the first adoptions of the day! An amazing family immediately fell in love with Zyler and gave him a loving home.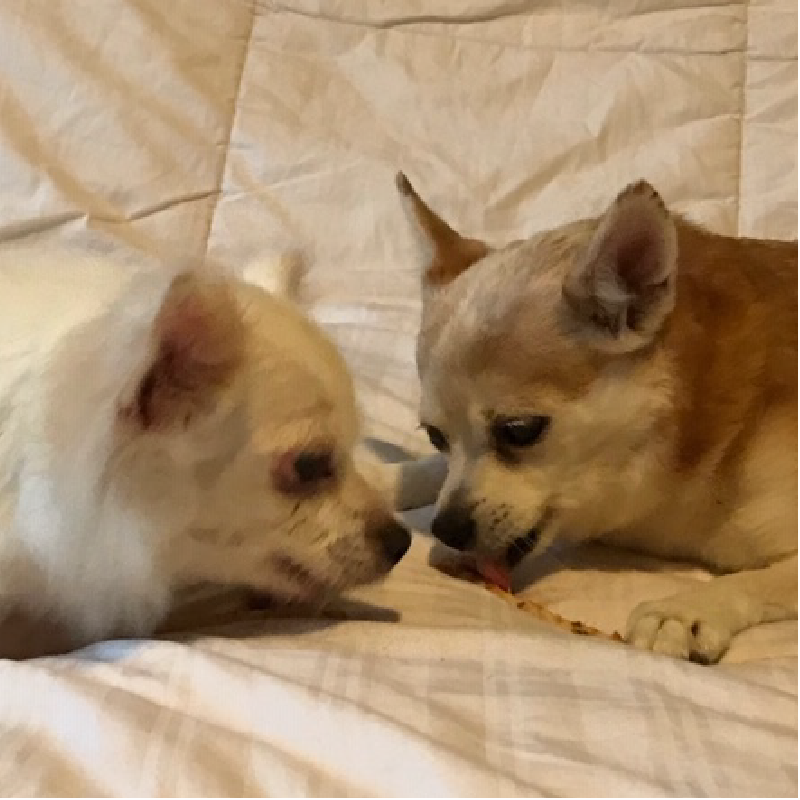 The BPF team met Fred & Wilma at an Empty the Shelters event at BISSELL Headquarters, where everyone fell in love with the bonded, senior pair. Unfortunately, no one adopted them during the event as they required expensive dental care. After the event, the pair was named Grateful Pets, and BISSELL made sure they received the necessary treatment to prepare them for a forever home. They were quickly adopted together and are a happy and healthy!