Lexus & Audi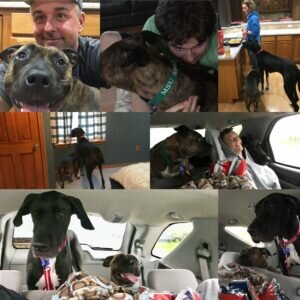 "We lost our family dog about 9 months ago and he was an 11-year-old Great Dane. We thought it was time to look for another forever friend and the EMPTY THE SHELTERS event was a perfect time to search again. We were searching for a loving dog that we all connected with, and boy did that ever happen…TWICE. Meet Lexus and Audi. Two "sisters" that had separation anxiety and had to be adopted as a pair. Not many people can take on loving a large dog, let alone two, but we decided, not only would this save two lives today, but two more tomorrow by opening up needed space in the shelter in the future. Our family couldn't be happier. Thank you, BPF!"
Buckwheat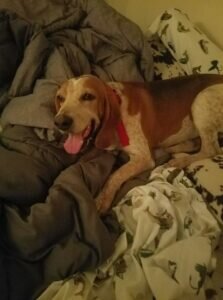 "We had been looking for a dog around 5 or 6 years old to be a companion for our dog, George. Then I saw on Facebook that the Humane Society in Midland was getting a few dogs in from Hurricane Irma and that BISSELL Pet Foundation was having an adoption event for them. It happened to fall on a Sunday which was perfect for us as my fiancee had to work on Saturdays.
I saw Buckwheat's picture and little bio online and asked about him. When we got to the shelter and meet him we fell in love! He couldn't have been a better fit for our family if he tried. He is about 5 years old and is also part hound like our George. We had the two do a meet & greet at the shelter and they got along great right from the start!
Buckwheat was heartworm positive when we adopted him and has since had all of his treatments for it. We will be getting him a vet check up in a couple weeks to make sure everything is fine.
It seemed like he had been an outside dog before we got him as he wasn't potty trained and preferred to be outside. Since he has been home for a few weeks now, he has taken to being an inside dog well. He now prefers to be indoors and loves snuggling us and his brother on fluffy blankets, pillows, and the bed.
We are so grateful to the wonderful volunteers and staff at the humane society and to the BISSELL Pet Foundation for helping get Buck into our lives!"
Hazel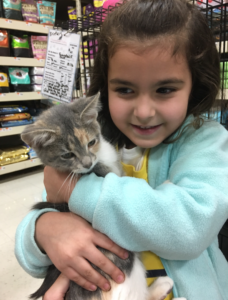 "We adopted a puppy last year and had been thinking about adopting a kitten too. We didn't want to rush in to anything, so we wanted to make sure it was the right time and right cat for our family. We went to go look at some kittens, fell in love with Hazel and filled out an application right away! I took the picture below and sent it to my husband and he couldn't say no! She is so sweet and has been such a fun addition to our family! Thank you so much for the EMPTY THE SHELTERS events!"
Copper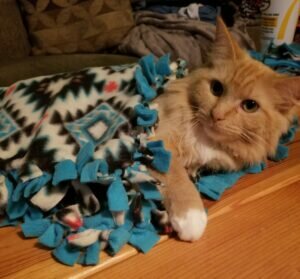 "My friends and I decided last minute to visit the shelter on a Monday evening. We went into the cat room and Georgia was there just staring at me. I had no intention to adopt such a wonderful fur baby. I picked her up and it was instant purring and licks. I'm highly allergic to cats. To my surprise, I'm not allergic to her. As I was filing paperwork out, she was jumping all over me and climbed my shoulders. The workers there informed me that the adoption would be free due to this amazing company. I have never had a kitten/cat before so I very apprehensive about getting her being its my first. But Georgia was meant to be in my life. Her and my dog Belle even get along which is super surprising. It was love at first site. I'm completely in love with her."