EMPTY SHELTERS = FULL HEARTS
Finding a loving, forever home for every pet is the ultimate goal of BISSELL Pet Foundation. Sometimes our furry friends need a little extra help, and that's why we created Empty the Shelters adoption events that take place across the country. Prospective pet owners will have the opportunity to adopt a pet for a reduced fee while BISSELL Pet Foundation sponsors the remaining cost.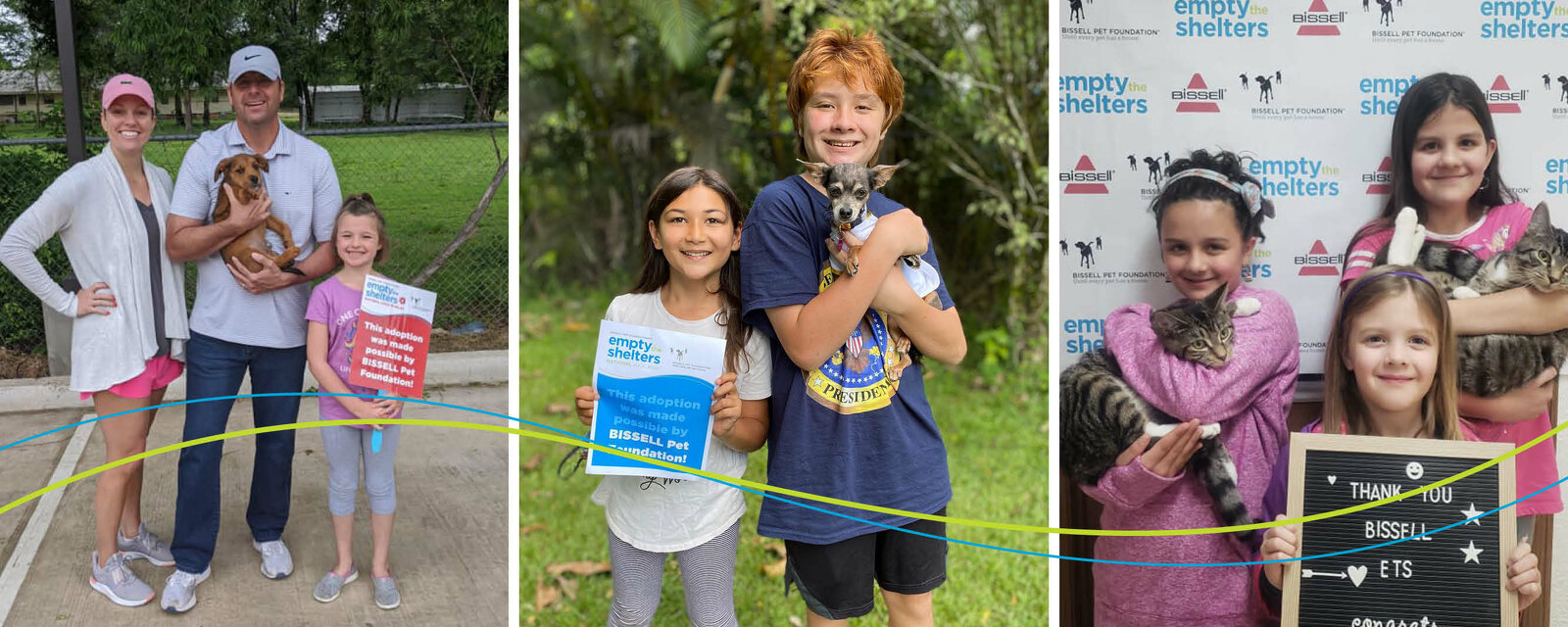 When's the next ETS event?
We'll announce events on social media 2-3 weeks before they start. Typically, BPF hosts multiple events across the country every year. Follow us for the latest updates! 
Facebook: BISSELL Pet Foundation & Cathy Bissell 
Instagram: @bissellpets & @Cathy_Bissell 
How can I adopt through ETS?
In the weeks leading up to Empty the Shelters events, visit bissellpetfoundation.org/ets to find the nearest participating shelter. 
What are the benefits of adoption?
You will help reduce your community's homeless pet population by choosing rescue. When you adopt from a shelter or rescue, you are saving a life! Adopting protects you from inhumane breeders selling puppies/kittens for a high-ticket price, which later may face health issues. You can find any breed you're looking for with a little patience and research. Take a chance on a shelter pet—it could be a matter of life or death for them. 
Does BISSELL Pet Foundation have adoptable animals?
No. BISSELL Pet Foundation does not have a physical shelter nor animals available for adoption. We fund participating shelters across the country to participate and promote adoption to find pets loving, forever homes. On occasion, BPF will welcome select West Michigan shelters and rescues to BISSELL headquarters. 
Can you help me find a specific breed of pet?
We are a small team, and unfortunately, do not have the resources to assist with individual requests. However, breed-specific rescues can be located by an internet search for "[breed] rescue, [state]." You can also work with your local shelter for assistance in finding the type of pet you want. Many organizations have photos of adoptable animals on their website. 
Do I have to pay for anything during Empty the Shelters?
Participating organizations will charge an adoption fee between $0 and $25. You are also responsible for paying any dog licensing fees (prices vary by county) and a small microchipping registration fee (not applicable at all locations). 
Where can I fill out an adoption application?
You must contact the participating shelter to complete their adoption application. You do not need to register with BISSELL Pet Foundation, just the shelter. 
Are there pets at a participating shelter that are NOT a part of the promotion?
Yes, there can be. Participating shelters determine which pets are included in the ETS promotion with the <$25 adoption fee. Sometimes puppies or kittens are excluded from the event, but they are still available for adoption at the regular fee – when in doubt, check with your local participating shelter. 
YOU + ETS = LIVES SAVED
BPF started Empty the Shelters in May of 2016 and has been working carefully to refine our program to create the best possible outcomes for pets, families and shelters. BPF has helped find homes for more than 40,000 pets in just over four years! We are thrilled that pet lovers across the country have embraced the opportunity to adopt during our events.