On October 14th, BISSELL Pet Foundation is paying for pet adoption fees at 75+ locations throughout Michigan with thousands of pets ready to go to loving homes. We want it to be the best day possible for you, so please take a look at the requirements of the organization where you plan to adopt. Requirements vary by location, but here are some of the things you might be asked to provide.

Pre-approved Application:
• Some shelters and rescues will require approved adoption applications before October 14. Please check to see if you need to be approved in advance to adopt.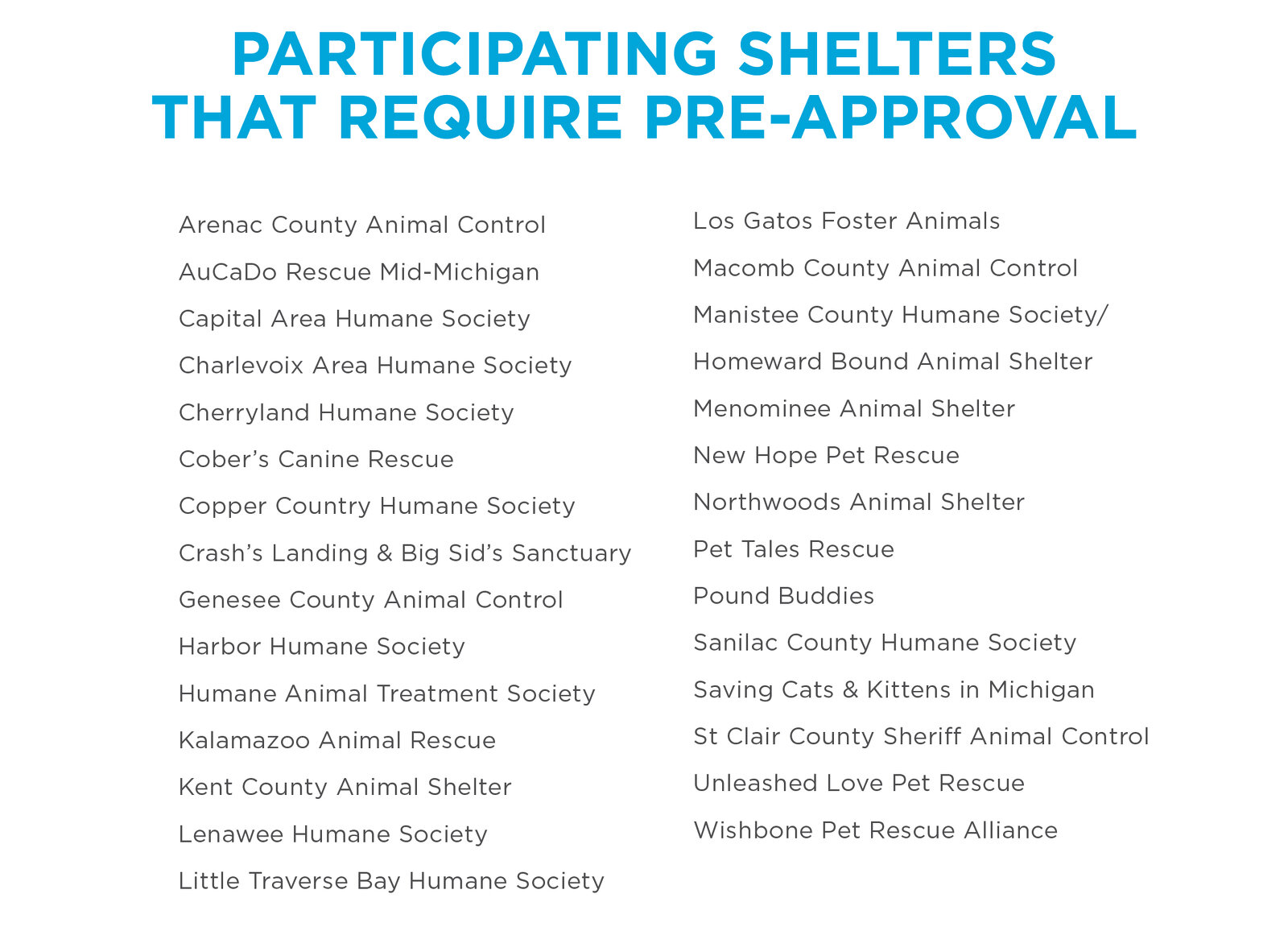 Renting or Leasing Approval:
• Most shelters and rescues require anyone renting or leasing to have written permission from their landlord before an adoption can be approved. Any restrictions regarding type or size of animal must be noted as some apartments/landlords will not allow specific dog breeds, or may not allow pets at all.
• Some landlords may not be available on a Saturday, so it is important to communicate with them in advance and come with all the potential answers to the questions above in writing, along with contact information for the landlord.
• You might be asked to provide verification that you have lived in your home or apartment for 3 months. Bringing a pet home can be a big adjustment, so it is important that you are settled in your home before adopting.
Employment Verification:
• Shelters and rescues want to know that the adopters have a job or a source of income that will allow them to properly care for a pet with needed vaccinations and veterinary care, in addition to daily needs.
• While shelters may ask for proof of employment, they also may ask for verification that there is someone to care for the pet during the day if family members are at work.

Veterinarian Verification:
• You may be asked to provide proof that you have selected a veterinarian who will be providing care for your new pet.
• Shelters and rescues often will ask for vet records for any other pets in the house to show that the adopter is responsible and staying up to date with routine visits.

Identification:
• Most shelters will require a valid form of identification or driver's license.
• Adopters must be at least 18 years old.

Crate or Carrier:
• It's a good idea to bring a cat carrier, as sometimes the shelters run low. Also, think about how your dog might travel home in your car. You and your pet will be happy if you have a plan in place for safe travel.

Other Possible Requirements:
• All family members be present at time of adoption
• Personal references
• Michigan residency
• Meet-and-greet with other pets in the home prior to adoption

Do Your Homework:
• Visit our Empty The Shelters page to find the list of participating organizations, their hours and their requirements. It's also a great idea to check out the website of the organization you plan to visit for more information. Shelters and rescues ask these questions to help make a great match for the pets and people involved, and to ensure a happy future together. Thank you for choosing adoption and for planning ahead to make it a great day for homeless pets in Michigan! Let's EMPTY THE SHELTERS together!