BISSELL recognizes that more people would consider adopting a pet if clean-up after them were easier. That is why they are committed to providing pet-inspired cleaning solutions for current and future pet parents in addition to their support of homeless pets through the BISSELL Pet Foundation (BPF) and the Partners for Pets (P4P) program.
P4P was developed to help animal welfare organizations across the country raise funds by receiving designated donations from BPF through bissell.com pet product purchases. As the program continues to grow, we want to provide even more exciting ways for P4P member organizations to engage with us to support their mission. That is why we are planning some very BIG sweepstakes and promotions that will combine pet clean-up solutions with increased donations to participating P4P members. We kicked-off this new initiative with the Simultaneous Spring Cleaning Sweepstakes on BPF's Facebook page. For this contest, BISSELL gave away their newest innovation, a Symphony All-in-One Vacuum and Steam Mop. Additionally, the lucky winner was also able to choose a P4P member to receive a $1,000 donation from BPF.
"We so love the Bissell Pet Foundation for all you do. Thank you again!"
Kimberly Manoni – President, Paws Across Oswego County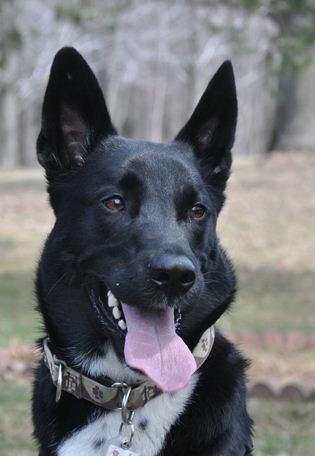 Photo Courtesy: Ellen Landphere
Ellen L. was the big winner of this fun contest and chose Paws Across Oswego County (PAOC) to receive the $1,000 donation. She adopted her beloved Bodie from the New York state rescue a little over a year ago. Bodie ended up at PAOC after he was picked up as a stray and spent over a month in a local animal shelter. We were thrilled to learn about how Bodie came to join Ellen's family and how loved he is. You can learn more about Bodie's story, straight from his mom's mouth, below.
Not only has Ellen won a simultaneous clean for Bodie's fur and muddy paw prints, with the $1,000 donation to PAOC, she is helping them save more dogs, just like Bodie, so they can find a loving home too. Don't miss out on your opportunity to take advantage of our upcoming P4P exclusive sales and giveaways. Be sure to like us on Facebook where our next promotion will be posted. Together, we can create a second chance for pets across the country!
Meet Bodie
Photo Courtesy: Ellen Landphere
After 12 wonderful years our fur child Teddy developed terrible seizures as a result of some neurological problems. It came on very suddenly in early December and we had to make the terrible choice (for us) to help him across the Rainbow Bridge. We were so devastated and said we wouldn't be getting another pet for quite a while. After a very few short weeks, my husband and I found ourselves commenting that our house was totally too quiet (our kids are all grown and gone with their own families and pets) and it didn't feel like "home" anymore… it was just a house.
In the meantime, a friend sent me a cute holiday message on Facebook, and it had a puppy on it. I clicked to enlarge the picture, and up popped a website for a local rescue group – Paws Across Oswego County. And – there on their page was the most handsome doggie… who looked like he could be the long lost brother of our Teddy (and oddly enough, his picture on my computer looked Brown – like our Ted – and as you can see, he is definitely not Brown). I am convinced it was a doggie guardian angel that knew we needed another fur child in our lives right then.
I was instantly obsessed, and even though my husband was reluctant we went to meet this dashing fellow. Needless to say, it was love at first sight. We went into the gym for a meet and greet, and even though he obviously was rambunctious and wanted to race about the room he still kept coming over to me for a pat, a snuggle or a run by kiss. Needless to say, three days later he was home with us.
We found out he had been picked up off the streets in a nearby small city and kept in the pound for about a month. They managed to locate his prior owner, who didn't want to pay the fines to get him back!!!! He would have been headed for the ultimate worst fate – but along came Paws Across Oswego County to the rescue. They got him to the vet for neutering, a microchip and his shots and blood work. They also started treatment to get rid of an awful worm infestation and working on some manners and a bit of needed "calming down" of his energy.
The poor baby was just soooo skinny – his hip bones stuck out and you could see every rib. But he was still so good-natured and friendly! He was a bit rambunctious outdoors – as he came to our country home with a huge yard, 50 acres of mostly woodland and lots of deer, turkey, bunnies and squirrels (and birds at feeders) to keep his attention on "red alert"!!!
He has been with us a little over a year now and he has matured into a wonderful young man! He has really begun to "get it" when walking with Mom on the leash and behaving like a gentleman (most of the time). He is a perfect angel in the house, doesn't chew – steal the laundry – or dismember the bedding any longer. He waits patiently at the door for his harness and leash (and for Mom to get ready to go out – which can be time consuming in Upstate NY winters!), obeys basic commands and is a great joy to have as part of our family. In the worst of "mud season" I set a small pot of warm water on the deck just by the door – after a romp in the yard he knows to step right over by the bucket so Mom can give each of his feet a good dunk and swish. Inside the kitchen is a waiting towel on the floor – which he steps right onto and waits for Mom to get off her muddy boots then come over to give the wet paws a wipe. Children and husbands rarely do so well!!
He helps Mom when she does her yoga, goes crazy for playing with a favorite toy in the snow (the deeper the better), loves to stretch and groan (sounds like an "old man" when he gets up in the morning) and his favorite sleep position is on his back with all four feet up in the air! He is not afraid of the vacuum cleaner – I actually have an attachment for dogs and he loves to be vacuumed!!!
His worst transgression at the moment seems to be hogging the bed – he seems to think he is letting us sleep on HIS bed! Of course, for quite some time we said his job all day was to keep our bed from floating away – and he has it down pat!
We are so lucky to have Bodie in our lives – he truly did bring LIFE back into our house and made it a home again!