During this season of thanks, we at the BISSELL Pet Foundation (BPF) are reflecting on those things for which we are thankful. We recognize we couldn't continue to save homeless pets without the help of so many. Together we are able to change lives, like those of seven neglected and abused poodles who needed our help this past summer.
In late August, we learned that our friends at The Puppy Mill Project were facilitating the rescue of seven, senior Poodles in dire need of care and love. After being removed from horrific living conditions at a commercial breeding facility in Illinois, these sweet pups found their way to Little Traverse Bay Humane Society (LTBHS), where they received a second chance at life. We were thrilled that LTBHS was able to save these poor dogs; however, the years of neglect without appropriate (if any) veterinary care, had taken its toll. The matted fur that covered their bodies, even their eyes, was just the tip of the iceberg.
LTBHS was dedicated to rehabilitating these dogs, and BPF wanted to help provide hope to these poor animals. We stepped up by sponsoring all of their required vet care, including vaccines, spay/neuter surgeries and comprehensive dental work. We are proud to have played a role in providing them the opportunity to know what it means to live in a safe and loving home for the rest of their lives.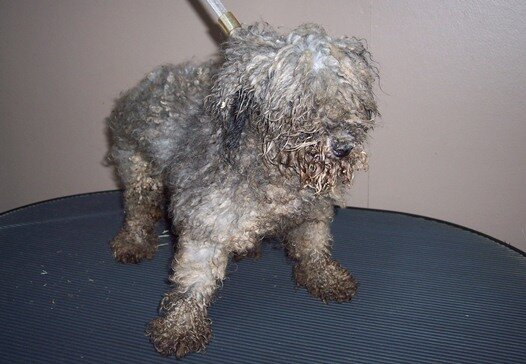 The Puppy Mill Project
After being groomed and receiving the care they needed, it was a joy to see the photos of these little dogs prancing around, feeling grass under their feet for the very first time!
On this eve of Thanksgiving, we offer our gratitude to our donors, who give so that we can continue to support the work of organizations like The Puppy Mill Project and Little Traverse Bay Humane Society; the countless animal shelters and rescues that work tirelessly every day to provide a second chance to homeless pets; and those amazing animals, who when faced with the ugliest form of humanity – suffering from abandonment, neglect and abuse – teach us the true meaning of forgiveness and hope by providing unconditional love to the owners that save them.
Happy Thanksgiving from the BISSELL Pet Foundation Family!