Meet Beauty.  Beauty is a Treeing Walker Coonhound who came to Al-Van Humane Society in South Haven with obvious signs of having been overbred.  She was found with distended, raw nipples and tested heartworm positive, both signs of too many litters and too little preventative care.  Fortunately, Beauty's path in life took her to Al-Van HS in time to get ready for EMPTY THE SHELTERS, a free adoption day in Michigan made possible by BISSELL Pet Foundation.
Al-Van provided Beauty with much-needed care.  She was spayed to prevent future litters, and for the benefit of her own health.  She was also put on a course of heartworm treatment to prevent the insidious disease from taking her life.  She was with Al-Van for several weeks when suddenly her former owners came to claim her.  While this has the makings of a happy ending with dog and owner reuniting, the story took an unexpected turn.  When the owners learned Beauty had been spayed, they left her at Al-Van HS, for they had no interest in the lovely dog other than for puppy making and profit.  Happily for Beauty, she had already found her start to a better future and was being prepared to become a beloved pet in the second chapter of her life.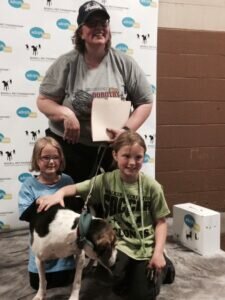 Beauty came to EMPTY THE SHELTERS at BISSELL Headquarters with some of the Al-Van team and spent the morning charming the volunteers while she waited for her new family to arrive.  She saw other dogs picked first, but knew she would need a special family to take her, so she was patient.  Soon a mother arrived with two of her four daughters and declared that they needed another girl in the house– and Beauty was just the right fit.  It was obvious that the new family would make up for the previous years of neglect when they showered her with love and hugs. As they took pictures with their new family pet the mom stated, "This is completing our family."  Happy furever after to Beauty!