BISSELL Blocktail Party is back for its 12th year and everyone is going mutts!  Each year, Blocktail gets bigger and better with more fun and more funds raised to save lives.  The annual benefit for animal welfare organizations is back on Tuesday, June 13th from 6- 9 pm promising a good time for all– rain or shine. Join pet lovers and their four-legged friends on the lawn of Mangiamo! for an evening of music, 'yappetizers', a unique silent auction and a chance to mingle with fellow pet lovers. Don't miss this barkin' good time!
New this year, BISSELL Blocktail Party is introducing tarot card reading and a bandana decorating station. Guests are welcome to design bandanas for their own pets or donate one to a pet in a shelter. Popular ArtPrize winner, Chris LaPorte will return to draw caricatures of furry friends while humans sip summertime drinks and snack on delicious food provided by local favorites including Furniture City Creamery, Kangaroo Kitchen, Kitchen Sage, Mangiamo!, Saburba, Sweetie-licious, Twisted Rooster and Yesterdog.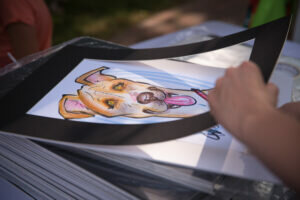 We know you will find something you must have with hundreds of one-of-a-kind auction items for every personality and lifestyle:  travel destinations, fitness packages, fine art, hot tickets to big events, and even an opportunity for your pooch to be named the 2018 Blockstar – the furry face of the 2018 party!  Of course, our guests love the highly anticipated 'doggy bag' that awaits them at end of the night, featuring our popular BPF leash and other 'paw-some' party favors.  And even better, you will leave knowing you helped make a difference in the lives of pets in need.
Want more DOG-GONE Blocktail fun?  Don't miss the VIP Sponsor Party on June 12th where Cathy and Mark Bissell will host sponsors and their guests to an extraordinary event at the BISSELL corporate hangar with a strolling dinner and live auction featuring specially procured items only available to guests on Blocktail Eve.  The night will be capped off with a private concert by Grammy and Tony nominee Michael Cavanaugh of Broadway's 'Movin' Out'.  Step up to sponsor and step out to party!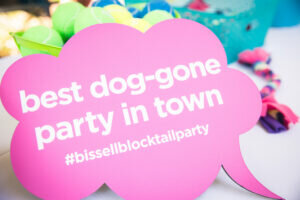 Blocktail is making a difference for homeless pets and you can help us do even more!  We hope to see you there!
Tickets to the 2017 BISSELL Blocktail Party are available online at www.bissellblocktailparty.com. Tickets may be purchased for $100 per person and include two complimentary drinks if purchased before June 9th.  Tickets will be available after that date but will not include complimentary drinks.
Blocktail Sponsor Party tickets are also still available, see details at www.bissellblocktailparty.com.