In 2016, BISSELL Pet Foundation paid adoption fees during three EMPTY THE SHELTERS (ETS) events resulting in nearly 3000 pets adopted and 6000 lives saved.  We are thrilled about these results and we hope to do even more in 2017!
Free adoption raises awareness and helps pets find homes.  The publicity surrounding EMPTY THE SHELTERS drew wonderful people, many of whom had never been to a shelter.  After our October ETS in Michigan, 1,275 adopters completed surveys revealing 54% were first-time adopters.  The waived adoption fee and buzz of the event encouraged 600 people to give adoption a try!  We hope these 600 people will inform and inspire their friends to adopt for the first time.  By exposing more people to the unbelievable joy of adoption, we can save more lives!
BPF wants every pet to be in a loving, forever home and the facts show that free adoption advances this goal.  Our survey of October adopters reflected 96% of pets were in their adopted homes three months later and 90% of adopters said they would adopt again.  Maddie's Fund surveyed adopters from a free adoption event in San Francisco showing the 95% of dogs and 93% of cats were still in their forever homes 6-12 months after the event.  Return rates had not increased, and in fact, return rates were lower than normal!  Similarly, The Journal of Applied Animal Welfare Science published a study reporting free adoptions were found to have no impact on the value of pets in the eyes of adopters. People who get their pets for free love them as much as people who pay a fee!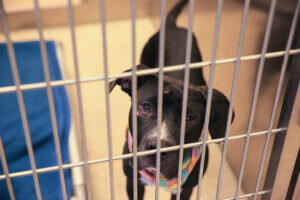 BPF works with shelters to ensure pets go to happy homes.  During ETS, all shelters and rescues have the same requirements and procedures as they would on any other day.  Screening, applications, conversation and other protocols attract serious adopters who are matched with an appropriate pet for their lifestyle.  Additionally, BPF equips adopters with important pet care tips to make sure pets get off to a happy and healthy start.  Our recent survey of 48 shelters reported 93% of adopters were of very high quality.  Free adoption events work to connect great people with great pets!
Shelters and rescues need assistance to increase adoptions.  The longer pets stay in shelters, the more likely they are to develop health and behavior problems. Adoption events find homes quickly and also put a spotlight on frequently overlooked senior and special needs pets.  Furthermore, holding a pet for a long period of time is costly to shelters; we allow them to save their money to save more lives.
We want to EMPTY THE SHELTERS everywhere!  Follow us on Facebook to find out where we will be holding our next free adoption event and consider donating today to help us save more lives.