When the sheriff's cruiser pulled up to Santa Paula Animal Rescue Center (SPARC) in Santa Paula, CA, the immediate assumption was that a large breed, stray was inside.  The shelter workers gathered expecting to intake a strong and possibly unruly dog.
Imagine their surprise when they saw tiny Dina, a senior Pomeranian!  She loved the attention and everyone was delighted to welcome her to SPARC.
We just loved Dina's story.  Our friends at SPARC are doing amazing work and this heartwarming account shows just how much their community appreciates them.  Dina's owner was homeless and needed to be taken to the hospital, but she resisted because she didn't want to abandon sweet Dina.  The woman agreed to go only if the police would take Dina to SPARC where she was sure to receive loving care.  Dina was held at SPARC for several weeks while her owner awaited discharge from the hospital.  Finally, the owner's daughter called with the unfortunate news that her mother could no longer care for Dina and they were relinquishing her to SPARC.
SPARC had recently received a $7,400 grant from BISSELL Pet Foundation to help prepare 135 pets for adoption.  Since Dina now would need a new home, SPARC was able to use grant funds for spaying and microchipping to make her adoption-ready.  Dina's adorable personality resulted in an adopter quickly falling in love with her and giving her a forever home.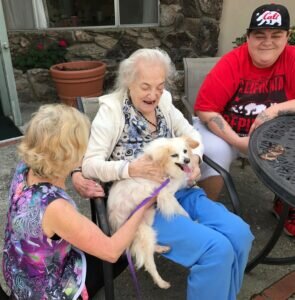 Just days after Dina's adoption, her former owner's daughter called to inform SPARC that her mother was about to have her 95th birthday and to inquire about Dina.  SPARC was touched by the woman's love for her former pet and arranged for Dina's new owner to take the dog to the senior living facility on her birthday. The woman was thrilled by the care Dina had received and was so happy to see Dina in such good hands with her new pet parent.  SPARC saved Dina twice– first by taking her in and then by finding her a new home– and this was the perfect 95th birthday gift for a wonderful lady!
Like so many of our partners, SPARC is going above and beyond to help its community and to keep pets in homes.  Dina was just one of many pets helped by the BPF grant and by SPARC's thoughtful efforts to make happy endings possible for pets and their people.