For the past seven years, the BISSELL Blocktail Party® has been working hard to raise funds to help homeless animals in West Michigan. A "yappy" hour for people and their dogs, the event is touted as the Best DOG-GONE Party in Town! In 2012, Blocktail became the premier fundraiser for the BISSELL Pet Foundation (BPF), with all proceeds being invested back into the community through BISSELL Blocktail Grants. Last year alone, over $173,000 was awarded to 13 organizations from the Greater Grand Rapids area as a result of this highly successful event.
Vicky's Pet Connection (VPC), a local group that focuses on rescuing high-risk animals from shelters and finding them forever homes, received funding for three different life-saving programs through a BISSELL Blocktail Grant. One of these programs, Buddy's Big Fix Fund, came into play for a sweet kitty in need earlier this year.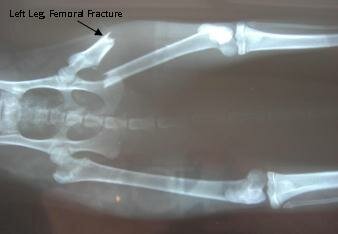 Vicky's Pet Connection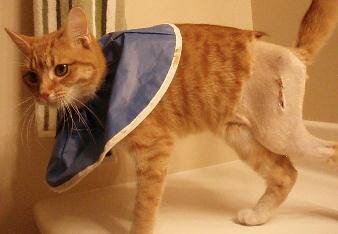 Vicky's Pet Connection
"Sophia," an orange tabby cat less than a year old, arrived at a local animal shelter unable to put weight on her left, rear leg. Knowing she had medical needs beyond what the shelter could offer, their staff reached out to VPC. After a trip to the vet and multiple x-rays later, it was discovered this poor kitten had been living with a broken femur. The most astounding aspect was that little Sophia never complained about her situation. She maintained her sweet disposition and love for humans throughout the ordeal. Her injury required surgery, including the placement of a pin, to assist with healing. This type of procedure needed to be done by an orthopedic specialist and would prove to be very expensive. Luckily, cost was not a concern as BPF grant money came into play to save this little kitty and offer her a second chance to find a loving home.
"Sophia is feeling so much better and will now have a chance to live a full life. THANK YOU, BISSELL Pet Foundation for caring about these animals who need an extra helping hand!" Annette Fenwick, Volunteer – Vicky's Pet Connection
After weeks of recovery and a lot of tender loving care from the folks at VPC, Sophia is doing well and using her back leg regularly. While she will forever have a "hitch in her giddyup," she is available for adoption after six weeks of specialized rehabilitation. Her sweet personality is going to make some lucky family very happy. BPF is grateful for VPC and their programs, as well as other similar organizations, that save the lives of animals who would otherwise face a very different outcome. We are also appreciative for the support of our community, whose generosity allowed us to grant VPC with the funds to change Sophia's life!
Planning for the 2013 BISSELL Blocktail Party has been underway for months now. If you are interested in getting involved, please visit www.bissellblocktailparty.com to buy tickets or make a donation. This year marks our 8th annual Blocktail event and should be the Best DOG-GONE Party yet. BPF can't wait to help even more pets like Sophia!