BPF's Animal Incident Management (AIM)
Last week, BISSELL Pet Foundation's Animal Incident Management (AIM) team deployed to support National Mill Dog Rescue (NMDR) in caring for, transporting and placing more than 240 dogs. AIM's primary mission is to support animals and the people who care for them before, during and after a disaster strikes. BPF's AIM team stands ready for boots-on-the-ground support to respond to crises and disasters, utilizing a vast network of partners and experts nationwide.
The Puppy Mill Mission
In early June, the AIM team was called in by NMDR to participate in a large-scale seizure of dogs following the forced shutdown of a puppy mill—the size and complexity of this situation required the kind of outside assistance AIM was designed to provide. AIM immediately got to work on plans to help NMDR before and during the legally required 10-day holding period for the dogs at the NMDR facility in Missouri. For two full weeks, BPF's AIM team members worked around the clock to coordinate support for NMDR, including engaging three teams of veterinarians and organizing the logistics of ground and air transport to get the dogs to shelters where they could be cared for and adopted after the hold. 
More than 125 dogs came from the seizure, but simultaneously, NMDR was contacted about another commercial breeder that needed to shut down immediately. There would be at least 100 additional dogs coming into the NMDR shelter. All the dogs would need health certificates, crates to travel in, a spot on a ground or air transport, and a receiving shelter ready to take them in. It was complex to make everything come together, with countless hours spent in the days leading up to the transports to ensure the proper care of the dogs and that the mission went smoothly.
On Monday, June 19, BPF's AIM team arrived on site to join the other compassionate animal welfare experts and veterinarians to care for and provide health certificates for both groups of dogs. Ground transports departed with dogs on Thursday to Wisconsin and Kansas City, and flights took nearly 100 dogs to Grand Rapids on Friday, and a second flight arrived in New York and Connecticut on Saturday. My heart was full as I greeted the plane in Grand Rapids with members of my team and seven partner shelters, knowing that after years of neglect, these dogs would finally know compassion and love.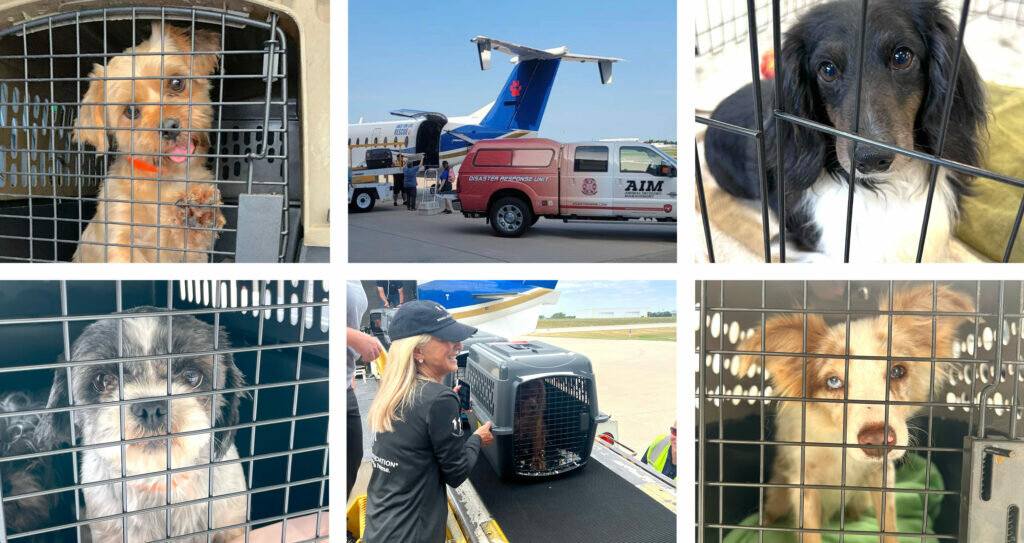 Puppy Mills
A puppy mill is a dog breeding facility where profit is given priority over the health and well-being of the breeding dogs and puppies produced. These facilities vary in size from small breeders — ten to twenty dogs — to very large breeders that have hundreds of breeding dogs. The breeding dogs are forced to breed at regular intervals are kept mostly in overcrowded wire cages, living and breeding in them. Puppy mill dogs are generally sold online or in pet stores where the buyer never sees the living conditions or the parents.
The dogs saved in this mission were typical of dogs bred for profit—they appeared not to have received medical care, grooming, socialization or ever experiencing time out of a cage. When adult breeding dogs like these are no longer useful to the breeder, they often are euthanized.
Why We Do This Work
My vision for BPF's Animal Incident Management was to have the ability to be nimble, mobilizing help for animal shelters when they need us the most, anytime, anywhere, because often there is no one else to help them. Our involvement in this mission not only helped save more than 240 lives, but the arrival of these highly desirable dogs will bring attention to the receiving shelters, increasing foot traffic and helping every pet in those shelters have a better chance of finding a home. While a deployment like this can be extremely costly with funding for veterinary supplies, air transport, travel for AIM staff, crates and countless other incidentals, giving these pets a second chance is worth every penny.
I am incredibly proud of my team, our partners and NMDR for handling this tough mission, and I am grateful for their tireless work to help these deserving dogs. 
Until every pet has a home,
Cathy Bissell
Want to join our team of lifesavers? Donate today: www.bissellpetfoundation.org/donate
A big thank you to the following organizations that provided on-the-ground assistance or welcomed dogs into their shelter: Wayside Waifs, Harbor Humane Society, Connecticut Humane Society, Wisconsin Humane Society, Red Rover, AuSable Valley Animal Shelter, Big Lake Humane Society, Cascades Humane Society, Greater Hillsdale Humane Society, Humane Society of Midland County, SPCA of Southwest Michigan, Broome County Humane Society, SPCA Serving Erie County and Forever Friends Rescue.