Meet Bullseye, a precocious pit bull terrier mix. Bullseye began his journey to adoption when he came to Best Friends Animal Sanctuary in Kanab, Utah, as an energetic two-year-old. At the Sanctuary, Bullseye was enrolled in an intensive training program for dogs with behavioral challenges. The program, named Maggie's Mercantile after the building at the Sanctuary where it takes place, creates a living environment in which all human-dog interactions are training opportunities.
The program can accommodate 12 dogs at one time, and each dog is given specialized training to help him overcome the behavior issues that are keeping him from being adopted and to learn the skills that will help him be successful in a home. Once the dogs master these skills, their adoption opportunities increase exponentially.
In 2013, the BISSELL Pet Foundation helped support this program through a grant, and this support has played an important role in the program's success.
One great example of that success is Bullseye. When he entered the program in late March 2013, he was overly energetic, couldn't focus on his caregivers because he was so excited, and exhibited a number of fear behaviors. He also didn't have very good social skills around other dogs. Despite all this, the experts at Maggie's could see his potential and formulated a plan for him.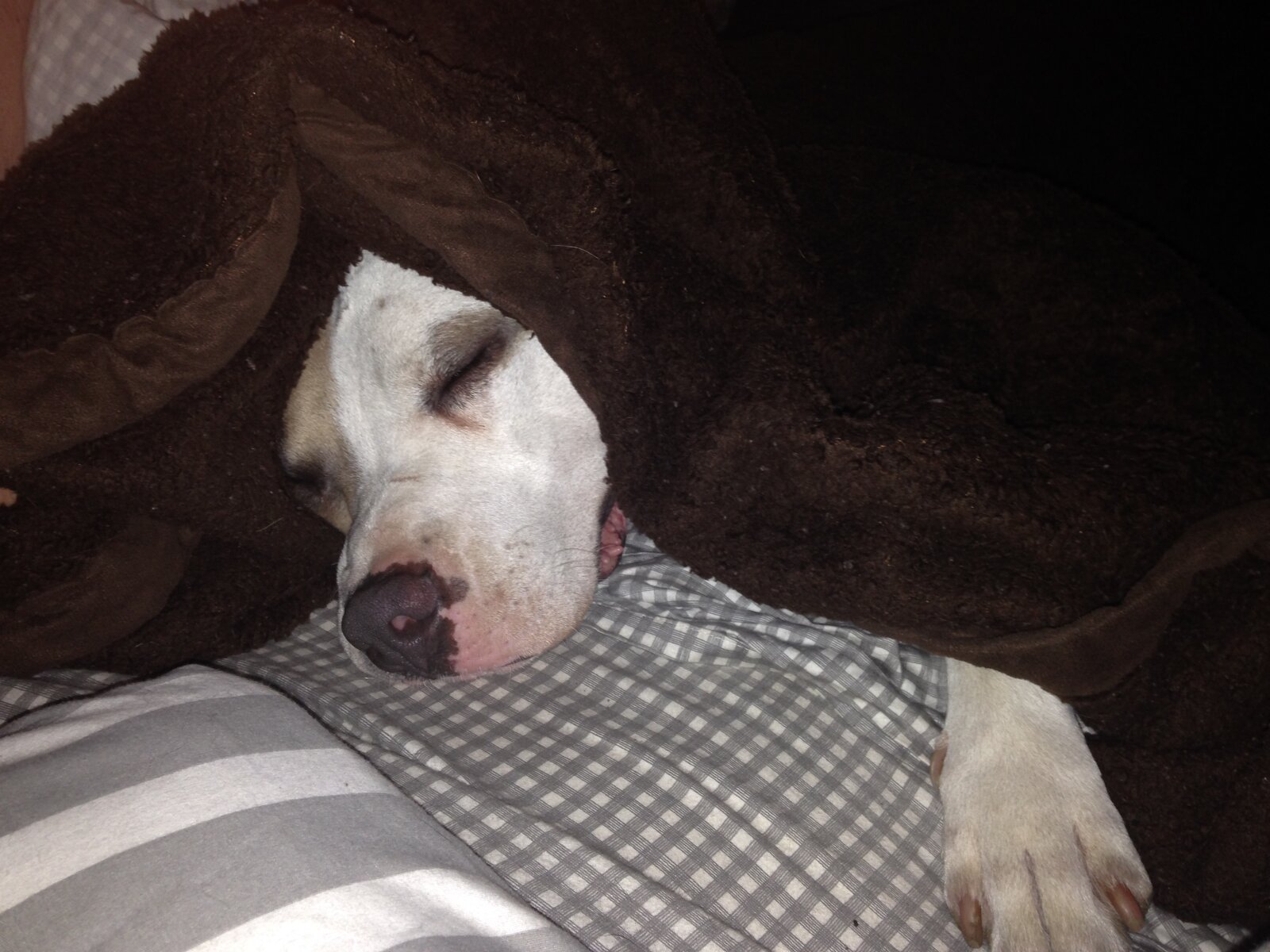 First, the trainers and caregivers at Maggie's worked with Bullseye to teach him how to play nicely with other dogs. He wasn't very skilled at meeting other dogs politely or reading their calming signals. Through careful and intensive work, such as walks and selective play groups, Bullseye learned how to meet and play with dogs appropriately, and stay calm when seeing other dogs at a distance.
At the same time that the trainers and caregivers were working on Bullseye's dog-to-dog skills, they were also teaching him to focus, relax and respond to cues. Bullseye was so energetic that it was hard to get his attention, but that just meant they had to find innovative ways to reach him.
Eventually, after months of training, Bullseye learned that it was OK to stop and take a break. His ability to focus improved, too, largely as a result of the clicker training he learned at Maggie's. His on-leash behavior went from unbridled energy and pulling to sitting and waiting for treats after walking calmly beside the person on the other end of the leash. Finally, Bullseye was taught to be comfortable in a crate, something that all dogs at Maggie's are taught so they can be transported safely once adopted.
After Bullseye had learned all these skills, he was on the road to adoption. And the right person had her eye on him. A Best Friends Animal Sanctuary volunteer met Bullseye shortly before he moved over to Maggie's. She took him on a walk, an outing and a sleepover, and fell in love, but was worried about Bullseye's dog-reactive and frenetic behavior. She already had two special-needs dogs at home.
She couldn't get Bullseye out of her mind, though, and kept in touch with the trainers at Maggie's. She visited Bullseye again after six months; he had made a lot of progress, but still needed some time in the program. Even so, she knew that he was her dog and filed the adoption papers.
In March, after Bullseye had spent a year in Maggie's, his adopter visited him again. By that point, Bullseye walked great on a leash, was much more relaxed and had learned dog-to-dog social skills. He could also sit on cue, drop toys and leave them on cue, and trade toys for treats. To make sure the adoption would be a good fit, his adopter and the trainers identified dogs at the Sanctuary similar to her dogs at home for Bullseye to meet and work with. Meanwhile, his adopter went home, hired a trainer, and began working with her dogs to prepare for Bullseye's arrival.
After several more months of preparation, his adopter flew to the Sanctuary and drove Bullseye home just in time for her May birthday.
Today, Bullseye is doing great and is getting along well with his new brothers. He continues to receive training and his adopter works with him several times a day on both relationship building and general obedience, along with new skills, such as grooming. He loves car rides, snuggling with his new people under a blanket, and meeting new dogs.
Bullseye's transformation has been utterly amazing. His adopter says, "If Bullseye had not had his training plan [at Maggie's] he would not have been able to go to the home he did. Best Friends saved his life. If you put in the time and work, you will have success. A dog can be trained to live in a home and have a happy life."
Bullseye has come a long way since his early days at the Sanctuary. Thanks to the trainers and caregivers at Maggie's, and support from the BISSELL Pet Foundation, Bullseye received a second chance and is now in a loving forever home.
About the BISSELL Pet Foundation

The BISSELL Pet Foundation is a charitable 501(c)(3) non-profit organization with a mission to help reduce the number of animals in shelters and to support organizations dedicated to the humane care and treated of animals through pet adoption, spay/neuter programs, microchipping and foster care. Founded in 2011 by Cathy Bissell, the BISSELL Pet Foundation is an extension of her long-standing love for animals and commitment to their welfare. The foundation is supported to BISSELL Homecare, Inc., a 137-year-old Grand Rapids-based floor care appliance brand in its fourth generation of family leadership.