The Humane Society of Greater Dayton aims to build loving and lasting relationships between people and their pets. When a pet is microchipped, it helps the organization ensure that if the animal is lost and brought to a shelter the pet and its owner have a higher success rate of being reunited. Through a BISSELL Pet Foundation grant, the Humane Society of Greater Dayton was able to administer 315 microchips in the community—247 dogs and 68 cats.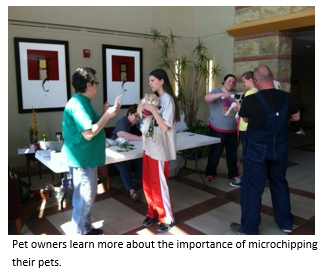 One gentleman was able to take advantage of the microchipping grant and adopt at the same time.  Initially, the man was reluctant when a tenant called to ask if he could take care of a kitten found stuck in a tree on his property.  His cat recently passed away and he was not sure if he would be up for the challenge.  However, within a few days, the cat became part of his family. He took the proper precautions and took the kitten to the Humane Society of Greater Dayton to have him neutered.  With funds from the BISSELL Pet Foundation grant he was able to have the kitten microchipped at no charge! He now knows that if his cat gets lost, they have a greater chance of being reunited!
The Humane Society of Greater Dayton found that there is a great need for microchips in the area it serves.  The microchips administered at the shelter touched countless lives, both animals and people—315 to be exact. Thanks to funding from the BISSELL Pet Foundation, if these pets ever become lost they will not end up in a shelter missing their home.  Instead, they will be quickly reunited with their loving families! It's a win-win for everyone!
About the BISSELL Pet Foundation

The BISSELL Pet Foundation is a charitable 501(c)(3) non-profit organization with a mission to help reduce the number of animals in shelters and to support organizations dedicated to the humane care and treated of animals through pet adoption, spay/neuter programs, microchipping and foster care. Founded in 2011 by Cathy Bissell, the BISSELL Pet Foundation is an extension of her long-standing love for animals and commitment to their welfare. The foundation is supported to BISSELL Homecare, Inc., a 137-year-old Grand Rapids-based floor care appliance brand in its fourth generation of family leadership