Big and Small.  We help them all.
California. Connecticut.  Florida. Minnesota…and everywhere in between! BISSELL Pet Foundation's Fall Partner Grants awarded $544,105 to 98 organizations in 33 states for lifesaving programs that give deserving pets a second chance! We are proud to partner with organizations who are making a difference to save lives through their dedication and innovative programs.
Adoption Heroes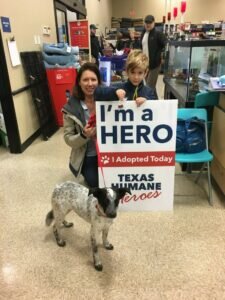 Gypsy is one of the pets helped by a BPF grant and is living the dream thanks to the true heroes at Texas Humane Heroes (TXHH) who rescued her and made her happy future possible. TXHH saves lives at their two animal adoption centers that support pets from across the entire state of Texas. More than 95% of the animals TXHH brings into their adoption program come from overcrowded municipal shelters throughout the state which euthanizes for space, some with save rates as low as 5%. TXHH rescues these at-risk pets and gets them into loving homes. Their BPF grant of $6,500 will prepare close to 80 pets for their forever home with spay/neuter, vaccines, microchips and needed veterinary testing and treatment.
Within 8 weeks of receiving their grant, TXHH had already saved 38 lives, including Gypsy who was adopted on December 29, 2017, by the Wiley family. The family is showering her with love and working hard to give her the best home environment possible. She is getting spoiled and deserves it! She has gained weight, gets to go for trail walks (her favorite!) and even helps her mom with her work at home. The Wileys have an agility course on their property and Gypsy might even be trained in agility! Gypsy couldn't be any happier, or luckier, with her new life!
Happy Tails
Thousands of tails like Gypsy's are wagging about the recent BPF Partner Grants. Stay tuned for more happy tails and click here to see all the recently awarded grants.