The Spay-Neuter Assistance Program (SNAP) in Houston, Texas was thrilled to receive a $10,000 grant from the BISSELL Pet Foundation to help fund their mobile spay/neuter clinic project in the Corridor of Cruelty and Neglect. This area is a well known underprivileged area in Houston where people abandon their animals. These helpless pets are left to die from starvation, disease, or injury from passing cars. SNAP visits this area regularly to provide spay/neuter surgeries for those who have taken in these animals but can't afford the surgeries. They also help established pet owners care for their pets to prevent further abandonments. The BISSELL Pet Foundation grant sponsored several trips by SNAP to the Corridor to assist these low-income individuals.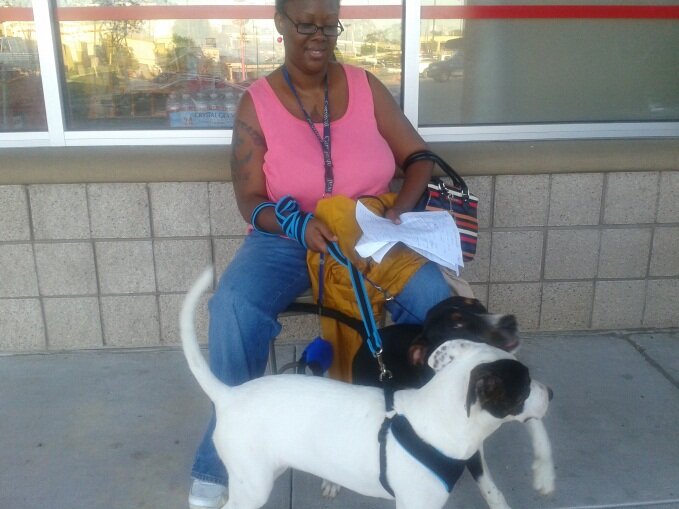 One woman helped by the grant is canine rescuer, Kathryn. A disabled Navy veteran, Kathryn came to SNAP's Corridor of Cruelty & Neglect location with two lively, seven-month-old puppies she found starving in a ditch in the Corridor area. Patch, a white female with spots of black, had an injured rear leg and difficulty walking. Her brother, Black, a tri-colored pit mix, seemed to lack any serious trauma. With the exception of Patch's limp, the young dogs appeared in fine form when Kathryn brought them to the mobile clinic for their spay-neuter surgeries. Being seven months old, Patch would soon come into heat, and Kathryn was thrilled to be able to have both of them seen on the same day (something they normally cannot do).
While in the Navy, Kathryn had been on top of a helicopter, performing maintenance, when a strong gust of wind caused her to fall, resulting in permanent injuries. Knowing that her muscles become weak, she carried a chair to the mobile clinic site. It wasn't too long before she had to sit down. Trying to control two young dogs can be challenging, but the dogs are wonderful companions to Kathryn, and they keep her active. It was obvious to all that she adores them and that they feel the same about her.
Through the $10,000 grant from the BISSELL Pet Foundation, SNAP was able to spay/neuter 96 animals including Patches and Black in the Corridor of Cruelty and Neglect area. These procedures will lessen the amount of future unwanted litters and in turn save lives of animals that might otherwise be discarded and left to die.
About the BISSELL Pet Foundation

The BISSELL Pet Foundation is a charitable 501(c)(3) non-profit organization with a mission to help reduce the number of animals in shelters and to support organizations dedicated to the humane care and treated of animals through pet adoption, spay/neuter programs, microchipping and foster care. Founded in 2011 by Cathy Bissell, the BISSELL Pet Foundation is an extension of her long-standing love for animals and commitment to their welfare. The foundation is supported to BISSELL Homecare, Inc., a 137-year-old Grand Rapids-based floor care appliance brand in its fourth generation of family leadership.