For the past three years, a group of compassionate women has gathered for an annual Girl's Night Out to raise funds for homeless pets. We are very excited that this year's party again benefited the BISSELL Pet Foundation (BPF) in support of our mission to provide resources to animal welfare groups across the country.
BPF recognizes that one of the challenges of caring for animals who have found a temporary home in animal shelters and rescues is ensuring that they have appropriate socialization, mental stimulation and exercise, beyond their other basic needs. That is why for the past two winters, BPF has used funds raised from the Girl's Night Out benefit to donate a multitude of interactive toys and training aids to benefit our local shelter and humane society's enrichment programs.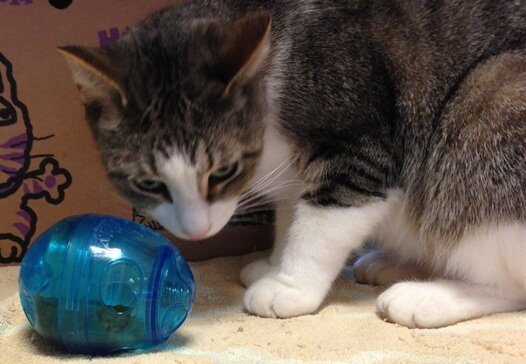 Humane Society of West Michigan
BPF provided the Humane Society of West Michigan with Stretch & Scratch disposable cat scratchers that are hung on the inside of cat cages. Not only do these provide shelter cats with an outlet for excess energy while in their cage, these scratchers are then sent home with the cat at adoption, given them something familiar to take with them as they adjust to their new home.
The results of good shelter enrichment programs are not just happier animals but also increased adoptability of shelter dogs and cats – a win-win for everyone.
The Kent County Animal Shelter received small quart sized pails to be hung on the doors of their dog kennels. Each pail holds bite-sized, training treats that can be given to the dogs by volunteers, staff and the public. This reinforces a positive interaction between potential adopters and the dogs, leading to better behavior behind the kennel door and making their dogs more adoptable.
Reducing the number of homeless pets across the nation is a multi-faceted problem. A good enrichment program not only provides positive stimulation for animals living in kennels, it also works to teach pets appropriate outlets for their energy. That is why we are proud to have supplied these important tools to our local animal welfare organizations and provided some comfort and joy to the homeless animals in their care.