When we say, "Buy BISSELL, Save Pets," we really mean it. BISSELL pet product purchases are truly giving the gift of life to animals in need, and with double donations in October, your purchases will do even more to help pets across the country!
In November of 2012, the BISSELL Pet Foundation (BPF) awarded an emergency response grant to Animal Rescue Corps (ARC) for Operation Broken Chain, which saved 65 abused and neglected dogs from a suspected dog fighting operation in Tennessee. One of these dogs was Ellie Mae, a very pregnant, Black & Tan Coonhound. This sweet girl gave birth to seven gorgeous puppies just days after her rescue. If it weren't for the swift and compassionate rescue efforts of ARC, made possible through BPF funding, Ellie Mae and her babies would have certainly faced death without food, water or shelter.
Today, Ellie Mae is a world away, really a home away, from her prior life of abuse and neglect. She now knows what it means to be a loved member of the family. Sadly, millions of pets find themselves in animal shelters and rescues every year, each longing for a family of their own and a second chance at love. October is National Adopt-a-Shelter Dog Month. We encourage everyone to think adoption first when considering a new four-legged family member. Adopt, and let a shelter animal change your life!
"The day of the rescue we pulled up to see a very cold and starving momma hound dog… I told the momma hound this was the start of her brand new life. I promised her she would only know love and kindness for the rest of her life." – Lauren, Ellie Mae's Adopter
Of course, BPF's life-saving assistance for dogs like Ellie Mae and countless other pets in need would not be possible without your help! Every time a BISSELL pet product is purchased on bissell.com, a donation is made to the BISSELL Pet Foundation, up to $250,000 per year. Pet product purchases in the month of October can make an even bigger difference in the lives of homeless pets, as BISSELL is offering double donations of $2, $10 or $20 for your online pet product purchases.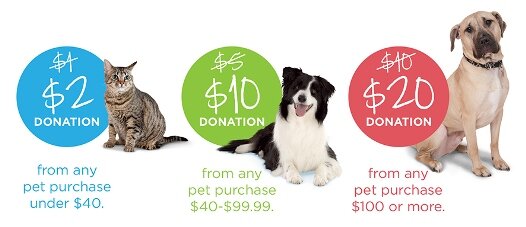 The BISSELL Pet Foundation (BPF) exists to help reduce the number of homeless pets in our nation by providing financial support to animal shelters and rescues. Since the beginning of 2012, thousands of animals have received a second chance at life due to our contribution of over $950,000 to animal welfare organizations across the U.S.