After successfully placing over 2,800 cats and dogs in loving homes last year during 2 one-day adoption events in May and October, BISSELL Pet Foundation's EMPTY THE SHELTERS event is back, and is bigger and better! Thanks to BISSELL Pet Foundation (BPF), on April 29 more than 2000 pets are expected to find loving, forever homes.  The Grand Rapids-based non-profit will pay all adoption fees at 69 shelters and rescue organizations and will thank families for choosing adoption with the gift of an AdoptBox™.
"Many pets in shelters and rescues have never experienced a loving home and EMPTY THE SHELTERS will give so many pets the second chance they deserve," says Cathy Bissell, founder of BISSELL Pet Foundation.
Millions of pets are abandoned or released to shelters and rescue organizations each year. In Michigan alone, approximately 40,000 pets are euthanized yearly because they are unable to find new homes. BISSELL Pet Foundation is dedicated to reducing these numbers through pet adoption, spay/neuter programs, microchipping and foster care. EMPTY THE SHELTERS will have a direct impact increasing adoption rates in Michigan.
Approximately 2000 pets are expected to be available for adoption at EMPTY THE SHELTERS locations around the state.  Participating organizations will be adhering to their standard adoption requirements for the event and adopters are encouraged to review those requirements prior to April 29. In previous EMPTY THE SHELTERS events, 96% of adopters reported pets remained in their new homes three months later; 54% of adopters were first-time adopters; 90% of all adopters planned to adopt again.
Participating organizations are required to partner with other animal welfare organizations to help fill the empty spaces once the pets have been adopted throughout the day.
Families that choose adoption on April 29 will only be responsible for licensing fees, which vary by county from $7 to $12. BISSELL Pet Foundation will take care of all adoption fees, which average $150 for dogs and $60 for cats.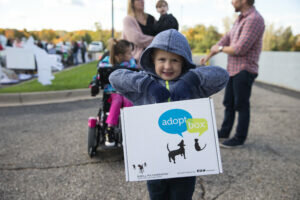 "Our goal for EMPTY THE SHELTERS is to encourage people to choose adoption first," Bissell notes. "We want to make it easy for pet owners both by sponsoring the adoption fee and by supplying needed items for their pet's future with AdoptBox."
For more information about "EMPTY THE SHELTERS, including a list of participating shelters and rescue organizations, please go to www.bissellpetfoundation.org/ets.