Get Ready Maricopa County, AZ friends!  Your life will be forever changed when you give a pet a second chance at life.  We receive stories every day from our friends and followers of how their adopted pets bring so much joy into their lives.  Your new best friend is already waiting for you.  What are YOU waiting for?
In just 14 months, BISSELL Pet Foundation has successfully placed nearly 5000 dogs and cats in loving homes through EMPTY THE SHELTERS.  We are so excited by the success and momentum that we are hitting the road again! On Saturday, July 22, adoption will be free at 20 locations in Maricopa County (Phoenix area) with more than 1000 pets available for adoption!  This will be an amazing day for rescued pets and a huge opportunity to build awareness for the importance of adoption.
BPF is headquartered in Grand Rapids, Michigan, but through our partnership with thousands of animal welfare organizations nationwide, we are committed to impacting pet homelessness everywhere. This EMPTY THE SHELTERS will be supported by a generous grant from Phoenix-based PetSmart Charities, the leading funder of animal welfare in North America.  Together, we are hoping hundreds of pets will go to loving homes on July 22.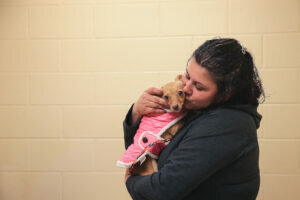 Get Set! Come prepared. Each shelter's normal screening protocol and requirements will be followed to help get pets in the best homes possible. Families who choose adoption at the participating locations during EMPTY THE SHELTERS will only be responsible for licensing fees which vary by county. BPF will cover the adoption fees which average $200 for dogs and $80 for cats… and we will thank adopters by providing a leash for dogs, a collar for cats and valuable wellness information for new pet owners.  It's going to be a great day!
Adopt! We want to save lives and we know you do too!  We hope you can visit one of the participating locations, but if not, please consider adopting from a shelter or rescue near you!
For more information, including a list of participating shelters, rescue organizations and PetSmart locations, their hours and requirements, please visit www.bissellpetfoundation.org/events/empty-the-shelters/