Finding a loving, forever home for every pet is the ultimate goal of BISSELL Pet Foundation, our partners and supporters. Sometimes we need to give our furry friends a little extra help, so to make a big impact BPF is sponsoring "Empty the Shelters", a free adoption event in Michigan. On May 7th, BPF will be paying all the adoption fees at 23 shelters and rescue organizations in Michigan to encourage families considering a pet to choose adoption first. Adopting families will only be responsible for licensing fees, which vary from $7 to $12. BISSELL Pet Foundation will take care of all adoption fees, which average $150 for dogs and $60 for cats. With more than 1000 pets available, May 7th will be a great day for families and pets in Michigan!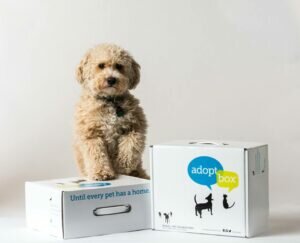 As an added incentive, BPF will be thanking all adopting families with the gift of its newly-released AdoptBox™. BISSELL Pet Foundation teamed up with BISSELL, Meijer and Pet First Insurance to stock each AdoptBox with toys and treats for either dogs or cats, a selection of BISSELL cleaning products, coupons and 30 days of free pet insurance. A wellness booklet outlines the best care and keeping of animals in regards to veterinarian visits, vaccines and preventative medicine. Additionally, each AdoptBox will include a "Gotcha Day" certificate to commemorate the adoption, a collar and an ID tag to ensure pets are properly identified and are never homeless again. Adopting families are giving a pet the gift of a new home, and the AdoptBox is BPF's way of saying 'thank you' and giving you some amazing things to help you and your new pet have a great future together.  After the event, AdoptBox will be available for purchase on bissell.com.
Adoption is so important in promoting animal welfare. Millions of pets are taken in by rescues and shelters across the country each year, and in Michigan alone, approximately 40,000 pets are euthanized yearly. We at BPF aim to make a difference around the country by supporting our partners' efforts that will lead every pet to a happy home. We know from your stories that adopted pets change their owners' lives. The love they bring will amaze even a life-time pet owner. You are giving your pet a second chance at life, but you will receive the greatest gift in return. Whether you live in Michigan, Maine or Montana, we hope that you will visit a local shelter or rescue organization and choose adoption first. Please help us "Empty the Shelters" on May 7th and every day!