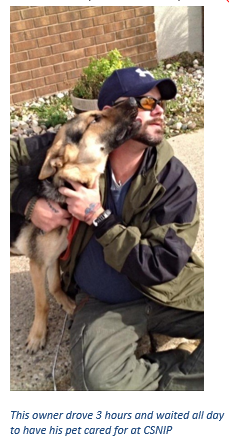 The Community Spay Neuter Initiative Partnership (C-SNIP) is a non-profit, charitable organization, providing high quality, high volume, low cost spay/neuter surgeries for dogs and cats.  They provide services to caretakers who are unable to afford full service veterinary clinic prices.  C-SNIP was chosen as a recipient of a $45,000 BISSELL Blocktail Party grant supporting spay/neuter services in the West Michigan community.  Since August 2014, the award has already aided over 1,200 cats and dogs!
One of the new innovations made possible by C-SNIP's grant was the targeting of people in transition, specifically students, seniors and military veterans. C-SNIP staff met a veteran who hadn't stood in a crowd in years, but jumped at the chance to do so to reduce the chance that his male dog would stray in search of a female in heat.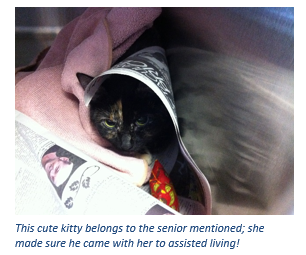 Behind him in line was a college student who hung her head in shame when asked if her cat had a history of litters. She said with tears in her eyes that she had done her best to find good homes for the litter, but that she ended up surrendering one of the kittens. Just a couple of days later, staff carried in the cat of a senior using a cane. She could barely see or hear anymore, but she would move mountains to take her cat with her into assisted living. She was the first in line on her appointment day, and the first in line to pick up her cat the following day.
For years C-SNIP has been working to find new ways to reach those in the community most in need.  In this regard, Blocktail funding has been a game-changer.  When an owner is ready, they are there to help.   People no longer need to wait for a special promotion. This strategy has worked!  More than half of the 2014 Blocktail grant has gone to people with special circumstances outside of promotions and special rates. A total of 1,287 animals have already been spayed and neutered, including 405 dogs and 882 cats.
About the BISSELL Pet Foundation

The BISSELL Pet Foundation is a charitable 501(c)(3) non-profit organization with a mission to help reduce the number of animals in shelters and to support organizations dedicated to the humane care and treated of animals through pet adoption, spay/neuter programs, microchipping and foster care. Founded in 2011 by Cathy Bissell, the BISSELL Pet Foundation is an extension of her long-standing love for animals and commitment to their welfare. The foundation is supported to BISSELL Homecare, Inc., a 137-year-old Grand Rapids-based floor care appliance brand in its fourth generation of family leadership.