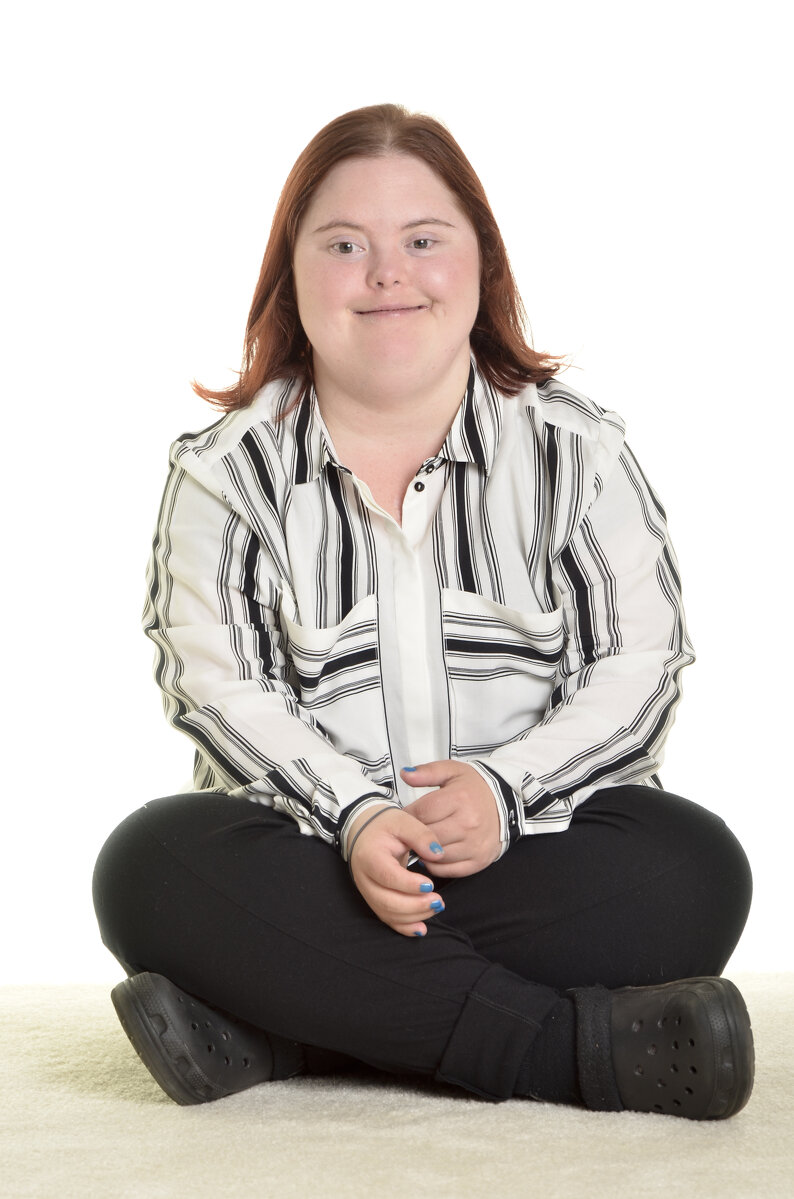 Our team at the BISSELL Pet Foundation had the honor of spending the afternoon with up and coming artist, Jackie Finn. Jackie is special to us for many reasons. To name a few, she is a fellow animal lover, enjoys sunshine, and truly understands what it means to advocate for those who don't have a voice and can't speak up for themselves.
Jackie was born with Down syndrome, a chromosomal abnormality that causes an individual to have three copies of the 21st chromosome instead of two. We think her extra chromosome helped make her extra special and our superhero.
We first met Jackie at an event she hosted to showcase her artwork. We were blown away by her talent and marveled at her love of dogs. Our founder, Cathy Bissell, knew there was something magical about Jackie's artwork and wanted to share it with our community. We commissioned Jackie to paint and design our 2014 BISSELL Blocktail Party thank you cards which went out to all of our vendors, sponsors and in-kind donors, a total list of about 250 different people and organizations.
When we called Jackie to let her know we wanted to purchase 250 of her cards, she said, "That would be cool. I can do that!"
Purchasing her cards wasn't enough for us. We wanted to get to know Jackie better and learn more about why she loved to paint dogs. So, we invited her to spend the day in our pet co-working area, the BISSELL Pet Spot, and help with an employee pet photo shoot. It took some time for Jackie to warm up to her new furry friends, but once she did, we saw a light shine through her eyes.
She went on to tell us that some of her best friends were pets. She spoke enthusiastically about a friend's Golden Retriever, Zander, who passed away. Painting pets, affectionately known as her friends, gave her a voice to showcase her empathetic and caring heart. Jackie's paintings have given her a platform to enter and win many art competitions, meet new people, and even start her own official card business.
We asked Jackie why she likes to paint, and she simply said, "Because it makes me happy." Her answer was so humble and sweet, just like her personality.
When we reached out to pay for her wonderful service, Jackie blew us away with the generosity of her spirit. She decided to donate the cards to the BISSELL Pet Foundation! She delivered the Blocktail thank you cards herself to our office and they were more beautiful than we imagined.
She reminded us of what it truly means to be an advocate for the voiceless. For these reasons and more than we can write, Jackie is our superhero.
To learn more about Jackie and her art, please visit her Facebook page.
Interested in learning more about the BISSELL Pet Foundation? Visit our website at www.bissellpetfoundation.org.