Months after Hurricane Maria decimated Puerto Rico, the island continues to face numerous challenges, among them, an overwhelming animal welfare crisis. An incalculable number of companion animals were lost and abandoned during evacuations, further contributing to the island's growing stray population of more than 100,000 animals. Those pets who remained with their owners on the island remained at risk to deadly illnesses due to contaminated water and food, as well as the lack of available veterinary services and their owners' ability to afford care. Small numbers of animals have been transported from the island to be adopted on the mainland, but what about all the pets left behind?
BISSELL Pet Foundation's Emergency Grants allow us to act quickly to provide needed assistance in cases of natural disasters. In the fall of 2017, BPF supported You Can Make a Difference, Inc (YCMAD), a BPF partner in Florida's panhandle, with a $10,000 grant to help hundreds of pets in Puerto Rico. The BPF grant allows YCMAD to address the growing need for veterinary care and provide vaccine and wellness services for the pets on the island, as well as spay/neuter procedures to reduce the future homeless population. In a time of so much frustration and sadness, the grant gives welcome relief to both residents and pets of Puerto Rico.
As of late January, YCMAD has used grant funds to issue 100 vouchers to give pets vaccines and spay/neuter procedures, with a waiting list of prospective residents also hoping to receive assistance. While many pets remain in need, the grant made a significant impact in an urgent situation. Additionally, BPF and YCMAD's work contributes to a broader effort of raising the island's awareness about animal welfare and the importance of spay/neuter. The future is already brighter for pets in Puerto Rico.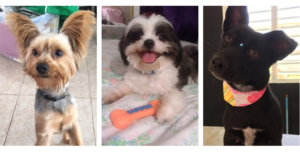 You Can Make A Difference saw the need and truly made a difference for pets that were forgotten and owners who were desperate for help. BISSELL Pet Foundation is proud to partner on such an important project!