At the BISSELL Pet Foundation (BPF), we envision a future where all pets have a home to call their own. We aim to do this by assisting animal welfare organizations who are working to reduce the number of homeless pets through pet adoption, spay/neuter programs, microchipping and foster care. If you share our vision, please consider a holiday gift. There is no gift too small, as every little bit adds up to make a big difference.
In just two short years, we have made a huge impact in the lives of homeless pets by awarding grant funds to groups across the country battling pet overpopulation. Grant funding decisions are made by a dedicated group of individuals who have spent many years in the animal welfare and philanthropic fields. Their experience and passion for homeless pets enables them to ensure every dollar awarded by the BISSELL Pet Foundation will help make the largest impact possible.
"With literally millions of homeless pets euthanized every year in the U.S., we focus on funding programs that will do the most to change this heartbreaking outcome. It brings me and my team so much joy to know we are helping to save the lives of thousands of animals through these grant awards." Cathy Bissell – Founder, BISSELL Pet Foundation
The scope of our assistance reaches over 45 states and the District of Columbia and includes over 500 animal welfare organizations. Thousands of lives have been saved with the $1.1 million in support that we have given since our inception. Because of the funding allocated to spay and neuter alone, we have prevented countless unwanted litters from being born and flooding our shelters and rescues. We are proud that we function with minimal administration costs and can give as much as possible to help pets in need.
Additionally, we have provided much-needed help in emergency situations, by awarding $78,348 in emergency response grants that have helped support pets in times of natural disaster and saved them from the cruelty and exploitation of puppy mills. We also recognize the great importance of helping to keep owned pets in the homes of the families who love them. Increasing access to necessary services, such as vet care, spay/neuter and microchipping, prevents these pets from ending up in a shelter. That is why we have awarded $424,206 to these safety net programs.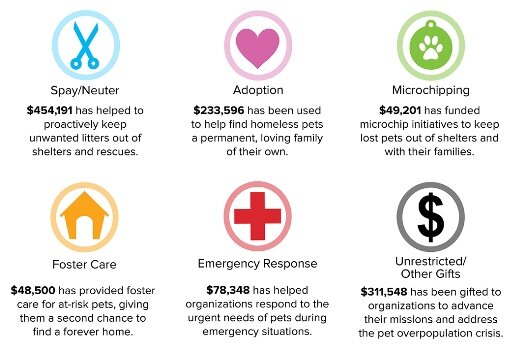 The BISSELL Pet Foundation receives support from BISSELL Homecare, Inc.; they have generously committed to contributing up to $250,000 annually based on pet product sales. While, we have been able to accomplish a lot in a short time, the requests for funding we received this year alone nearly tripled what we had available to give. The need is tremendous. As the year comes to an end, please help us give the gift of hope to even more homeless pets by donating to the BISSELL Pet Foundation. With your help, we can change even more lives in 2014.