With funding assistance from the BISSEL Pet Foundation (BPF), Monmouth County SPCA (MCSPCA) in New Jersey was able to rescue 60 dogs from shelters in Florida, South Carolina and Georgia to proved them with a second chance to find a forever home.
It all started days before Christmas when rescue and advocacy group, Dolly's Foundation, visited an animal shelter in Orange County, FL to transfer a dog into their care. While at the shelter, they saw 10 year old Hannah and 11 year old Chloe. These two senior dogs had been relinquished together, left to an uncertain future, right before the Holidays.
"Many shelters in the area have a 95% euthanasia rate." Karen Terpstra, Vice President & Chief Operating Officer – Monmouth County SPCA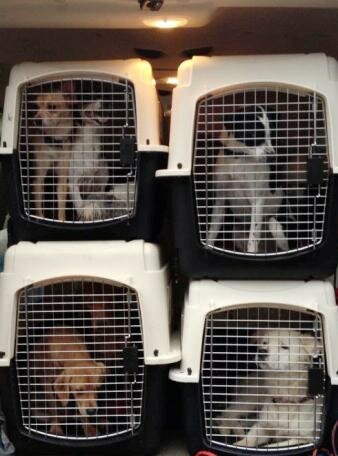 Dolly's Foundation
Due to a lack of spay/neuter and adoptions in this area, shelters are inundated with homeless pets, meaning animals entering shelters there have a much higher likelihood of being euthanized than finding a home. Senior pets are at an even higher risk for euthanasia in the shelter environment, which is why so many animal lovers up and down the East Coast pulled together to rescue these dogs. Hannah and Chloe, along with 58 other dogs found salvation in a long trip north.
The rescue van reached New Jersey on January 4th where 43 dogs were taken in by Monmouth County SPCA and 17 other dogs were transferred to another local rescue, Wag on In. The funding supplied by BPF to MCSPCA covered all vet bills for the 43 dogs in their care, including vaccines, microchipping, spay/neuter and treatment of a variety of diseases and injuries. The majority of these animals, now healthy and happy, have already found forever homes.
Kudos to Monmouth County SPCA for giving these dogs a second chance at a happy life!