BISSELL Pet Foundation's partner network has grown to over 2200 partners and together we are making a world of difference for pets.  We love to see our partners collaborating with other organizations, just like Sumner Spay Neuter Alliance's "Community Help Fund".  Recently, Sumner Spay Neuter Alliance (SSNA) received a $10,000 grant from BPF to support its Community Help Fund–a spay/neuter assistance program that partners with other nonprofits serving low- income families.  This program allows social service organizations and other animal welfare groups to direct pet owners to SSNA for free or low-cost spay neuter procedures.  This is an incredible help to pet owners who face economic challenges and are struggling to keep their pet. Dogs and cats are more likely to stay in homes if spayed/neutered and vaccinated, and of course, they won't have unwanted litters that will further burden the owner.  In fact, some public housing and rental units require proof of spay/neuter to ensure that their housing will not be overrun with homeless pets.  This fund provides an important emotional boost for many who struggle in life.  To date, the grant has provided spay/neuter for 117 pets in the immediate area, creating a huge reduction in the future homeless pet population, as well as reducing intake and euthanasia at local animal controls.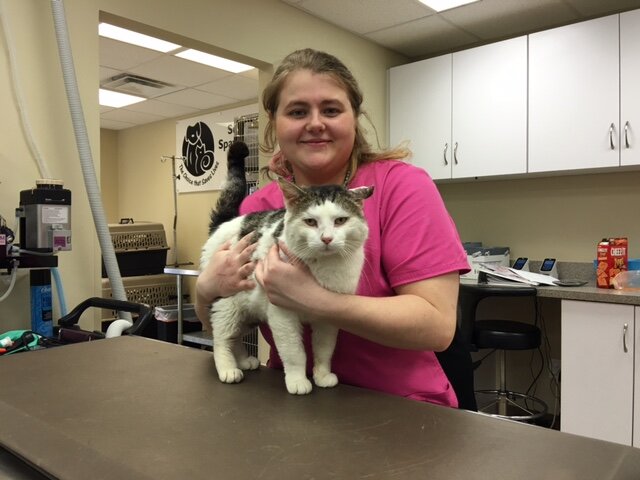 An example of the SSNA Community Help Fund's impact can be seen with Jasper, an unaltered, male cat.  Jasper wandered to a resident's house a few months ago, and she fed him regularly, but noticed problems with his ears and an abscessed bite wound.  While she was able to provide food for Jasper, this resident was not able to afford veterinary care for Jasper and made the decision to take him to the local animal control in hopes that they could help.  Fortunately, the resident stopped at SSNA on the way to ask for directions—what a lucky situation for Jasper!  SSNA let the resident know that the local animal control was overwhelmed with cats and Jasper could face euthanasia.  SSNA was able to neuter Jasper with the BPF Community Help Fund and the resident was thrilled to be able to keep Jasper as a forever friend.
SSNA has also been able to provide much-needed help to neighboring Greenbrier Animal Control (GAC).  Some of you know GAC from "Save Our Shelters" where BPF Founder, Cathy Bissell, aided the facility with "Save Our Shelters" host, Rocky Kanaka.  GAC is doing its best to save lives, but it needs support.  SSNA has directed $2000 of the BPF Community Help Fund to assist GAC and so far, they have provided free spay/neuter for 31 GAC dogs and cats, expecting to serve 16 more pets in the near future.  What an amazing example of how partnerships are saving lives!  Thank you Sumner Spay Neuter Alliance for partnering to make a difference!