As a pet owner, the feeling of not being able to meet even the most basic needs can be heartbreaking. Luckily, for pet owners in D.C., Maryland and Virginia, the Washington Animal Rescue League (WARL) is able to help through a program called Project Rescue. WARL's mission is to honor and strengthen the human-animal bond by providing the best quality care for homeless dogs and cats, and supporting companion animals in their homes through affordable veterinary care, community outreach, and education. Grant funding from the BISSELL Pet Foundation supported this project and directly impacted 115 food bank clients and approximately 150 income-qualified clients of WARL's Medical Center providing assistance to more than 260 dogs and cats.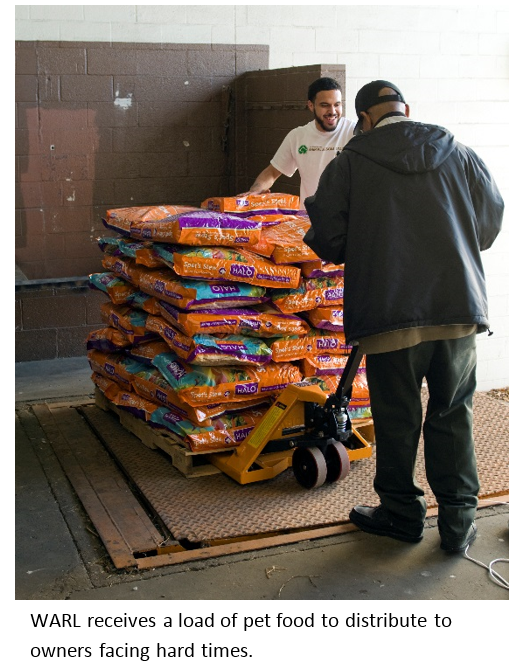 WARL provides veterinary services at a discounted cost including appointments for sick animals, emergency/critical care, and general wellness. Its Medical Center is the only shelter-based, nonprofit, full-service animal hospital in the region providing comprehensive vet care to the pets of income-qualified clients at a discounted cost. In addition, the Medical Center provides free care for approximately 2,000 homeless shelter animals each year. It also hosts a permanent community pet food and supply bank and emergency sheltering to help families hold on to and care for their animal companions in difficult times. The Rescuers' Food Bank collects donations of food, toys, and equipment for cats and dogs and distributes supplies to income-qualified clients free of charge.
The BISSELL Pet Foundation recognizes times can be hard for some pet owners, but their pets are more than just animals…they are part of the family. A total of more than 260 dogs and cats were positively impacted by WARL through a $4,000 grant from the BISSELL Pet Foundation. Keep up the good work, WARL!
About the BISSELL Pet Foundation

The BISSELL Pet Foundation is a charitable 501(c)(3) non-profit organization with a mission to help reduce the number of animals in shelters and to support organizations dedicated to the humane care and treated of animals through pet adoption, spay/neuter programs, microchipping and foster care. Founded in 2011 by Cathy Bissell, the BISSELL Pet Foundation is an extension of her long-standing love for animals and commitment to their welfare. The foundation is supported to BISSELL Homecare, Inc., a 137-year-old Grand Rapids-based floor care appliance brand in its fourth generation of family leadership.