Since 2011, the BISSELL Pet Foundation has awarded nearly $100,000 to microchipping programs at shelters and rescues across the country. A registered microchip can make a huge difference for lost pets or in case of emergency.  Not only do microchips act as a form of permanent identification in case a pet is ever lost, they also help quickly reunite lost pets with their owners, freeing up space in shelters for other pets.
The process of microchipping a pet is as simple as any routine shot. Unlike collars with tags or identifier tattoos, microchips are tamper-proof and cannot be moved because they are implanted underneath the pet's skin.  However, it is important to understand what a microchip does and does not do:
– A microchip is not a tracking device– The chip is only active when a scanner is run over it and the chip does not track the coordinates of your pet.
– The chip does not store your contact information-When a scanner is run over a pet, it will detect whether or not there is a chip present underneath the animal's skin. If a chip is present, the microchip's identification number will appear and this number can be entered into a universal search database, like the American Animal Hospital Association (AAHA) and traced back to an owner only if the chip has been fully registered.
-A microchip can be registered under any brand with any registry PLUS you can register a chip in multiple registries- It is possible to register one microchip id under multiple registries.  This means that if a vet finds a microchip and they only use the microchip manufacturer's registry to search for the id, they may miss the owner's contact information.  The best available tool for vets and shelters is the AAHA universal lookup tool.  However, if the microchip manufacturer does not participate in the AAHA universal lookup tool there are no connections from one registry to another which means a shelter would need to reach out to each non-participating company individually to check the ids registration.
–Not all scanners used to detect microchips are universal– In the US today, there are no set standards for microchip frequencies.  The ISO standard for microchips is 134.2kHz, but several microchip manufacturers still use 125kHz or 128kHz frequencies.  Non-universal scanners do not detect all frequencies and will miss certain chips.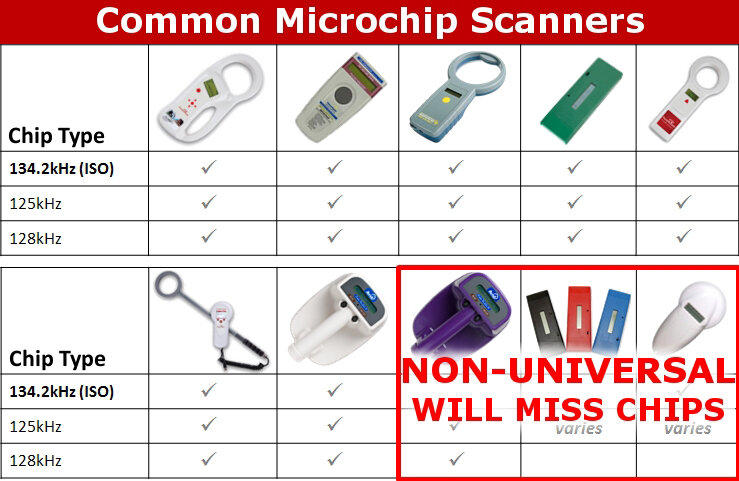 –A registered microchip helps reunite lost pets with their owners, but it is not 100% guaranteed-It is important to always keep a collar with some form of identification on your pet and if your pet is lost, contact local shelters in your surrounding area and search for the animal.
We encourage everyone to check their microchip registry to make sure their contact information is up to date. The non-profit, Found Animals Foundation, has created an online registration for pet microchips that is 100% free. The system works both for pet owners and animal professionals to provide a free lifetime registration for microchipped pets. You can register your pet's microchip for free here: https://microchipregistry.foundanimals.org/ If your pet is not chipped, head to your local vet or shelter today to chip your pet!
Sources:
http://blog.adoptandshop.org/wp-content/uploads/2015/01/article_96.pdf
http://prairiepaws.org/programs-services/microchipping/