The BISSELL Pet Foundation (BPF) has been very active in supporting organizations and legislation aimed at ending the abuse and neglect perpetuated by the puppy mill industry. BPF recognizes the huge need to bring awareness to the horrific conditions that puppy mill dogs are forced to live in. In April, BPF began this support in their own back yard, by making a gift of $10,000 to support the care and treatment of more than 340 small breed dogs removed from a puppy mill situation in Allegan County, MI.
BPF recognizes the huge need to bring
awareness to the horrific conditions that puppy mill dogs are forced to live in.
In addition, BPF Founder, Cathy Bissell, sent a letter to every member of the Michigan State Legislature, urging them to vote in support of the Puppy Protection Act, SB 891-892/H.B. 5230-5231. Many of Michigan's senators and representatives are pet owners themselves and have responded positively to the BPF's request for support. Brandon Dillon, State Representative for the 75th District wrote, "As a dog owner myself, I support these measures and agree that we must ensure that all dogs in our state are treated humanely."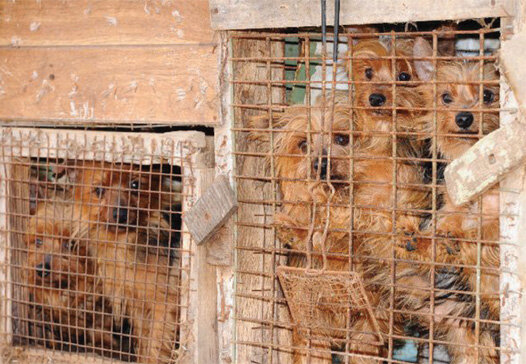 ANIMAL RESCUE CORPS – Photo by Kristina Bowman
State Senator, Rebekah Warren responded positively, stating, "I share your belief that we must stop the practice of large-scale animal breeding operations and feel it is absolutely essential that we provide adequate protection for our beloved pets… Please be assured that I look forward to supporting this legislation once it reaches the Senate floor for a vote, and that I will continue to work vigorously to promote measures that prevent the inhumane treatment of animals."
BPF also extended its reach by making a contribution to the Mothers in the Mills Event hosted by the Puppy Mill Project, based in Illinois. The BPF supports the Puppy Mill Project's mission to educate the public and raise awareness about puppy mills and their direct connection to pet stores, internet sites and newspaper ads that sell dogs. At the event, pet store owner, Greg Gordon, was honored with the Kindness to Animals Award for his humane transition to adopting out rescued pets after selling puppies for many years.
Annie's Little Angels, a dog and cat rescue in Plainfield, IL, played an integral role in the positive shift for Gordon's store, Dog Patch Pet and Feed, the oldest pet store Naperville, IL. Dog Patch has exclusively adopted out rescued pets since November of 2011. ALA is also a member of BISSELL's Partners for Pets, a fundraising program designed to enable shelters to raise money to support their good works.