Empty the Shelters Returns May 5-9: 49,360 Pets Found Homes Since 2016
BPF is again aiming to Empty the Shelters (ETS) by sponsoring reduced adoption fees of $25 or less at 200 participating shelters and rescues in 36 states May 5-9. Empty the Shelters is BPF's biggest program and cannot continue going and growing without donor support. You can help BPF find loving, permanent homes for pets by donating today. Interested adopters are encouraged to visit www.bissellpetfoundation.org/ets for their local shelter's participation guidelines and COVID hours.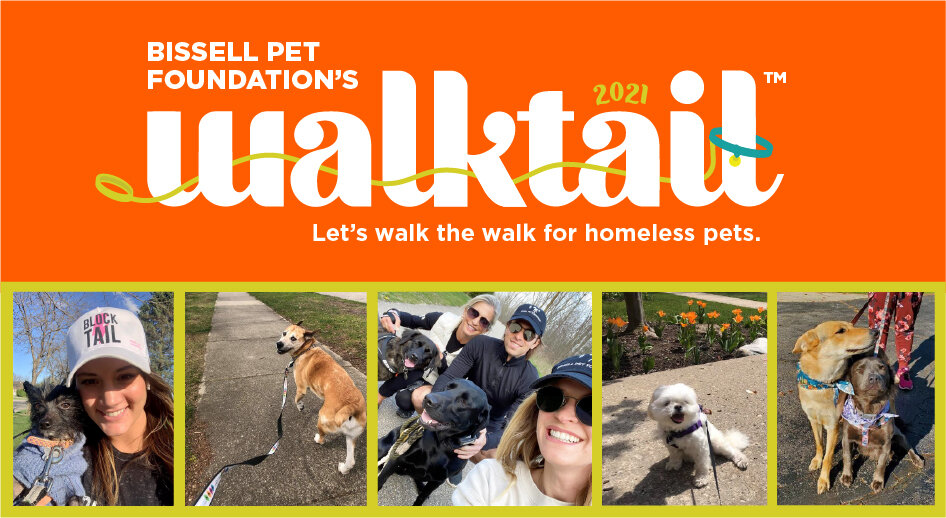 Sign up for Walktail Today and Save Pets with Every Step
On April 30 – May 2 you can choose where and when you want to count your steps for homeless pets during BPF's virtual Walktail walkathon. The distance goal is 10 miles over three days, so lace up your shoes and leash up your pet for a weekend filled with exercise! Walkers can participate individually or create a team to show support! We'll be sharing our steps on social media to help raise critical funds for the foundation's growing network of 5,253 shelter partners. To donate, sign up, or shop Walktail  merch, visit www.justgiving.com/campaign/walktail2021.

Don't Miss Jefferson Starship and the Best DOG-GONE Auctions!
Good news! We are moving forward with the Blocktail Sponsor Party on Monday, June 7, featuring a private concert by the legendary Jefferson Starship and live & silent auctions with items specially procured for our sponsors. The bad news is that we are beyond heartbroken to have to cancel BISSELL Blocktail Party on June 8, our biggest annual fundraiser, but we are excited that you can still enjoy the incredible Blocktail silent auction online–you won't want to miss it! For sponsorship information and details, visit bissellblocktailparty.com

$55,377 of Food Headed to Hungry Shelter Pets
Thank you for helping BPF exceed our Feed the Shelters fundraising goal! Your donations with BPF's match and an unexpected $10,000 donation of food from Purina will provide a grand total of $55,377 of food for hungry shelter pets across the country. Stay tuned on social media for information about the shelters and pets impacted by your generosity. We are so grateful for your support—we can't do it without you!
To stay up to date on all things BPF (and we have a lot to tell you) follow Cathy Bissell and
BISSELL Pet Foundation on Facebook and Instagram!
2021 Walktail Unisex
$25.00
BPF Cap – Olive & White
$20.00