As another year draws to a close, we at the BISSELL Pet Foundation (BPF), find our hearts filled with gratitude and hope – gratitude for all of the gifts we have received over the year and hope for all of the animals who have been given a second chance due to the support we were able to provide this last year. Yet millions of homeless pets remain in shelters and rescues across the country and unfortunately won't experience the love of a forever family this holiday season. In the spirit of holiday giving, we ask you to consider a gift so we can continue to change the outlook for these homeless pets.
Your donation enables us to respond to emergency rescue needs, like our recent support of Operation Broken Chain that saved 65 abused and neglected dogs from a suspected dog fighting operation in Tennessee. When we heard the news and saw the photos of the scared and starving animals found on Thanksgiving Day, we knew we had to act. Just days after her rescue, "Ellie Mae," a sweet, Black & Tan Coonhound, gave birth to seven gorgeous pups. The new family is now safe and happy in their foster home; however, if it weren't for swift and compassionate rescue efforts, they would have certainly faced death without food, water and shelter.
In April of this year, BPF responded similarly to a dire situation in Michigan, when over 350 small breed dogs were found living in filth and needing medical attention. While these animals were living in the home of a "breeder" and not out in the elements, their situation was just as desperate. As we watched the story unfold on our local news, we immediately sent funds to assist with their care and to prepare them for adoption. With help from donors like you, together we can ensure that hundreds of dogs and cats, just like these, will be able to find a home where they will come to know what it's like to be loved for the first time in their lives.
This year alone, we have awarded over $200,000 in grant awards to deserving organizations all across the country. These funds help animal welfare groups of all shapes and sizes.
BPF not only responds to emergency situations, but also awards grants on a quarterly basis to assist shelters and rescues in reducing the number of homeless pets through adoption, spay/neuter services, microchipping and foster care.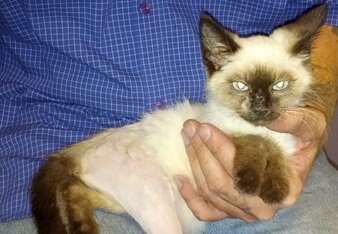 Tail Waggers 1990 "Lolo"
In October, one of those grants supported the efforts of a group working in the suburbs of Detroit working to provide vet care and spay/neuter services to low-income populations as well as homeless pets. Not only does their work help keep owned pets in their home by providing affordable care, but it also proactively reduces pet overpopulation through spay/neuter services. We are proud to have funded their life-saving programs to help pets in need in their community. Without support from the BPF, they would not be able to help pets like "Lolo." This sweet, Siamese mix kitten was found in a field with both back legs crushed, having to drag herself around on her front legs only. Although, no one knows what happened to this poor little girl, we do know what was once a hopeless situation became a positive outcome because of the intervention and compassion of this group. In the words of those that helped to save her, "she was worth every penny to fix," and we couldn't agree more!
Little Lolo, the puppy mill rescues and Ellie Mae's family represent just a few of the millions of homeless pets in our country. Their stories are why we exist and why we need your support.
Help us give them Hope for the Holidays!