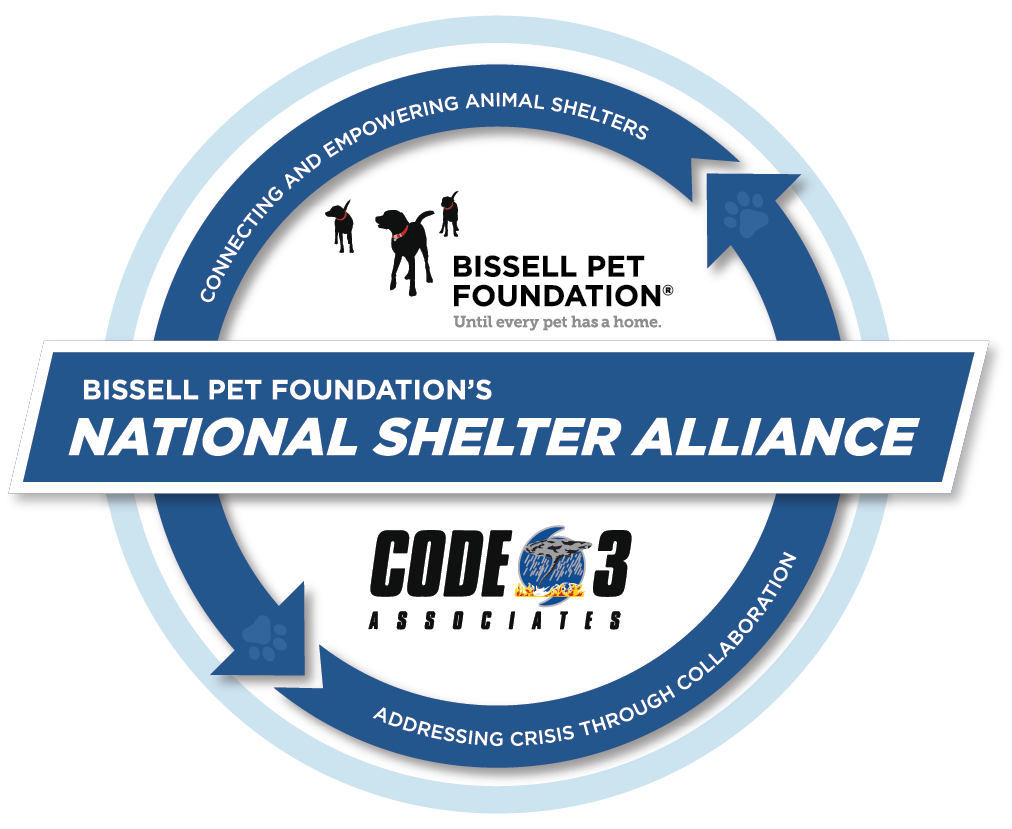 I have some exciting news! This week we rolled out BISSELL Pet Foundation's National Shelter Alliance with our partner, Code 3 Associates. This program will provide crisis management for animal shelters, support Code 3 during disaster and cruelty response and extend a lifeline for animal shelters in need. You might be wondering why BPF is stepping into the disaster zone. Let me explain: 
BPF's goal is to help reduce the number of animals in shelters and rescues, and to find a loving home for every pet. We exist to help animal shelters. To stay true to our mission, we must meet shelters where they are to provide the assistance they need. With climate change, civil unrest and the changing population of pets in their care, animal shelters need a disaster plan to save lives. A plan includes training, partners and a vast network of expertise that can be engaged quickly and effectively.  
An animal shelter without a disaster plan puts animals at risk. They may have to euthanize homeless pets to clear space for incoming community pets impacted by flooding if they don't have a plan for them.  If they need to quickly evacuate the animals in their care, they need partners in place to take on the animals, either into an existing facility or in a temporary shelter at another location. Animal shelters without a plan are also unable to help the pets in the community and respond to local emergency management, putting owned pets at risk with a lack of resources for families impacted by disaster events. 
Understanding the urgency of the situation, the BPF and Code 3 teams looked to find a way to help shelters utilizing experts with boots-on-the-ground response to crisis, support and mentorship and regular communication and collaboration. This organization would need to be prepared for any crisis, nimble and accessible 24 hours a day, 7 days a week. They would need to have a vast team that reaches every part of the country. Only one organization, group or team met the above qualifications, public and private animal shelters. That's right, the mechanism was in place; we simply engaged it. 
Animal shelters have experienced immense change in the last several years. Our Alliance partners, invited by BPF and Code 3, are doing extraordinary work and aim to share their expertise and knowledge to help animals and the people caring for them in other communities. They acknowledge there are animal shelters throughout the country that still desperately need resources, support and training. We cannot ensure that every pet has a home until we reach every community. BPF and Code 3 cannot be everywhere at once, but a strong national network of animal shelters can. 
Lastly, you may wonder what the connection is between Code 3 Associates and BPF. Code 3 Associates is dedicated to providing professional animal disaster response and resources to communities, and providing professional training to individuals and agencies involved in animal-related law enforcement and emergency response. They do this work through hands-on animal rescue and care operations during disaster events and a training platform that reaches across the country. They are a leader in the disaster response field. There is no better partner to work toward a nation of disaster-ready communities than Code 3 Associates. BPF is honored to share this mission and program with them. 
So, you see, disaster-ready communities save pets. Resources save pets. Communication and collaboration save pets. BPF's National Shelter Alliance will save pets, fitting perfectly into our mission. 
Until every pet has a home,