If you have been following us, you may know we exist because of a long-standing commitment by BISSELL Homecare, Inc. to support and advocate for pet adoption, and as a family run company, this passion starts at the very top. The BISSELL Pet Foundation (BPF) is the culmination of years of dedication to homeless pets by our founder, Cathy Bissell, who believes that every pet should have a home and every home should have a pet.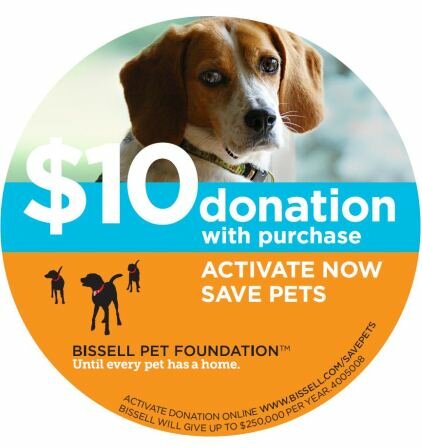 How Support is Generated
Much of our support and ability to help homeless pets is the direct result of BISSELL pet product sales. Anytime a pet product is purchased from bissell.com, a donation in the amount of $1, $5, or $10 ($10 for each purchase of a BISSELL product that costs $100 or more, $5 for a product that costs between $40 and $99.99, and one dollar for a product that costs less than $40) is automatically triggered. Additionally, products purchased at retail result in a donation when activated online. Simply visit www.bissell.com/savepets, enter product information, your email and the donation is made. That's it. You can feel good about bringing home a product that will help you clean up after your furry friends and for helping other pets find a forever home!
"Thank you for buying and promoting BISSELL. When you purchase our products, it really makes a difference for the animals we are trying to save all across the country." Cathy Bissell, Founder – BISSELL Pet Foundation
Designate your Donation
Additionally, BISSELL offers a way for you to designate your donation to a shelter or rescue of your choosing through the Partners for Pets program. When you buy BISSELL pet products on bissell.com, and enter a special coupon code at checkout, you are able to choose one of 200 plus shelters and rescues across the country to receive the donation. In addition to donations activated by product purchases, participants in Partners for Pets also receive one BISSELL product, annually, to raffle or auction and can qualify to win a $5,000 quarterly giveaway. Visit www.bissell.com/partnersforpets to see if your local shelter or rescue is registered in the program. If you don't see your local shelter or rescue, encourage them to sign-up to start reaping the benefits.
From designing products specifically engineered to help in pet cleanup to supporting the efforts of animal welfare organizations across the country through contributions to BPF, BISSELL is a company that truly cares for animals. In fact, they have a team of people dedicated to its corporate giving efforts to assist homeless pets. That's why we are so thankful for their assistance and your continued support of a company with pets at the heart of it!